If you're a regular reader of this front page, you may remember Peggy Coffeen's editorials from early 2017 about choosing one word for the year to represent what you most hope God will do in you and focus on it for the year. The concept is from the book My One Word.
I loved the idea but was never able to settle on one word in 2017. Then, in December, my family's world was turned upside down when my older brother was diagnosed with acute myeloid leukemia.
From his long hospital stays and chemo treatments to plans for a stem cell transplant, these past few months have been filled with worry, stress and fear. I've felt pretty helpless and have been questioning why God allows such circumstances.
And yet, one word – or rather, a phrase – kept appearing: Choose joy. While there's no shortage of Bible verses about joy, I've found a special comfort in James 1: 2-3. I don't understand God's plan, but I know He's in control of the situation.
From a broader perspective, I think this concept of choosing joy has implications on each individual dairy farm. As you look at the cover image and read through the content starting with The 'State of Dairy' in 2018, you'll see each region of the U.S. has unique and intimidating challenges ahead.
And from conversations I've had with my family and Progressive Dairyman's team of farm bloggers, these challenges are really starting to take their toll on farmers.
We recently ran a column from Iowa dairywoman Heather Moore titled, "Don't ignore these 9 symptoms of stress." We've published articles covering similar topics, and our online readers just didn't seem all that interested based on the performance metrics. So I was a little surprised when this article received nearly eight times the pageviews of an average blog article.
What's more, the average time spent on the page was three times longer than time spent on an average article. This tells me the majority of readers of this column didn't just skim the nine symptoms and move on to something else. They were genuinely interested in information about dealing with stress.
I don't have the answers for low milk prices, stressed-out dairy farmers or curing cancer. Now, more than ever, I wish I did. Or at least I wish someone out there did. And while thoughts and prayers for these situations are needed, I've found that, for me, they don't quite feel like I'm taking enough action and doing something about it.
So along with the thoughts and prayers, I'm making "choose joy" my mantra for this year. If you're facing similar stress and anxiety, I encourage you to choose joy with me. Take a walk; eat a donut; call a friend. Do whatever it is that will bring you or someone you care about a little joy until you figure out the next step or until God reveals a little more of His plan to you.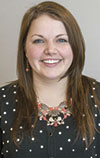 Emily Gwin

Editor
Progressive Dairyman
Before commenting on our articles, please note our Terms for Commenting.