When we are young, we ourselves don't always recognize our talents, but our parents sometimes do. From an early age, my mom noticed I had a knack for dairy judging. So she pushed me, more than any of my five siblings.
To me, it didn't feel fair, and naturally my teenage self complained a lot. You know the saying, "You can lead a horse (or cow) to water, but you can't make it drink." That was me – stubborn. My mom continued to nag me about judging as soon as I moved to Idaho, but at that point in time I wasn't ready. It wasn't until I saw there was a need for dairy judges in our area that I stopped resisting and got on board.
I started by sending out feelers to the local county extension agents within a two-hour radius from where I lived. I told them of my showing and judging experience and how I was available to judge if needed. Next thing I knew, I was getting asked to put on showing and fitting clinics and offers to judge at county fairs.
Turns out my mother was right, and I am good at it. Better still, I found I love and enjoy doing it. I am truly grateful for the many hours put in by my parents and judging mentors who allowed me the opportunity to learn how to judge dairy cattle. Even though I was a pain in the rear at times, I hope they know their time was not spent in vain. Although I am no longer a 4-H member, it is my desire to give back to the organization that shaped the person I am today. Showing and judging dairy cattle fostered my interest to stay a part of the dairy industry, and it is such an honor to be teaching and judging today's dairy youth.
Because of the generosity of the adult volunteers who helped me then, I now pay it forward. This means instead of paying someone back for their good deed, I do a good deed for someone else. In this instance, it is giving my time and pointers judging in the show ring.
Paying it forward inspires generosity and compassion. And, ultimately, the person paying it forward grows as much as the person receiving the act of kindness. Sometimes the impact and appreciation are immediate, like having a group of young showmen come up to me after a show, thanking me for taking the time to explain to them areas for improvement. And sometimes the positive difference isn't seen 'til years down the road.
Paying it forward introduces us to new people who may enrich our lives. Whether we are just helping someone for a day or longer, paying it forward opens us to new connections. One of my favorite parts about dairy judging is getting to meet dairy producers here in Idaho face-to-face and hearing about their farm operations.
Choose to make a difference in young people's lives. The willingness to give your time and positive energy to young people is invaluable. By doing this, you are helping shape the next generation of leaders.
Take something a teacher or mentor taught you. Pay it forward through helping the next person. Maybe the way you pay it forward isn't by dairy judging but through signing up to serve on a local committee or donating your time to a worthy cause or maybe just by being courteous to the people you work with.
It is important to be involved, and I believe anyone has the ability to volunteer and give back as long as they are interested in paying it forward.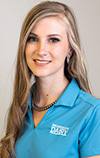 Audrey Schmitz

Editor
Progressive Dairy