This holiday season, I'm giving myself a very special gift: low expectations.
Last year was my first Christmas as a married woman, and I had big plans.
After months of renovations, my husband and I had moved into our house the weekend after Thanksgiving. To celebrate, I was going to host my first family dinner the day after Christmas.
I had the menu planned, and I knew exactly how I was going to put to use every single kitchen item I had received from my wedding registry.
As it turned out, the dinner didn't happen at all. My husband came down with the flu on Christmas Eve Day. We skipped the Christmas Eve service at church – my first time ever not singing "Silent Night" by candlelight on Dec. 24. He made it to one event of a jam-packed Christmas Day of family get-togethers and spent the rest of the day home in bed.
I kept plugging away that day, determined to salvage at least one aspect of my perfect holiday plan. That was until the flu bug hit me that evening. I finally admitted defeat and texted my family the next morning to tell them I had to cancel.
Replaying the timeline of events from last year reminds me of the story of sisters Martha and Mary in Luke, Chapter 10. Though not traditionally shared while retelling Christ's birth, the lesson of the too-busy sister is a good reminder for us all to carry into the holidays.
40 But Martha was cumbered about much serving, and came to him, and said, Lord, dost thou not care that my sister hath left me to serve alone? bid her therefore that she help me.
41 And Jesus answered and said unto her, Martha, Martha, thou art careful and troubled about many things:
42 But one thing is needful: and Mary hath chosen that good part, which shall not be taken away from her.
I've always identified with Martha because she was just running around trying to make everything perfect for everyone. Why couldn't her sister have helped her out for five minutes, for crying out loud? But then Jesus stepped in and reminded Martha to focus on Him and His teaching, like Mary was doing.
There's no doubt the holidays are hectic, and it's easy to get distracted by all the things that need to happen to get the house ready or to complete on the farm so you can enjoy your family and capture those picture-perfect moments. But amidst all that preparation, remember: The most important thing is the birth and life of our Risen Savior.
This Christmas, I don't plan to host any big gatherings. My husband and I are celebrating another milestone this holiday season, as it's our first one as parents. But since our baby girl will be just shy of 6 months old, I don't feel any pressure to make sure Santa gets her the perfect presents. I know she'll spend her first Christmas smiling at the grandparents smothering her with kisses and giggling at the cousins running past her.
And while I'm still hoping for some Currier & Ives-type scenes I can capture and save for her scrapbook, I know it's not the most important part of this season of the year or even this season of life. This Christmas, and every day, I'll try to remember to focus on the many blessings God has provided me – the greatest one of all being Jesus.
Merry Christmas!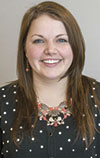 Emily Gwin

Editor
Progressive Dairyman
Before commenting on our articles, please note our Terms for Commenting.