Our farm is in the midst of expanding by diversification. We dairy farm, crop farm and run a coffee and gelato shop in our hometown. We have a lot of irons in the fire, to say the least. And, noticeably enough, all three of those things are busiest (except for fall harvest) in the summer.
For the past two years, we have had four interns help us get through our crazy seasons as our business changes and grows. We've learned a few things along the way, and – I can guarantee you – so have they. If I were to give advice to a fellow dairyman or business owner, I would give these tips and tricks about summer interns and how to utilize them to their fullest:
1. First and foremost, don't be afraid to send in job information to your area's ag college(s). Almost every college student is required to have an internship to graduate. Take advantage of this.
2. Be broad in your job description but descriptive. You never know what might perk a student's interest. For our farm, I described our internship as an assistant herdsman with milking shifts and a student-run research project. This leaves room for fine tuning duties specific to the student's qualifications and interests. It's also good to note here that getting those job descriptions out to colleges before January is ideal.
3. Find interns with strengths that differ from yours. This gives you the opportunity to learn from them as well as they from you. They are in the know of all the new research and can possibly give you a new set of eyes on your operation. Get feedback from them about your operation, management style and efficiencies. Feedback is a two-way street; keeping those lines open makes a successful internship.
4. You may think a summer is way too short and not worth the time and effort to have an intern. Sometimes it sucks that you get them all trained, and things are going smoothly, then they have to go back to school, but there are some advantages. I found out with one of our interns that we didn't really have enough work for him. Before his internship, we had discussed hiring a full-time employee. This allowed us to try it out and see if it was time to hire someone; it wasn't. Instead, we hired another part-time calf feeder and gave one of our longtime employees a raise with more management responsibilities. You could find out the opposite for your farm.
5. Utilize their networking capabilities. This generation loves to network and casts a pretty wide net on their social channels. They could refer other students for future job positions, help make contacts about a small problem or just plain help your farm's Facebook page gain more traction.
6. Give them some rein. This to me was the hardest part in some cases. Once they are trained, allowing interns to make decisions like restructuring protocol, helping fix day-to-day problems or doing a small research study on your farm allows them to learn while giving them real life experience. This could lift a lot of daily decision-making off your shoulders, free up time to spend with family or get some of those pesky "I'll do it later" jobs done. You know we all have them.
Bottom line: Don't be scared to hire an intern. Capitalize on it. See it as an opportunity and also a way to give back. If we want to see more quality students coming into the ag field, we need to give them field experience and a positive outlook on the industry. I have thoroughly enjoyed working with the students we have had. I have had many moments where I have second guessed the capabilities of this generation. I had one intern who didn't know how to put ink in a printer. (I will not name names.) But they can be taught, and they have so many other things to offer if just given the chance.
PHOTO: Lucky Cow Coffee and Gelato summer intern Katie Fitzsimmons is a student at Iowa State University. Photo by Amber McComish.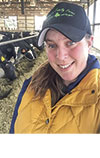 Amber McComish

Dairy Producer
Darlington, Wisconsin