Seventeen years ago, I was introduced to a tiny Holstein spring calf that taught me more about life than any person I'd ever met. She wasn't even my own calf. She belonged to my sister, who had just turned 8 and joined 4-H. I was only 6 and anxiously awaiting my birthday in two years so I could have a calf of my own.
We purchased K-53-ET at our local county 4-H calf sale, brought her home and decided she needed a name. My sister chose Ally. Ally was a special calf, not because of her looks or pedigree but because she was kind of a dork. She had short thick legs, a dopey face and a lethargic personality. She just trotted along behind me when I walked her up and down the driveway.
I soon discovered Ally would eat whatever I put in front of her. She loved chocolate, potato chips and gummy worms. She trusted that whatever item of food I dangled above her head was going to be increasingly more delicious than the last.
Every day, my sister and I returned home from school and hiked the pasture field together to fetch Ally for her supper – a couple scoops of grain and some Hershey's Kisses.
When summer rolled around, we washed, clipped and prepared Ally for the fair. If my description of her didn't give it away, Ally was no grand champion. She held up her spot as anchor of the show ring. The judge's opinions never changed what I thought of her, though.
I knew she was beautiful and was proud just to be able to take care of and be involved with every part of her life.
Ally and I grew up with similar attitudes: We were both stubborn, but we grew up together. With all the changes I went through, all the friends that came and went, Ally was always there. When I had a bad day, I curled up to her and told her about it. She lay with me, chewed her cud and listened intently.
Ally matured into a strong, deep-bodied cow that produced like a fiend. She was a warrior, to say the least. She battled through way too many farm changes as we tried to find a permanent place to call home. No cow should have to go through that, and most wouldn't be durable enough to survive as many moves as she did.
I distinctly remember the day she sliced her udder open on the corner of a water trough. She was around 6 at the time. It was a ghastly 8-inch cut along her foreudder. Her skin hung on by a thread, and blood rolled from the wound. My sister and I held hands, fearfully worried about Ally's future.
She stood in the barn, bravely still, as the vet repaired her udder. I had never witnessed a cow so calm under such distress. She made a full recovery.
I was fortunate to be introduced to such an extraordinary cow at a young age. Throughout Ally's life, I always watched and learned intently about how she grew, her nutrition, her health and all her needs. Developing such a close bond with her helped me tune in and notice the small details like when she went off-feed, had a sore foot or an upset stomach.
I knew her so well I could detect if she was sick before she presented obvious symptoms. Obtaining that skill benefits me daily as a herd manager, where noticing those types of details quickly can save a cow's life.
It wasn't until Ally's 10th birthday we lost her. It was coliform mastitis that stole that precious cow from my family. She fought relentlessly until her last breath, but that did not ease the fact she was gone. She was a constant in my chaotic world.
The one thing I could count on was that she would be in the barn waiting at the gate to be milked and given a snack. The farm felt empty for a long time without her there.
She started it all for me. She made me into a crazy cow person. She is the reason my heart breaks to see a cow in pain. She is the reason I never stop learning and trying to find ways to help them. I walk into the barn, breathe in the air and know I am here because of her. She was a stubborn little fighter with the sweetest soul, and I was lucky to call her my best friend.
Thank you, Ally. I will never be able to look at a cow the same after meeting you.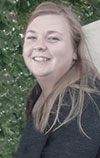 Kelli Woodring

Dairy Producer
Shippensburg, Pennsylvania