If there were one word I could use to describe managing a farm with no communication, it would be "nightmare." I've lived it, and it's like a terrible dream you can't wake up from. Employees don't understand what's expected of them and are too afraid to ask. A co-worker is doing something wrong, but they are not told, so they continue to do the job wrong.
Everyone is supposed to be a mind reader and know what they're to be doing. I used to think managing cows was hard; I quickly learned people were much harder.
 Last year, we had a communication breakdown in our parlor. The milkers felt underpaid, overworked and unappreciated. We call this the triple threat. No one wants to feel this way at their job. The only problem was they didn't know how to tell anyone or even who to tell. Here's what we did:

1. Hired a translator
All of our milkers are Hispanic, and I speak very little Spanish. There was obviously a barrier between us that we needed to get through, and a translator was the best way.

2. Set up a meeting
We wanted to know exactly what issues our employees were having and what we can do to fix them. Surprisingly, we learned a lot of basic things needed to be fixed on the farm that we didn't even know were broken. So we made a list and got to work.

3. Established expectations
What we want is for the cows to be calmly and efficiently milked. How this is done varies on every farm, but basically we don't want anyone to "hurry up and get the job done." We want employees to take their time and do it right. We went over our milking protocols again and discussed cow handling.
4. Created goals and rewards
We created a system for our somatic cell goals. The milkers are rewarded with a bonus when they reach their goal. It may seem simple, but everyone does better when they have an objective to work towards. It also gives us something to measure progress.

5. Provided checklists
This really helped us. We made lists in both English and Spanish to keep in the parlor – one for recording all of the cows being treated for mastitis and another for sick cows. The people in the parlor sometimes notice signs of a sick cow before I do. They really enjoy telling me what they see wrong with a cow and knowing that they're helping her get healthy. We also added a white board in the parlor for notes about what needs fixed.

6. Made myself available
I'm a busy woman, but I always try to check in with all the shifts and see if they need anything. I want the employees to know they can talk to me. I want them to be happy as much as I want my cows happy.

We still continue to battle issues with communication every day, but these steps helped us to realize what the major problems were on our farm. I get so busy with the cows that I forget about the people who show up every day and help to take care of them. Whether it's the milkers, feeders or maintenance crew, they all have an important job to do. They all have a voice that deserves to be heard, and it's my job to listen.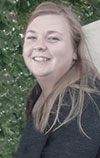 Kelli Woodring

Dairy Producer
Shippensburg, Pennsylvania