We at Bremer Farms were bustling about as fast as Santa's elves earlier this month. While the elves were building toys at the North Pole, we were creating a Christmas extravaganza on our dairy farm.
Daughter Sara loves decorating our farm for holidays. Colorful blinking lights on our house synced to music, inflatables bouncing in the breeze, cutouts of familiar characters – you name it, and we have it! Sara decorates our farm for most holidays, but none surpasses what she creates for Christmas. We have 75-plus inflatables inhabiting the farm. Santa, snowmen, forest creatures, even dinosaurs don our yard. She hasn't found a cow yet, but I know she is still looking.
Each summer, Sara spends hours and hours sawing, painting and constructing new plywood cutouts of our favorite Christmas stories. There are gingerbread houses that look good enough to nibble! Of course our Christmas display would not be complete without the Nativity, including the star shining above.
Three years ago, we decided our holiday decorations would be a unique way to promote dairy, so for one night each December, we open our farm to allow hundreds of cars to drive through our farm to view the decorations up close. This also means that visitors can view our cows up close, as they all line up to check out the traffic jam on Bremer Farms.
What do Santa Claus and dairy farmers have in common? They both promote dairy. Santa and Mrs. Claus, my son and daughter (shhh, don't tell), greet our littlest holiday guests with farm coloring books and candy canes, and our older visitors are gifted dairy recipes and pizza cutters. Santa and his lovely wife pose for many photos too. Our entire family is available to wish everyone happy holidays and also answer questions.
We also collect donations for our local food shelf, along with cash donations. We have an agreement with our food shelf to use the cash donations to purchase milk, which is the most requested, yet least donated item. Did you know, on average, clients receive the equivalent of less than 1 gallon per person per year? That's because while folks are generous with canned and dry goods, many don't think to donate milk because it is perishable. Collecting cash donations makes getting milk to those in need simple and possible.
What can you do to promote dairy and the importance of our products? What do you enjoy doing? What hobby or passion do you already participate in? How can you incorporate dairy? Do you serve treats after your church services? Make it milk and cookies. Trick-or-treating at Halloween? Hand out cheese sticks. Are you a runner? Bring a cooler of chocolate milk to share at the finish line. Coach soccer? Treat your team to yogurt. The smallest gesture can make the biggest impact and start a huge conversation.
I know you have heard that now more than ever, consumers want to know where their food comes from. Let's all try to put a face behind our products. I will continue to do school presentations, library visits, farm tours and social media, and I hope you will too, but I challenge you to "think outside the box" for clever or different ways that we as dairy farmers can share how great dairy foods are and how much we love producing them. It's up to us, so be creative. The sky's the limit. Just ask that cow that jumped over the moon!
Janet Bremer has a blog and is also on Facebook and Twitter.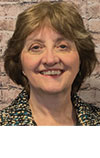 Janet Bremer

Dairy Producer
Hastings, Minnesota
PHOTO 1: The Bremer family opens their farm up to their community one night each December to allow cars to pass through and see their Christmas decorations – and cows – up close.
PHOTO 2: Janet Bremer's daughter, Sara, spends hours leading up to the event constructing plywood cutouts and searching for new inflatable yard decorations.
PHOTO 3: The Bremer event even includes photos with Santa and Mrs. Claus. Photos by Janet Bremer.