The location of future U.S. milk production growth will be closely linked to large-scale regional cheese processing capacity, according to Ben Laine, dairy analyst with RaboResearch. Laine discussed a recent RaboResearch paper, "Milk cow migration spurred by processing capacity," in an interview during World Dairy Expo.
Historically, U.S. production and dairy herd location had been driven by the need for fluid milk by processors serving consumers in high-population areas, Laine said. That's changed as domestic dairy consumption has evolved. And while more recent cow movement is being driven by multiple factors, one of the chief reasons relates to growth in cheese processing capacity and production.
Cheese driving dairy's expansion
Citing the opening of the large cheese manufacturing facility in Michigan, Laine noted that cheese processing capacity has been a bit of a "chicken-and-egg" situation, with processing capacity moving to areas with large supplies of lower-cost milk.
Now and into the future, the "sweet spot" for expansion of both dairy farms and cheese manufacturers will be tied to economies of scale for milk production and buyer availability and processing capacity.
Successful cheesemakers will strike "the right balance" between proximity to customers and sources of milk, Laine said. Other factors determining location will include costs and availability of energy, labor, environmental regulations and taxes.
A move to the center
Tracking USDA Milk Production reports, RaboResearch dairy analysts have mapped geographic changes in cow numbers across the U.S. Their analysis suggests the U.S. dairy herd is migrating toward the center of the country. With the ability to manufacture, store and move cheese longer distances, dairy expansion is being driven to the Upper Midwest and Plains states, Laine explained.
He cites two examples: large-scale cheese plants in Clovis, Mew Mexico, and St. Johns, Michigan. Both are partnerships with Select Milk Producers, Dairy Farmers of America and Glanbia Cheese. Each absorbs 8 million to 14 million pounds of milk per day, the equivalent of production from 300,000 cows combined. Other Midwest plants have expanded processing capacity, and new large-scale cheese facilities are also planned in western New York and Kansas.
"Cheese manufacturing plants benefit from scale and do best when operating near capacity with a steady milk supply," Laine said. That points to centrally located, large-scale operations.
The growth of cheese capacity extends expansion opportunities on the farm, also linked to economies of scale. The colocation of manufacturing plants sourcing milk from fewer but large farms also changes the dynamics and roles of cooperatives. The economic factors will add pressure for a review of Federal Milk Marketing Orders (FMMOs), especially as fluid milk becomes less of a priority in the FMMO structure, Laine said.
"Market forces will work through those federal order formulas but not without some challenges and hurdles along the way," he said.
Laine said that while much attention is often given to the high capital investment required to build a new cheese facility, on-farm capital investments for facilities and livestock to meet that milk supply demand are also large.
In the U.S., implementation of base-excess programs within individual cooperatives and other processors – or a move toward a wide-scale, national supply management program – could add challenges to geographical growth.
"In an era of base-excess programs and restrictions on milk production, the geography of the dairy sector depends on where willing milk buyers can be found," Laine said.
The changing geography doesn't necessarily mean those outside of major growth areas won't be able to expand. Absent of the benefits of economies of scale, however, growth will require technology to find ways to optimize at production at a smaller scale, rather than competing on a commodity basis with the middle of the country.
"It will open up more room for innovation, technology and modernization in a number of different ways," Laine said.
Near-term outlook
Laine identified other near-term factors that will impact the dairy industry entering 2022. One of the major areas of focus will be the strength of exports, and specifically, sales to China.
"The strong exports since the onset of the COVID-19 pandemic have been one of the factors that have helped support [U.S.] prices. Generally, the more that we export, the more those markets matter on our domestic prices," Laine said. "The big one we're watching now and into next year is China. We can't take that as a given going forward.
"[China will] never be self-sufficient, but they're expanding their own production and building inventories through imports, so they're due for a slowdown in imports," Laine said.
While the impact on the U.S. might not be immediate, it adds downside risk to milk powder and Class IV milk prices in early 2022, he said.
Beyond China, U.S. exports to all markets face challenges, related to more rigid coronavirus variant lockdowns and restrictions and the impact on local economies.
"Export markets are finicky, volatile and price competitive," Laine said. "We can't get too comfortable assuming it will continue indefinitely."
Laine noted that the U.S. was somewhat unique among global dairy competitors, with a ramp-up of cow numbers that started during COVID-19 market uncertainty and continued for nearly 12 months. Much of that growth was tied to cheese-heavy food box purchases and direct government payments.
"A lot of producers came into 2021 feeling relatively comfortable and able to withstand what is now more challenging economic conditions related to higher costs, inflation and lower milk prices," he said.
With the outlook now clouded, "we're starting to see the herd correct, and I think we'll see a little more downside correction, at least over the next months," Laine said.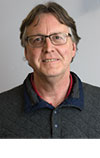 Dave Natzke

Editor
Progressive Dairy