Dairy farmers are digging out from the treacherous late winter storm that dumped nearly 3 feet of snow in parts of the Upper Midwest last weekend.
In a five-county pocket of northeast Wisconsin, nearly 20 dairies have experienced barn roof collapses under the weight of 20 to 30 inches of heavy, wet snow. Massive drifts prevented milk pickups on some dairies, leaving farmers with the only option of letting their milk go down the drain. Total cattle losses are not yet known, as reports of further roof failures continue to come in as the week goes on.
Aerica Bjurstrom knows of at least a half-dozen roofs that caved in the area she covers as the Kewaunee County Agriculture Agent, with several more reported in the surrounding counties. Located between Green Bay and Lake Michigan, parts of this dense dairy region reported more than 2 feet of snow and 50 mile-per-hour wind gusts throughout the course of the two-day blizzard. Most in her area were older freestall barns, built in the 1990s. Fortunately, she had not heard of any human injuries, but "I definitely heard about some close calls," she notes.
Ebert Enterprises near Algoma, Wisconsin, was among those dairies suffering damage. A section of the maternity barn roof conceded to the wind and snow, and the roof of another barn was just hanging on by a thread. As seen here in the video below, a cable was all that suspended it before the farm safely brought the remaining portion down.
The current forecasts call for highs in the 40s and 50s through the weekend, however, Bjurstrom warns that warmer weather does not necessarily mean dairy buildings are free from the threat of a collapse. "They are definitely not in the clear," she says. "There is still a lot of snow on these buildings, and as the snow starts to melt, it gets heavier."
There is also a risk for secondary collapses to the already damaged structures. Bjurstrom adds, "Unfortunately, as one section of a roof goes down, it compromises the strength of the rest of the building."
Dairies are doing their best to safely remove this heavy snow from the roof tops with brooms and shovels, and some local fire departments are pitching in to lighten the load. After a section of roof at Zirbel Dairy Farms LLC of Greenleaf, Wisconsin, gave in on Sunday, resources from eight local units, along with county rescue and highway crew members, prevented further losses to the freestall barns by safely removing the snow in the photo above.
"Farmers and fire departments are using a lot of good ingenuity to get snow off roofs safely," Bjurstrom adds. Fire and rescue teams are spraying salt or saltwater on barns to accelerate melting. Kinnard Farms even enlisted the help of a crop-dusting plane to sprinkle salt over the top of their one-third-mile long, cross-ventilated barn (see video below).
In the Bonduel, Wisconsin, area, where more than 30 inches of snow hit the ground, Zernicke Dairy spent the early part of the week enlisting help from a local fire crew to clean off freestall barns and heifer buildings.
The milking barns were successfully cleared, and heifers have been temporarily relocated to a facility an hour away as a precautionary measure. (See photo above.)
Travel was so difficult in the Bonduel area that Donna and Dennis Bergsbaken's milk truck could not get to the farm. In the photo above, they were forced to let their milk go down the drain in order to make room for the next milking (also in video below).
Donna Bergsbaken says, "The 23 years we've farmed here, we've never seen any storm like this." (See the snow accumulation in the video below.)
Bjurstrom reports similar instances in her region. "There were definitely farms that did not get milk picked up," she adds.
With manure hauling and spring planting just around the corner, it is unclear how the late season snowfall will affect field operations. "People are not panicking yet, but they are getting nervous," Bjurstrom says. "They are going to be delayed, but in a good growing season, people with catch up and put this behind them."
Though many dairies are dealing with snow-related damage, the industry refuses to be defeated. In fact, it only makes a tight-knit community rally together even more. Organizations like the Dairy Business Association are connecting farms in need of alternative cattle housing while buildings are repaired.
"DBA and Edge are doing what we can to support our members as they deal with these structural collapses. We have reached out to our membership looking for other farmers who have space to house cattle for those affected," Nicole Barlass, DBA's director of member relations, says. "It is heartwarming, but not surprising, to see how farms of all sizes have readily offered up space. We're happy that we can be a connection point."
"Other farms are taking animals in and moving some around to make room," Bjurstrom says. "Everyone is willing to help each other out."
PHOTO 1: The Stahl dairy farm in Kewaunee County experienced a roof collapse on part of the barn and await further damage at a weakened point in the rooftop, as indicated by the red arrows. Photo courtesy of Stahl Brothers Dairy.
VIDEO 1: Just hanging by a cable, a roof on one of the Ebert family's barns was safely lowered after the massive snowstorm. Video provided by Renee Ebert, Ebert Enterprises.
PHOTO 2: After a partial roof collapse, Zirbel Dairy partnered with several local fire departments to remove the snowload from the freestall barn roof. Photo courtesy of Zirbel Dairy.
PHOTO 3/VIDEO 2: Kinnard Farms called upon a crop duster to spread salt on the roof of their barn near Casco. Photo and video provided by Shaun Hartke.
PHOTO 4: Photo provided by Amy M. Zernicke.
PHOTO 5/VIDEOS 3 and 4: The 30-plus inches of snow and strong winds Donna and Dennis Bergsbaken received buried a tractor and prevented their milk hauler from picking up their milk. "Thank you to all the milk haulers," she says. "They were literally risking their lives on those dangerous roads." Photo and videos provided by Donna Bergsbaken.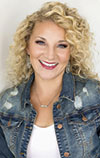 Peggy Coffeen

Editor
Progressive Dairyman