Two critical risk management deadlines are approaching in December. The deadline to sign up for the 2021 Dairy Margin Coverage (DMC) program is Dec. 11. The deadline to purchase first-quarter 2021 coverage under the Dairy Revenue Protection (Dairy-RP) program is Dec. 15.
Read: DMC enrollment deadline nears as dairy outlook turns weaker.
One other date of note: Due to the Thanksgiving holiday, the next scheduled sales period for Livestock Gross Margin for Dairy (LGM-Dairy) is Friday, Nov. 20. Coverage is available for up to 10 months, so you will be able to buy coverage for January-October 2021. You need to select coverage in two-month increments to get the premium subsidy. LGM-Dairy covers milk prices (from falling) and also includes coverage for feed prices rising. LGM-Dairy is not only a milk price put option, but a call option on the price of corn and soybean meal.
Dairy-RP coverage is generally available for milk produced four or five quarters out in the future. Dairy-RP is available every day except holidays and USDA report days that could impact markets (see the calendar below). Dairy-RP is also not available on days when applicable futures contracts move limit-up or limit-down.
Click here or on the calendar above to view it at full size in a new window.
If you still have questions related to DMC enrollment and other risk management tools, here are some upcoming webinars and other resources:
Based on current market conditions, Vitaliano estimates DMC will offer indemnity payments of $1.05 per hundredweight (cwt) in the first eight months of 2021 for those producers who select the maximum $9.50 per cwt coverage level. Visit NMPF's Risk Management webpage for additional information.
Cow-Side Conversations podcast. In the first monthly episode of the Cow-Side Conversations podcast, Mark Mosemann, a partner at the 450-cow Misty Mountain Dairy in Fulton County, Pennsylvania, shares how the dairy uses risk management to protect both their input costs and milk price margins. The podcast is hosted by Jayne Sebright, executive director at Pennsylvania's Center for Dairy Excellence.
On the input side, risk management tools include locking in feedstuff protein prices up to eight to 12 months in advance when possible, participating in a buyer's group to lock in corn seed prices for next spring, and early purchasing of fertilizer and nitrogen stored on farm to take advantage of lower prices in fall. On the milk marketing side, the dairy uses a layered approach, utilizing the DMC at the Tier I level, Dairy-RP and contracting milk through their co-op, Maryland and Virginia Milk Producers Cooperative Association.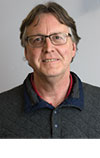 Dave Natzke

Editor
Progressive Dairy