Progressive Dairy provides updates on dairy-related organizations and companies, compiled from staff news sources and industry press releases. Email industry and organization news to Progressive Dairy Editor Jenna Hurty.
Business Digest Highlights
Iowa female entrepreneurs develop Farmmee, an app that helps farmers
Farmers know what it's like to see a storm on the horizon with acres of crop to harvest before it hits. They also know the time-robbing impact of breakdowns. Farmmee solves dilemmas like this and more by connecting farmers with farmers to solve immediate challenges. The app provides a collaboration network that lets farmers seek services by other farmers and lets farmers offer their services to other farmers.
Becky McCrea of Waukee, Iowa; Cindy Rockwell of Carlisle, Iowa; and Molly Woodruff of Indianola, Iowa, are tech industry veterans who work with top agricultural firms nationwide. They're also a trio of Iowa female entrepreneurs who developed the app.
The app, available in Android and iOS versions, is easy to use. There are two user categories: farmer and provider. Users can be both, if desired. Using a menu, farmers can list jobs they want help with. Service providers can list the services they offer.
Visit Farmmee for more information.
Case IH introduces new planter tech, applicator configurations
Case IH is introducing new technology and configurations to help producers match planting and product application to the unique needs of their fields. For model year 2021 equipment, producers can enhance in-field productivity with these solutions:
• ISO Planter Control for 2000 Series Early Riser planters allows producers to monitor row-by-row planter performance and visualize high-resolution as-applied planting data in real time.
• A 90-foot boom option for the FA 1030 air boom applicator is now available in addition to the 72-foot boom offering and can be installed on either the Titan 3540 or 4540 floater.
Visit Case IH for more information.
Kuhn introduces Knight VT 200 Series Vertical Maxx Twin-Auger Mixers
Kuhn North America, Inc. has introduced the Kuhn Knight VT 200 Series Vertical Maxx twin-auger mixers, Kuhn Krause Gladiator 1210 with ST-PRO II row units and Smart Soil Technology for the Kuhn Krause Excelerator XT 8010.
Knight VT 200 Series
Vertical Maxx twin-auger mixers
New updates to the series' mid-size mixers include updated front conveyors, better door-to-floor sealing, heavier high-wear auger flighting and EZ-mate scale system. The mixers range in capacity from 320 to 760 cubic feet and are available in trailer and truck configurations. Multiple configurations, single- or two-speed drive options, along with multiple discharge options.
Krause Gladiator 1210
with ST-PRO II row units
The row units feature a simplified method of adjusting coulter alignment when correcting machine tracking issues. With just two bolts, the coulter spindle can be set to one of three positions: 1 degree left, 1 degree right or zero degrees (straight ahead). In this way, the coulters are used to steer the machine and keep it running directly behind the tractor.
Units equipped with Montag dry fertilizer systems benefit from a new row unit frame design which routes the air exhaust and fertilizer dust down the back of the shank and is blown down into the soil for added nutrient retention and decreased equipment corrosion.
The unit is equipped with a new chain mounting system which allows the end links to pivot and evening up wear across the length of the chain. With 50% fewer bolts holding the chains to the reel, chains are also faster to replace.
The Strik'R conditioner reel on the unit has a reputation for running plug-free in wet soil. The unit builds on this, and the gaps between the tabs on the reel end plates have been closed up, reducing the tendency for mud to pack inside the end plates.
Units are available to order as of June 1, 2021, with intended use for spring 2022.
Smart Soil Technology for the Krause Excelerator XT 8010
The technology is available as an option on all folding models (20-foot, 25-foot, 30-foot, 34-foot and 40-foot). It provides electronic adjustment of machine depth, front and rear gang angle, wing down pressure, Star Wheel pressure and front/rear leveling from any compatible ISOBUS display. Operators can store favorite settings for all functions using eight customizable presets and switch between them during operation. A preset-only mode can be used where the customer wishes to limit the operator's ability to adjust the machine between predetermined settings.
Although adjustments are made from the display, lifting and lowering the machine for end row turns is still carried out using the tractor SCV for maximum operator comfort. Redundant sensors are fitted to gang angle and depth circuits for backup in case of failure, and a machine equipped with this technology can be converted back to manual mode.
The technology is AEF-certified and can be found in the online AEF database.
The system is available as an option on all new orders as of June 1, 2021, with intended season of use for spring tillage 2022.
Visit Kuhn North America for more information.
Single Phase Power Solutions introduces single-phase manure pump systems
Single Phase Power Solutions (SPPS) introduces a new line of large horsepower single-phase manure pump systems. Each features a Cornell Pump Company's MP pump coupled to a Belle large horsepower single-phase motor for out-of-the-box productivity. They feature heavy-duty construction with 17-4PH stainless shaft and replaceable suction liner and wear plates. Each is Run-Dry and Redi-Prime compatible, with a front adjustable wear plate.
A heavy-duty pump bearing frame with double angular contact thrust bearing can be oil or grease lubricated. Efficiencies of up to 89% are attainable. An external balance line and heavy walled castings are standard. The motor that drives the system features Written-Pole technology. This design allows the company to manufacture single-phase motors from 30 to 100 horsepower. Their single-phase pump systems start on less than two times running current; no soft start is required. Remote monitoring via the proprietary Cornell Co-Pilot app allow users to monitor pump functions such as flow, temperature, pressure, vibration, location, motor RPM, motor temperature, motor amps and more.
Visit Single Phase Power Solutions, or email sales for more information.
CentralStar expands DHI and milk analysis services
CentralStar Cooperative and Gallenberger Dairy Records (GDR) have entered into a purchase agreement.
Effective June 1, all milk testing services previously performed at the GDR laboratory were moved to CentralStar's lab in Kaukauna, Wisconsin. Built in 2017, the lab uses infrared spectroscopy, flow cytometry, enzyme-linked immunoassay (ELISA), polymerase chain reaction (PCR) and more to process more than 2.3 million samples annually. Samples can be analyzed for more than a dozen components, and characteristics including butterfat, protein, somatic cell count, solids-nonfat, milk urea nitrogen, Johne's disease, bovine viral diarrhea, neospora, mastitis, pregnancy and others. In preparation for processing more samples and working with more dairy farms, the lab added equipment as well as staff to meet producer expectations.
Visit CentralStar Cooperative for more information.
Saputo announces two acquisitions in the dairy alternatives and value-added ingredient segments
Saputo Inc. announced two strategic acquisitions in each of the dairy alternatives and value-added ingredients segments, representing a combined investment of approximately $187 million Canadian dollars.
The company is pleased to have completed the acquisition of Bute Island Foods Ltd., an innovative manufacturer, marketer and distributor of a variety of dairy alternative cheese products for both the retail and food service market segments under the award-winning vegan Sheese brand, alongside private label brands. The business is located on the Isle of Bute, off the west coast of Scotland and employs approximately 180 people, including its founders.
Supporting the communities where it operates, Saputo is also proud to pledge more than $5 million Canadian dollars over five years to support local Bute Island community initiatives. Community engagement is important to Saputo, who strives to invest 1% of its pre-tax profits each year in community programs and organizations that promote a healthy lifestyle for people of all ages. Visit Saputo Inc. to learn more.
Additionally, Saputo is pleased to have entered into an agreement to acquire the Reedsburg facility of Wisconsin Specialty Protein LLC. This facility located in Wisconsin manufactures value-added ingredients such as goat whey, organic lactose and other dairy powders, and it employs approximately 40 people. This transaction was expected to close at the end of May 2021 and will enable Saputo to broaden and increase the value of its ingredients offering, enhancing its portfolio in the U.S. and internationally.
Visit Saputo for more information.
New Werk-Brau PowerGrip Bucket features 120-degree jaw movement
Werk-Brau introduces the PowerGrip Bucket, a multipurpose bucket that enhances a machine's grading, trenching and clamshell capabilities with precise control. With 120 degrees of jaw opening and a clamping force three times that of standard thumbs, the bucket eliminates the need for additional attachments. The precise control allows users to deftly place materials where desired the first time. Unique design includes an enclosed rotary actuator hinge in cross-tube. There are no exposed cylinders or other external moving parts and no obstruction in jaw or bucket shell. Clamping force is consistent throughout the jaw's full range of motion, and operators can maintain a load regardless of positioning. With equal force exerted at both sides, there is no jaw twisting during use. This quick-coupler-compatible design uses existing auxiliary hydraulic circuit and includes standard OEM lugging.
The buckets are available in various sizes and widths to fit up to 50,000-pound machines with customization options available, making it ideal for handling rocks, scrap material, logs and more. Two different cutting edges within one bucket allow the operator to switch between ditching and digging without changing buckets.
High-strength steel is used throughout the weldment. Hardened, greasable bushings are utilized at all pivot points. Tapered side plates reduce wear on bucket sides and allows easier dumping. A variety of tooth options or bolt-on cutting edge are readily available for customization.
Visit Werk-Brau for more information.
Entries kick off for the 2021 World Forage Analysis Superbowl
Entries are open for the 38th annual World Forage Analysis Superbowl. The 2021 contest, held in conjunction with World Dairy Expo, is set to award over $26,000 in cash prizes, made possible by generous award sponsors. The World Forage Analysis Superbowl is open to all forage producers across North America.
The deadline to submit corn silage samples is July 15, while all other entries must be submitted by August 26. The $35 entry fee provides entry into the contest along with a detailed sample analysis that will be emailed or mailed to entrants after all samples have been judged.
Award winners will be recognized at the Brevant seeds Forage Superbowl Luncheon on September 29 at World Dairy Expo in Madison, Wisconsin.
Visit World Forage Analysis Superbowl for more information.
Northern Tool + Equipment releases NorthStar Electric cold-water pressure washers
Northern Tool + Equipment introduced its newest line of universal and professional quality pressure washers – the NorthStar Electric cold-water pressure washers. The line features the latest technology and offers high-performance cleaning power coupled with increased durability.
Visit Northern Tool + Equipment for more information.
FARM Animal Care certified by PAACO
The Professional Animal Auditor Certification Organization (PAACO) has certified the National Dairy Farmers Assuring Responsible Management (FARM) Animal Care Program as an approved animal welfare evaluation. To receive certification, the FARM Program went through a thorough review process of its Animal Care Version 4 standards, resources and evaluator training materials as compared to standards set by the PAACO board of directors. The review ensured that the FARM Program evaluation includes all the key components required for evaluation of livestock animal welfare and is committed to continuous improvement.
FARM staff will also participate as members of the instruction team for PAACO dairy welfare auditor trainings.
Checkoff expands export efforts with Middle East Domino's partnership
Dairy Management Inc. (DMI) has entered a partnership with Alamar Foods Company. The partnership will focus on about 300 locations in Saudi Arabia and the United Arab Emirates (UAE), with a goal of increasing U.S. cheese sales.
This is the organization's first venture into the Middle East with a partner, but it's not the checkoff's first in the international marketplace. In 2019, the organization began a partnership with Domino's Japan, where the volume of U.S.-sourced cheese has doubled since its launch.
Visit Dairy Management Inc. for more information.
Martha Scott Poindexter chosen as USDEC chief operating officer
The U.S. Dairy Export Council (USDEC) announced the appointment of Martha Scott Poindexter as chief operating officer. As COO, Poindexter reports to USDEC President and CEO Krysta Harden, effective July 8, 2021.
Among other duties, Poindexter will be Harden's strategic thought partner, provide oversight of USDEC's senior leadership team and lead the organization's efforts to accelerate growth, strengthen operational performance and foster innovation.
Poindexter brings high-level global business experience to USDEC. She spent six years at agribusiness giant Bunge as vice president of government and industry affairs. There she navigated a complicated web of U.S. policy issues, legislation and regulation with China, the EU, Southeast Asia and other regions to advance the company's export and commodity trading operations. Poindexter also worked with Monsanto (before its acquisition by Bayer) as director of government relations.
Poindexter recently served as minority staff director for the U.S. Senate Committee on Agriculture, Nutrition and Forestry, working for Sen. John Boozman of Arkansas. She has also served as majority and minority staff director of the Senate Agriculture Committee and as staff director for the U.S. Senate Select Committee on Intelligence.
Poindexter is the first female to lead both the agriculture and intelligence committees, writing numerous farm bills and other significant agriculture, nutrition and intelligence legislation.
See U.S. Dairy Export Council for more information.
Holstein Association USA recognizes 2020 Herds of Excellence
Holstein Association USA presented nine outstanding herds with the 2020 Herds of Excellence award. This year's honorees are:
Small herd size division
(10 to 99 cows)
• B-Long Holsteins – Bruce, Brenda and Bret Long, New London, Wisconsin
• Ever-Green-View Holsteins LLC – the Kestell family, Waldo, Wisconsin
• Hill-Ton Holsteins – the Hamilton family, Cuba City, Wisconsin
• Show-Mar Holsteins – the Brantner family, Evans City, Pennsylvania
Medium herd size division
(100 to 499 cows)
• Hilrose Holsteins – Joseph A. Brantmeier, Sherwood, Wisconsin
• Koepke Farms Inc. – the Koepke family, Oconomowoc, Wisconsin
• Koester Dairy Inc. – the Koester family, Dakota, Illinois
Large herd size division (500-plus cows)
• Dinomi Holsteins – the Migliazzo family, Atwater, California
• Siemers Holstein Farms Inc. – the Siemers family, Newton, Wisconsin
Visit U.S. Dairy Export Council for more information.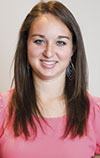 Jenna Hurty-Person

Field Editor
Progressive Dairy