Progressive Dairy provides updates on dairy-related organizations and companies, compiled from staff news sources and industry press releases. Email industry and organization news to Progressive Dairy Editor Jenna Hurty.
Business Digest Highlights
Select Sires develops first-of-its-kind genetic tool to combat mastitis
Select Sires has introduced Mastitis ResistantPRO, a new genetic tool to boost mastitis resistance in the next generation. The tool will appear on qualifying sires following the April 2021 sire summaries. A new icon will identify sires that excel in multiple indicators of mastitis resistance, including CDCB Mastitis Resistance, CDCB Somatic Cell Score (SCS) and Zoetis Mastitis Resistance genomic evaluations. Both Holstein and Jersey sires will be eligible for this designation.
Holstein sires that carry the new designation will reduce mastitis cases by 2.3%. In a 1,000-cow herd, the savings are greater than $10,000 per year. In addition to the cost savings gained from less treatments, taking genetic strides to reduce mastitis events improves udder health, increases milk quality and strengthens consumer trust.
Visit Select Sires - Mastitis ResistantPRO for more information.
Kuhn FC 1061 TC and TL Series mower conditioners
The next generation of Kuhn FC TC and TL mower conditioners is here. The FC 61 TC and TL Series mower conditioners offer fast, clean mowing of heavy grasses and delicate forage crops alike, combined with effective conditioning.
The new Optidisc Elite cutterbar provides a flat, streamlined profile so soil and crop residue do not accumulate and material flows smoothly. These cutterbars have a slim profile, enabling short cut heights with a flat cutterbar angle to reduce the amount of dirt contamination in the crop and prolong blade life.
The mower conditioners allow operators to select between three different conditioning options. The DigiDry finger conditioner provides consistent drying of grass and legume crops in various conditions with little maintenance. The Diamond Block rubber rollers have a horizontal staggered diamond pattern so there are more points for the crop to be crimped as it flows off the disc at different angles. The DoubleCrimp steel roller offers consistent crimping and even feeding of thicker crops and extended life in difficult and abrasive conditions.
The Gyrodine gearbox on FC 61 Series mower conditioners is designed to withstand the most severe pull-through force from the hitch to the machine. The swivel design allows in excess of a 90-degree turn while keeping the PTO driveline straight. This design also allows tight turns for clean, square corners while minimizing PTO vibration and wear.
Visit Kuhn for more information.
Milc group launches Watchdog
Milc group is offering a barn monitoring system called Watchdog. The system can send in-app notifications if barn processes like washup are not working properly. Through its real-time notifications, dairies can detect and fix small issues before they turn into big problems like high bacteria counts, high SCC or hot milk. The system uses many different sensors like temperature and pH and is customizable to monitor any dairy barn.
The system is a submodule in the one app. One is a platform that houses multiple modules for dairy management, currently including "feed" and "facility." It is a great addition to the existing one platform that already offers state-of-the-art feed management software as well as pulsation monitors. One is quickly developing to be the "data hub" for dairies because of its ability to integrate data not only from its own modules but also from other data sources.
Visit Milc group to learn more.
New X Series manure spreaders and 9016-HD high dump cart offer hard-working features and benefits
New enhancements on Art's Way X Series manure spreaders and the 9016-HD high dump cart were designed for intuitive operation and built for performance.
Recent improvements to the manure spreaders include:
1. ISOBUS-compatible rate control system: Gives operators real-time control to adjust application rates and gate height on the go. The exclusive system by Raven Industries Inc. makes it easy to produce readouts, which are designed to fulfill the increasing need for application documentation.
2. Choice of box sizes: Ranges from 500 to 900 cubic feet heaped capacity.
3. Vertical beater placement: Sends out a consistent spread behind the machine, reducing the chance of clumps or dead spots when hauling loads. The vertical beaters are removable, making it possible to haul forage, silage, snow, compost and hay.
4. Flared sides: Provide a base for the bucket and a lower loading height. They also deliver extra capacity and prevent spillage compared to spreaders with straight sides.
5. Dependable protection: It comes with a limited lifetime apron chain warranty. This plan will repair or replace any defective link or section at no cost for the original purchaser.
The high dump cart can be pulled along a harvester to collect forage, peanuts, sugarbeets, corn, soybeans, hemp and more, making it ideal for any operation. Top features include:
1. Lift capacity: Lifts and unloads 40,000 pounds. The massive undercarriage and counterweight establish a wide-stance stability, eliminating worry in the unloading process. Adjustable axles ensure proper weight distribution.
2. Versatility: Converts from a right to left dumping machine. The optional weigh scale system allows operators to monitor their load.
3. Exterior frame: Eliminates the chance of materials getting stuck inside the smooth interior.
4. Maneuverability: Provides accessibility where semi-truck hauling is sometimes impossible thanks to two-wheel design. Its hitch rotation allows for smooth transport to conquer rough terrain and flotation tires help prevent soil compaction.
For more information, visit Art's Way, email or call (712) 864-3131.
Compeer Financial announces Rural Schools Innovation Grants
Compeer Financial is partnering with the Rural Schools Collaborative to present the Rural Schools Innovation Grants program to support exemplary programs developed by rural schools during the pandemic.
Grants of up to $10,000 per school district are available through this one-time program. Rural public schools in Compeer Financial's 144-county territory in parts of Illinois, Minnesota and Wisconsin are eligible to apply. A total of $150,000 is available for this grant program.
Grant applications will be until May 15. Visit Compeer Financial for more information.
Carnation dairy processing facility becomes first in the U.S. to achieve Alliance for Water Stewardship certification
Nestlé USA's Carnation facility in Modesto, California, is the first dairy processing facility in the U.S. to earn certification under the Alliance for Water Stewardship (AWS) standard. The facility uses a "water positive" process to make evaporated milk, meaning the facility redistributes more water for farmers to use than it uses for production and cleaning.
In 2018, the facility developed a water recycling system. The company sources fresh milk from family dairy farms to make its evaporated milk, a process that involves removing water from milk. The facility now treats and reuses a portion of that water in cleaning processes, and the balance is made available to the community.
Thanks to the facility's efforts and investments by the city of Modesto in managing wastewater, the facility now returns more water for reuse in agriculture than it uses. The facility returned more than 70 million gallons of water to the watershed in 2020, enough to fill 100 Olympic-sized swimming pools.
Visit SCSglobal Services for more information.
Prairie Farms reveals 18 new ways to snack
Prairie Farms Dairy is launching 18 new ways to snack with the introduction of Small Batch cream cheese spreads in 3.5-ounce cups and Small Batch ice cream pints. From Sea Salt Caramel cream cheese spread to Savannah Fudge Pie ice cream and everything between, they start the same way with 100% real milk and cream from local farm families.
The cream cheese spread and ice cream lineups include flavors like Honey Vanilla and Sea Salt Caramel cream cheese spreads, and The Hill and Savannah Fudge Pie ice cream. A total of six cream cheese flavors and 12 ice cream flavors are included in the snacking launch.
Visit Prairie Farms-small batch ice cream or Prairie Farms-spreads to learn more.
The new products are available in the freezer and dairy sections at retail and food service outlets throughout the Midwest and parts of the South.
World Dairy Expo 2021 to remain in Madison, Wisconsin
World Dairy Expo 2021 will remain in Madison, Wisconsin. The 54th edition of the event is scheduled for the event's historic home, the Alliant Energy Center, Sept. 28 – Oct. 2, 2021. This announcement comes after contingency planning and consideration of alternative venues.
Discussions regarding the contract extension proposed by Dane County in early March concerning the show's use of the center, a county-owned facility, will take place over the coming months.
Visit World Dairy Expo for more information.
Make herd health a competitive advantage
The 2021 Minnesota Dairy Health Conference began on May 6 and will run through July 8. The online conference is planned for veterinarians, industry professionals and consultants, and dairy producers. Registration will include follow-up electronic access to each speaker's materials and recorded presentation. Continuing education credits are available for veterinarians who attend.
The individual sessions will cover investigating disease and managing outbreaks in heifers (May 6), managing transition cows to optimize health and performance (May 27), making better mastitis control decisions and using less antibiotics (June 17), and adopting a systems approach to vaccination protocols (July 8).
Visit Dairy Health Conference or email for more information.
Minnesota Milk award and scholarship nominations due June 1
Minnesota Milk is seeking nominations for its Producer of the Year award, Bruce Cottington "Friend of Dairy" award and college scholarship program. All nominations and applications are due June 1.
Producer of the Year – Dairy farms are scored on their leadership, community involvement and ability to be a representative for the Minnesota dairy community. Award winners receive a video made of their family farm, paid attendance to the annual meeting where the award will be presented, a scholarship to attend a leadership conference of their choosing and a framed print.
Bruce Cottington "Friend of Dairy" – Each year, a leader in the dairy community is selected as a "Friend of Dairy" in honor of Bruce Cottington. Select individuals fostered goals and ideals of the association through their own personal efforts. Additional criteria for the award include their involvement in Minnesota's dairy industry, display of leadership and community involvement.
Scholarships – The association will award up to 12 $1000 scholarships this year, with at least two of those scholarships preferred to students attending a two-year program. To apply, students must meet the criteria listed on the application.
Visit Minnesota Milk-awards to apply for more information.
Clark, Lippert and Weiland elected to PDPW board
The Professional Dairy Producers (PDPW) elected Paul Lippert of Pittsville, Wisconsin; and Brady Weiland of Columbus, Wisconsin, to a three-year term on its board of directors during the organization's business conference in Wisconsin Dells on March 18. They also re-elected incumbent director Janet Clark of Rosendale, Wisconsin, to a second term on the board.
Lippert owns Grass Ridge Farm LLC with his father, Matt Lippert, and brother Carl Lippert. The dairy is home to 600 registered Holsteins and Jerseys as well as 500 head of youngstock. Paul manages all daily operations including herd health, employee management, agronomy and financial analysis. He is a graduate of UW – River Falls with a degree in dairy science and the Farm and Industry Short Course at UW – Madison.
Weiland owns and operates Weiland Dairy LLC with his parents, brothers and seven employees. As dairy manager, he oversees the 600-cow dairy with a focus on management practice and quality genetics to achieve the farm's goals. After graduating from Madison Area Technical College with a certificate in diesel technology, he furthered his education at the UW – Madison Farm and Industry Short Course.
Visit The Professional Dairy Producers for more information.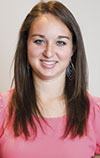 Jenna Hurty-Person

Field Editor
Progressive Dairy