Progressive Dairy provides updates on dairy-related organizations and companies, compiled from staff news sources and industry press releases. Email industry and organization news to Progressive Dairy Editor Jenna Hurty.
Business Digest Highlights
New Case IH VT-Flex 435 vertical tillage tool offers soil management flexibility
Available for fall 2022, the VT-Flex 435 vertical tillage tool from Case IH offers simple, variable gang angle adjustments. With adjustments that can be performed on the go and a design built to withstand tough conditions, this vertical tillage tool is ideal for mixed farms and small to midsize grain operations. The tool is available in widths of 11 to 25 feet.
Gang angles are mechanically or hydraulically adjustable from zero to 12 degrees to match the operator's desired field finish. From the tractor cab, operators can adjust the front gangs independently from the rear gangs. Additionally, 20-inch, shallow-concavity fluted blades help cut residue at shallow gang angles.
The tool is equipped with a TigerPaw Crumbler designed to produce uniform clod sizing and residue distribution. A standard walking tandem design on the main frame and wings provides balance and stability, reducing soil compaction while providing optimal depth control.
With optional hydraulic gang angle adjustments (available on 15- to 25-foot models), operators can adjust tillage tool settings from the cab while continuing to cover acres at speeds of 6 to 9 mph. With 1- to 4-inch depth capabilities, the vertical tillage tool offers single-point hydraulic depth control. A front T-hitch design allows for tight, efficient turning when space is at a premium. It has transport widths of 13 feet, 7 inches.
The tillage tool is equipped with 20-inch Earth Metal VT wave blades designed to stand up to tough conditions with maximum durability, while flat, crimped blade centers create exceptional blade strength.
The tool is available in five configurations – 11, 15, 20, 23 or 25 feet. Visit Case IH for more information.
Estrus detection made easy with breeding indicator patches
In research studies, breeding indicator patches have shown to be as effective as activity monitoring systems to determine estrus. A study conducted by Kansas State University showed patches detected estrus 74.7% of the time compared to 72.2% for activity monitors in cows whose estrus was synchronized.
Here are four ways breeding indicator patches can help improve your reproductive program:
Make breeding decisions easier: Not only is breeding on estrus intensity a good way to manage the value of genetics, but you can also use it to make reproductive decisions. Breeding indicator patches help better show when cattle are in a higher estrus intensity. As mounting activity occurs, the patch surface ink rubs off to expose a bright indicator color.

Should a patch have less than 50% of surface ink rubbed off, you can decide to use cheaper straws of semen because there is a reduced likelihood of pregnancy. If 50% or more surface ink is rubbed off, then more valuable genetics can be used.


Visual estrus detection made easy: Visual heat detection aids like breeding indicator patches, tail paint and chalk are simple, affordable options to monitor estrus, especially in large groups of cattle. Although cows and heifers don't need to be watched 24-7 when using visual aids, they still need to be observed at least once a day if you are only A.I. breeding once daily.

With breeding indicator patches, you can easily monitor estrus activity by quickly observing the patch to determine when cattle are coming to estrus before the scheduled timed A.I.


Open cows? No problem: If you're currently using tail paint or chalk to visually identify estrus, applying breeding indicator patches following routine pregnancy checks can help you pinpoint problem cows and improve breeding efficiency.

Breeding technicians can walk the pens as they normally do to read paint or chalk rubs for the first breeding cycle. Then, after pregnancy checks have determined which cows are open, apply breeding indicator patches to open cows to detect estrus more accurately in the next cycle.


Pinpoint when heifers cycle: When breeding heifers in an open lot or pasture, it can take a few cycles of observing estrus before a whole group will be bred. Some heifers will show heat more readily, while others might take longer to become pubertal.
Visit Estrotect for more information.
Vaxxinova buys Newport Laboratories from Boehringer Ingelheim
Vaxxinova purchased Newport Laboratories from Boehringer Ingelheim. About 100 people work at Newport Laboratories in Worthington, Minnesota. They help veterinarians and livestock producers address animal health issues through diagnostic testing and production of autogenous, or custom-made, vaccines.
Vaxxinova CEO Victor van Solinge said his team is committed to a smooth transition to support Newport Laboratories customers. Terms of the deal were not disclosed.
milc group announces partnership with Rice Lake Weighing Systems to launch One Truck Scale
milc group is offering One Truck Scale, a user-friendly feed inventory module that communicates directly with Rice Lake Weighing Systems proven weight indicators. The 1280 Enterprise Series Programmable Weight Indicator and Controller reduces user error with a user-friendly interface while directly connecting the scale system to inventory within one feed, milc group's cloud-based feed management platform.
This new partnership allows dairies to have accurate data during harvest time and when commodities are delivered on-farm. A user-friendly, efficient and precise way to track feed inventories decreases worker frustration and stress.
Visit milc group to learn more.
Kersia announces signing of exclusive agreement for acquiring majority stake in AgroChem
International group Kersia continues its international expansion, acquiring a majority stake in U.S.-based dairy hygiene specialist AgroChem beside the DeMarco family, who remains minority shareholder. This new partnership is based on the great potential for positive synergies between the two entities, both of which have a global reach, solid industry experience and broad geographic coverage.
Visit Kersia-group or AgroChem for more information.
Agropur adding Wisconsin cheese production capacity
Agropur Dairy Cooperative will build a new $168 million cheese production facility in northeastern Wisconsin. The 210,000-square-foot facility, under construction on 24.5 acres in the village of Little Chute, will more than double Agropur's annual milk processing capacity in the area – from 300 million to 750 million pounds. About 85% of that milk will come from within 40 miles of the plant.
Agropur is the largest dairy cooperative in North America and one of the top 20 dairy producers in the world. In Wisconsin, it already operates facilities in La Crosse, Appleton, Little Chute, Weyauwega and Luxemburg. The Wisconsin Economic Development Corporation (WEDC) will support the expansion with up to $4.5 million in business tax credits.
CDI building UHT-ELS fluid plant
California Dairies Inc. (CDI) held a groundbreaking ceremony Sept. 29 on a new Valley Natural Beverages fluid milk processing facility. The 220,000-square-foot facility, located on a 30-acre site in northern Kern County, is expected to be fully operational in 2023. The facility will produce ultra-high-temperature (UHT) and extended shelf-life (ESL) milk products.
The project is being built in a region of California with significant milk production but no local processing facilities, according to CDI. The investment will significantly reduce the transportation distances of milk produced in Kern County, and renewable energy sources and waste conservation are key priorities in the facility and operational design.
CDI is the largest dairy farmer-owned cooperative in California and the second-largest in the U.S. Its 300 dairy farmer owners produce about 17 billion pounds of milk annually, approximately 40% of California's total. That milk is processed into butter, fluid milk products and milk powders.
Merck Animal Health awards 18 future bovine veterinarians with $90,000 in scholarships
Merck Animal Health has awarded $90,000 in scholarships to 18 bovine veterinary students based on their academic achievements, career goals, work experience and interest in veterinary medicine. Selected students received their American Association of Bovine Practitioners (AABP) Bovine Veterinary Student Recognition Award, and a $5,000 scholarship, at this year's 2021 AABP annual conference, held in Salt Lake City, Utah, Oct. 7-9.
The following students received the 2021 award:
• Kathryne (Day) Blair, Washington State University
• Julia Brigandi, Cornell University
• Alexandra Colton, Oregon State University
• Jordan Cornwall, Washington State University
• Monika Dziuba, Michigan State University
• Lindsey Fenster, University of Georgia
• Juli Henderson, Iowa State University
• Kalene Johnson, Ohio State University
• Montana Lins, University of Wisconsin
• Jessica Meseck, Iowa State University
• Alexandra Preszler, Iowa State University
• Lexie Reed, Ontario Veterinary College
• Jared Sanderson, Michigan State University
• Artemis Sapountzi, Cornell University
• Jared Schenkels, Atlantic Veterinary College
• Anna Schmidt, University of Pennsylvania
• Isabell Stamm, Western College of Veterinary Medicine
• Kara Valasek, Iowa State University
Visit Merck Animal Health for more information.
Registration open for Managing Performance course
Cornell Agricultural Workforce Development has opened registration for Managing Performance, a new six-week course in the Supervisory Leadership Certificate program.
Managing Performance materials will release Nov. 10, and live weekly Zoom discussions will be held from Nov. 16 through Dec. 21. Registration is $275 and closes Nov. 12. Course topics will include:
• Understand motivation
• Harness the power of performance feedback and coaching
• Build clear and effective workplace communications
• Set safety expectations
• Conduct effective performance improvements
This course, and the whole certificate series, is appropriate for both new and experienced farm supervisors and managers, and those preparing to become supervisors. All participants will learn leadership concepts and practice skills that will improve their ability to build a positive workplace and get results through leading others.
Direct questions to Rachel McCarthy, agricultural supervisory leadership coordinator. Visit Cornell Agricultural Workforce Development - Supervisory Leadership Certificate program for more information.
Prairie Farms announces leadership changes
Prairie Farms Dairy announced that Ed Mullins has decided to step down as chief executive officer/executive vice president to assume a new role as senior executive officer. With a tenure of over 40 years, Mullins will continue to be actively involved in the company's day-to-day operations.
Currently serving as senior vice president of sales, Matt McClelland has been promoted to replace Mullins as chief executive officer. McClelland joined the company in 1991 and has held numerous leadership positions in sales and operations.
The transition will become effective on Jan. 1, 2022.
O'Brien begins new chapter as CEO of Dairy Checkoff
Barbara O'Brien, who was approved by the Dairy Management Inc. (DMI) board of directors to succeed Tom Gallagher as CEO, will assume her new role. Gallagher will remain as an adviser to O'Brien as needed through July 31, 2022.
O'Brien plans to immediately tap the expertise of DMI staff, along with input from farmers and industry leaders, to seek ideas and contributions that magnify the checkoff's impact and create efficiencies on behalf of farmer and importer owners.
Visit U.S. Dairy for more information.
New statewide education campaign aims to increase recycling of plastic milk jugs
The California Milk Advisory Board (CMAB) launched a public information campaign aimed at increasing awareness of the recyclability of milk jugs made of high-density polyethylene (HDPE) or No. 2 plastic. The "Recycle the Jug" campaign is designed to drive sustainable behavior change across the state by addressing misconceptions to ensure plastic milk jugs make it into the recycling stream.
A 2021 perceptions study conducted by a dairy industry coalition revealed that while 70% of California consumers said recyclability is important to them, 47% found the milk jug difficult to recycle, and 32% of those consumers reported they didn't trust it will actually be recycled.
Working closely with the dairy, retail and recycling industries, the Recycle the Jug campaign encourages consumers to take three simple steps to recycle their plastic milk jugs – Pour it. Cap it. Bin it. A new recylethejug.com site launched in collaboration with the Milk Processor Education Program (MilkPEP) provides complete information on milk jug and other recycling. And a new recycling icon with the website address will soon appear on milk jugs at retail stores across California as a reminder to consumers to recycle the jug in their local curbside recycling program.
Visit Recycle the Jug to learn more.
National Dairy Board Scholarship Award winners announced
The National Dairy Promotion and Research Board (NDB), through Dairy Management Inc., annually awards $2,500 scholarships to 11 students. In addition, the NDB awards a $3,500 James H. Loper Jr. Memorial Scholarship to one outstanding scholarship recipient.
Ashley Hagenow, a University of Minnesota student who is majoring in agricultural communications and marketing, has earned the 2021-22 Loper Scholarship.
Students earning $2,500 scholarships are: Amelia Hayden, University of Minnesota – Twin Cities; Meghan Hettinga, South Dakota State University; Theodore Jacoby, South Dakota State University; Lance Lynn, Texas A&M University; Bobby Marchy, Oklahoma State University; Brianna McBride, Iowa State University; Margaret Molitor, South Dakota State University; Kaitlin Mirkin, University of Idaho; Jessica Schmitt, Iowa State University; Mackenzie Ullmer, University of Wisconsin – Green Bay; and Kendra Waldenberger, University of Minnesota – Twin Cities.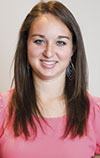 Jenna Hurty-Person

Field Editor
Progressive Dairy