"Probably what I hear most from our producers is that they are cautiously optimistic about the year ahead, especially with the vast majority of our producers experiencing the very large negative PPDs [producer price differentials] several months this past year," said Doug Leman, who is retiring this summer after 10 years as executive director of the Indiana Dairy Producers (IDP).
The Indiana State Department of Agriculture (IDSA) recently unveiled the Indiana Dairy Strategy 2.0, which focuses on dairy-related business development and expansion in the state. The agency estimates Indiana dairy farmers produce a net surplus of 3.5 million pounds of milk each day, so it needs to find markets for the extra milk. The document highlights Indiana's tax, labor, infrastructure and transportation systems as an inviting destination for new processing capacity.
Leman said the update not only supports more large-scale commercial processing but also encourages innovation and entrepreneurship for on-farm processing. It also supports research and market opportunities across the value chain with an eye on sustainability, from enhanced feed technology to producing biogas and renewable energy from dairy waste.
Indiana's location puts it between large population centers in the East and Midwest, making it a good spot for more milk processing and marketing.
"In Indiana, dairy farmers are vastly different in their size, management practices and how they promote themselves. What I find is the main theme for every dairy farmer is their passion for what they do," said Jenni Browning, Indiana Dairy Association CEO.
Steve Obert of Fort Branch, Indiana, will succeed Leman as IDP's next executive director, effective May 1. Born and raised on a dairy farm in southern Indiana, he worked in ag lending for several years prior to returning to the family dairy farm in 1987. He served as president of IDP from 2014 to 2017 and is currently owner and partner in Obert Farms and Obert Legacy Dairy.
ILLUSTRATION: Illustration by Corey Lewis.
Also read:
Northeast: Proceeding with caution
Southeast: More than a fluid situation
Postcard from North Carolina: Moving toward innovation
I-29 Dairy Corridor: Connectivity and caution
Postcard from Kansas: Optimism is more difficult
Postcard from Ohio: Plenty of uncertainty
The state of risk management: 2021 DMC enrollment jumps
Midwest: Pillars withstand quake of coronavirus
Southwest: Placing a tier on growth?
Idaho: An apprehensive start to 2021
The state of food service: A tough climb ahead
The state of the dairy herd: More cows, fewer heifers
The state of exports: Record volumes
The state of retail sales: Maintaining strength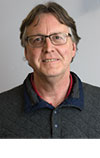 Dave Natzke

Editor
Progressive Dairy