When packing supplies to go to the show, the very best way to accomplish the task so nothing is left at home is to walk yourself through the day at the show.
Here are some handy checklists to tear out and reference as you prepare your display and pack show and clipping supplies.
Setting up at the show
Whether you are showing with your 4-H or youth club, or with your farm, you are going to want an attractive, comfortable display. Here are some tips on how to keep your cattle comfortable and have an inviting area for yourself and visitors.
Have backboards or a way to display signs above the cattle.


Signs should include animal name, birth date, sire's name, dam's name and any other important information such as show winnings, classification scores or milk production records.


Keep the signs simple with easy-to-read writing. When you are making the signs, stand back 10 to 12 feet and see if you can read it easily – that's how far away people are going to be when they read it.


Have a good turbo fan. This may be one of the most important investments you can make to keep your animals healthy at the fair and at home.


You will need straw and shavings to make a pack, or you can make it from shavings only.


Double ties and chains with a release ring in case your animal gets caught


Have one or two show boxes. It's a good idea to keep show supplies in one and personal belongings in the other.


A cooler for water and show sprays


A few chairs or benches and perhaps a small table
General show box supplies
Livestock thermometer


Rags


Wrenches, pliers and a hammer


Extra hose supplies


Paper towels


Soft brush


Rice root brush


Extra nylon halter or two
First-thing-in-the-morning supplies
When you get to the barn in the morning at the show, there should be a routine in place of cleaning up the pack, feeding, watering, milking and then heading to the wash rack. Here is a list of items to accomplish the morning routine with ease.
Clean up
Five-tine fork for picking up manure


If using a shavings pack, you will need a fork made from plastic with multiple tines.


Wheel barrow


Shovel


Broom


Small tubs to catch manure – this saves on the bedding pack


Paper towels
Feeding
Feed tubs 7 inches deep


A feed scoop – don't take the one from home; they will need it there.


Enough feed for the length of the show (Here is where a knowledge of how much your animal is eating and good math skills comes in handy.)


A bucket marked just for water or large water tubs


A watering system can also be made from hoses and automatic waterers.
o Note: Do not take a stock tank to the show, as this is how disease and illness can spread rapidly. Always water cattle in their stall.
Milking
If you are milking with your own equipment, take a portable pump, a bucket in good working condition, a teat sanitizer, dip and udder cloths.


Bleach or a solution to wash out the bucket
Washing
Hose


Nozzle that allows strong pressure


A stiff brush for scrubbing soap


A stiff brush for brushing hair down after rinsing


Livestock soap


Livestock conditioner


Adhesive remover for after the show


Topline brush to brush down the topline
o Note: When you are done washing, pack up all your supplies into your wash bucket, including the nozzle. Wrap up your hose after draining the water out. This ensures it will all be there when you are ready to wash the next day. Be sure to pick up any empty soap containers because the public can see the wash area, too.
Clipping supplies
This is a list for beginner to intermediate-skilled youth who want to do their own fitting. Always take an opportunity to attend a fitting clinic in your area to learn more.
Regular-size clipper for the body


Blades for a short clip


Small clipper to do the legs, tail, udder, head and ears


Various-size blades for a small clipper


Small blower to blow up the topline – this should be purchased from a livestock supply site, as these will have the heat and correct strength to make hair stand up.


Topline brush


Clipper oil


Extension cord


Power strip


Keep all of this in a toolbox for safe-keeping.


A big blower is very handy to have and a good purchase for a club so everyone can use it.
Show day supplies
A show halter that fits properly – make sure it is cleaned and oiled.


A show harness that fits the exhibitor properly


A white pair of pants and white shirt – an extra of each can be helpful if showing all day or multiple days.


Fly spray


A finishing product for shine


White paint or hair-thickening powder
o Note: Don't be afraid to ask at your show supply store what are the best products to use. There are several companies that make excellent products to give you an edge in the ring. Consult their websites for more information, and be sure you are following guidelines for dairy cattle.
Once you learn to pack a trailer for the show, you have developed a life skill that will help you when packing for trips, heading off to college or any time in life you need to determine what needs to go and what needs to stay.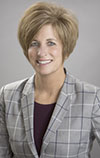 Katie Coyne

Dairy Youth Consultant