It was early in the evening on Thursday, Sept. 20. Members of the Meyer family were catching up on various tasks. They had put in a long day on Wednesday, harvesting, packing and covering their corn silage crop ahead of rain in the forecast.
At his home, 6 miles from the farm, Andy Meyer just finished giving his kids a bath while his wife, Samantha, was at work. He remotely checked in to their automated milking system to find only a few cows were late to milking. He called his dad, Alan, who offered to take care of the fetch cows that night.
"It took me a day and a half to get those 20 minutes of chores done," Alan says in retrospect.
He was in the farm shop when the robots started calling because they lost power. As he went to look, he spotted a tornado and headed to the house where his wife, Sharon, was. Once he got there, he turned around and could no longer see the shop just across the driveway. They took shelter in the basement, and the house shook.
Richland Dairy in Kenyon, Minnesota, suffered a direct hit from an EF1 tornado. Every building was either damaged or destroyed, along with a lot of the farm equipment.
The rafters of the dairy barn were left perched on top of the freestalls. At the same time, there was a cow in one of the two milking robots.
It didn't take long before there were 15 to 20 trailers on-site to move the cows to another robot farm.
"It was very humbling," Alan says.
"Everybody stepped up," adds Andy.
They had a high-producing herd, averaging just under 6,000 pounds of milk per day per robot. They opted to dry up any animal milking 90 pounds or less that evening.
In order to be up and running again as soon as possible, the Meyers decided to rebuild on the existing footprint. This allowed them to keep the same foundation and manure storage. It also sped up the permitting process.
"We got a building permit in two hours versus eight to 10 months," Alan says.
Having to evacuate the facility opened up an opportunity to upgrade their automated milking system, which they originally installed in 2010. However, they had to act fast to account for the time it would take to build it.
"We had to put our name on the list to get the robots built. We bought a barn, and we bought robots not knowing if we'd get insurance money. The banker helped us out a lot on that one," he says.
The cows moved back into the barn on Jan. 2, just over 100 days since the tornado. They only had to push most of them through the robots twice, and they were averaging 93 pounds per cow.
They didn't buy any animals for the first month, but then started purchasing heifers figuring they'd adapt to the automated milking easier.
Right away, Andy says he noticed a difference with the newer robots as it only took 10 days to train a heifer compared to about a month with the older style.
They jumped up two models from Lely's A3 Next to the A5.
"With the A3, we were just under 6,000 pounds a day, 125 milking cows and two hours free time," Alan says. With the A5, we have 114 cows and six-and-a-half hours free time. That's a lot of room to get more cows through."
Their goal is reach 7,000 pounds of milk per robot and are already at 6,500 pounds. With calvings this summer, they plan to be at 135 to 140 cows by fall. "This is going to test the system," Alan says.
What did the disaster take away that you will never be able to replace?
MEYER: Every building was either damaged or destroyed. One of the original buildings on the site was a granary built in 1885. That building is gone, and we can't replace that. It was literally hand-hewn logs.
What improvements were you able to make by having to rebuild?
MEYER: We replaced the original fans, plus we salvaged some from the old barn, so we have more fans now. We added LED lighting and improved the structure itself. The builder put plywood on the end walls and extra steel supporting brackets on the cement posts, so we'll need an F2 to take it down, not just an F1. For ventilation, it used to have a complete north-to-south open ridge that was covered. Now we went to a chimney system. It still does the same thing, but the chimney can keep the building that much warmer. Before, we could only keep the barn 15 to 20 degrees above the outside winter temperature. Now, there was a time it was minus 30 to minus 35°F on-site, and the barn bottomed out at 29°F, so it didn't freeze the robots or the scrapers. We can control the environment better.
Name one thing the disaster took away that you're not sorry it was lost or damaged.
MEYER: The robots themselves. When we were installing the robots originally, the employees from our dealer went back to the home country and looked at the new A4s, so ours were absolutely obsolete before we even started with them. We talked with our dealer last August about the newer model, but the barn was full of cows, and we were milking 24/7. How do you stop to put two robots in? That part was good that we could jump to the A5s. The rest of the stuff was minor; you could have changed the lights or the ventilation while you were still milking.
What did you learn about insurance through working to recover your losses?
MEYER: Make sure you review your policy on a regular basis, so all endorsements are in place and all values are up to date. We learned a lot – some good and some not so good.
How would you insure yourself differently now having gone through this experience?
MEYER: Keep your values current. I thought we had milk loss income, which means you still get a check for the loss of the income. Then our tractor was damaged, so we rented a tractor to replace that for about a month. We did not have that endorsement like I thought we did, so that rental part was not covered. We also rented a skid loader and telehandler to help clean up, but those were covered under the policy.
Is there anything you have done already or will do in the future to protect against this happening to you again?
MEYER: There's nothing we can do, it's an act of nature, and, truly, nature is way more powerful than any one of us. The insurance people had a structural engineer come in to look at the building and the damage, and he said, "You cannot build a building strong enough to withstand a tornado." We just happened to be in the wrong spot of that tornado. We weren't alone; that tornado went for miles and miles and miles.
Any advice you might have for producers who may be at risk for a similar situation?
MEYER: Check your policy, and make sure you are insured the way you want to be. If your agent isn't going to do it, find somebody else who will. You think it would never happen to you.
What outside support did you receive that helped you through this situation?
MEYER: A lot [of] friends and neighbors helped tremendously. It was crazy. The next morning, three track skid loaders came in, and those guys ran all day. On Sunday, there were five track skid loaders. Our whole site was on the ground. There were pieces everywhere.
PHOTO 1: The Meyer family rallied together to rebuild their freestall barn 100 days after being wiped out by a tornado. Family members include (left to right) Andy, Samantha, Sharon and Alan Meyer. Photo provided by Sharon Meyer.
PHOTO 2: Andy Meyer talks about the performance of their newest model of robots compared to the older version they had before the tornado. Photo by Karen Lee.
PHOTO 3: The freestall barn was rebuilt on the same footprint as the old barn, but they added more fans and a chimney system for better climate control. Photo by Karen Lee.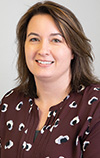 Karen Lee

Editor
Progressive Dairy