For years, we've seen an emphasis on genetics for things like pounds of milk and butterfat in the dairy industry, and low birthweight, high rate of gain and marbling in the beef industry.
All those things add value and boost profitability. But keep in mind: The animal's genetics are just the upper limit that defines the best an animal can do. That's why it's so important to look at nutrition and the ration the animal is receiving. While other things such as genetics and animal health play into that, good feed and nutrition is where it starts.
Nutrition is about understanding your animals, your crops, your fields, your equipment and your forages and getting them all to work together. Forage is typically the biggest part of the ration, and it has more variability than any other part of the ration. That's why technology like near infrared (NIR) systems on self-propelled forage harvesters is important. NIR gathers important data on your forages so you can optimize everything you have.
Some of the pushback we see from farmers and custom forage harvesters is "Do I really need NIR technology? Is this going to make me a quick buck today? Can I see the return immediately?"
In some instances, the answer is "yes."
On a self-propelled forage harvester, the NIR sensor is placed on the spout. If you're following a hay merger or raking crew, and you're typically an hour or two behind them picking up the grass, triticale or alfalfa, you can read the ash content in real time. If you see that it's a little high, maybe the tines are set too low. Maybe the merger operator is pulling in a lot of dirt and needs to raise his setting height. So there are some things that can be adjusted immediately to produce better forage. It's far better to make adjustments while still in the field than get the results three or four months later and say, "Gosh, I wish we could have done something better to improve this."
Some of the key measurements that NIR will show are crude protein (CP), moisture content, starch, acid detergent fiber (ADF) and neutral detergent fiber (NDF). These are all things your nutritionist is already delivering to you when you do some sampling. NIR allows you to get that information in real time and over the course of all your fields, so you have all the data from hundreds of thousands of data points, not just from a few spots. The overall accuracy of a calibrated NIR sensor is almost identical to the lab results (within a decimal) while pulling in thousands of more samples per field for even greater whole-field accuracy. It gives you a much better understanding of what you harvested and what you have to work with.
But when it comes to the full utilization of NIR technology, the year-over-year small gains are where you can see the biggest bang for your buck.
Whether it's real-time mapping you upload to the cloud or whether you go back to the information later at the end of the season, you can overlay the data from the NIR sensor with the soil maps, sprayer prescriptions and planting data you've already accumulated. If you're not comfortable doing that, there are many crop consultants that can help you with this.
By overlaying all that data, you can understand what is going on in the field. Now you can see that your nutritional value went down on this side of the field. Maybe it's the soil type, or maybe the seed hybrid you selected won't do as well nutritionally in that soil type, so you need to make some changes there. That's where you come back the next year and change the seed or the prescription spraying or switch to a different pesticide or fertilizer application.
Crop management changes based on the information you've collected from an NIR system can really make a big difference when looking at your forage quality year-over-year. Do you need to adjust your fertilization or your spraying plan? Do you want to have variable rates as you go across the fields? Do you want to have variable prescriptions? All those things come into play. You might get to an area where the soil type just doesn't produce like the one next to it. Maybe you vary your seed rate so you don't waste money, or you might want to try a different crop rotation. It all takes information; it all takes data to make those right decisions.
These are small incremental changes you can measure and identify on the map. But as it is typically done today, if you are pulling maybe one, maybe three forage samples out of the bunk, how do you know how to make the crop management decisions that will boost your productivity and profitability?
The whole purpose of precision farming, and technology like NIR, is to improve your operation and your profitability. When you have the right information, you can apply the right product, at the right place, at the right time. With NIR on a self-propelled forage harvester, you can use that information to make measurable improvements in the next year's cycle.
Technology is never a magic bullet: It's a tool set. Depending on how you utilize that tool set is how much value you get out of it. The great thing about the NIR technology on today's self-propelled forage harvesters is: The technology is easy to utilize and has a lot of potential to improve your forage quality and your bottom line.
PHOTO: NIR technology is providing real-time data on self-propelled choppers to make in-field adjustments. Photo courtesy of CNH Industrial.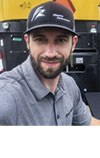 Brad Wenger

SP Forage Harvester Product Marketing Manager
New Holland