When you hear about milking automation, you likely think of robots. But the reality is: The dairy industry has more choices than ever when it comes to milking automation.
These choices could be full automation with a robotic rotary or a box-style robotic milking barn, or partial automation with a conventional parlor with automated components.
While all levels of automation can help reduce labor and improve efficiency, it's important to understand the options available to help you make the best decision for your farm. Here are a few considerations to help you decide if full or partial automation is right for you.
Data do's and don'ts
The first question to ask yourself when determining the automation needs for your farm is: "What am I doing for data today?" Data drives automation success and, for farms currently utilizing little or no data analysis, the data available with robotic milking can be overwhelming.
Partial automation technologies such as activity monitoring or milk metering can be a good first step for those with little background in data analysis. These technologies provide the high-level information you need to increase efficiencies without drowning in data.
If you're ready to dive into fully automated milking technology, make sure you understand what data you have access to and have a plan to monitor, measure and act on that data. With robotic milking, cows are monitored for milk quality, milking speed and times, rumination, breeding, health and more.
This data provides improved accuracy of information, earlier detection and treatment, and better cow management to increase efficiency and profitability.
Manage for success
When making your selection between full or partial automation, it's essential to look at all options and think about your ideal management style to ensure long-term success on your farm.
Partial automation with a conventional parlor and added automated teat prep and post-dipping is ideal if you aren't ready to jump into full-scale robotic milking. This level of automation allows you to minimize labor and maximize throughput all while maintaining your current management style.
Switching to full milking automation with a box-style robot can be a significant management adjustment compared to conventional milking. However, this type of automation provides more flexibility with no scheduled milking times and allows you to move from hands-on milking to a higher-level management role.
Robotic rotary parlors, on the other hand, give you the key advantages of automated milking while still maintaining a similar lifestyle and management style as conventional milking.
Labor woes
As labor becomes increasingly scarce, both full and partial milking automation can help solve labor issues by locking in certain costs and replacing everyday tasks with robotic technology. Labor can be reduced or reallocated to other farm tasks, providing significant labor savings.
For example, one farm milking in a 60-stall robotic rotary parlor with 2,250 cows milked three times a day had an annual labor cost estimated at $168,000. The same herd size milking with a conventional rotary had an annual labor cost estimated at $525,600. Even with a $2-per-hour increase in wages for the robotic rotary, the farm saw a labor savings of $357,600 annually.
Partial automation with automatic teat prep and post-dipping also allow you to streamline the milking process and reduce or reallocate labor. Using the same farm example, implementing an automatic teat scrubber and automatic post-dipping system would save the farm $131,400 in labor annually.
Profit drivers
Making the move to automation is like any other business decision on your dairy. You must ask yourself whether the initial investment costs and management changes you will make will result in a positive return on your investment for both you and your cows.
When selecting the best level of automation for you, it's important to consider what drives the profit on your farm. Consider how full or partial automation will impact these prime profit drivers:
Breeding
Feeding
Cow comfort
Milk quality
Milk production
While costs vary widely for fully robotic milking, depending on the type of robot, the number of boxes or stalls needed and the need for new or retrofitted facilities, full automation is a significantly higher investment than partial automation, with paybacks on labor savings or increased productivity occurring in the years to come.
Partial automation allows you to gain some of the key benefits of automating portions of the milking process with improved milk quality and reduced labor without the high up-front costs of fully automated robotic milking systems.
Facilities
Switching to milking automation is not just about the what but also the where. Facility considerations play a large role in the decision between partial and full automation.
Ask yourself: Can your current facility be adapted to full or partial automation technologies? Do you need to build new facilities? Fully automated robotic milking will require a more in-depth plan and higher up-front facility costs than partial automation. Partial automation can typically be incorporated into your current setup with few or no changes to your facilities.
Also, think about the future of your operation when determining facility needs. Are you planning to increase herd size? What are the plans for the next generation on the farm? These considerations can help you decide whether full or partial automation is right for you.
Automating the milking process is a big decision, both from an investment and management perspective. Whether you choose fully automated robotic milking or partial automation in a conventional parlor, it's important to know the options available to help find the best fit for your farm.
PHOTO 1: Partial automation can bring efficiencies without the investment of robotic milking.
PHOTO 2: Whether you choose full or partial automation, there are options to fit every herd. Photos courtesy of GEA.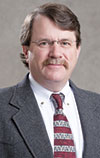 Steve Pretz

Director of Large Project Sales
GEA