Dairyman Terry Ketterling wanted to lower breakeven costs for his 10,500-cow dairy. He could have built another milk barn, filled it with cows and stretched his fixed costs over more animal units.
He'd done that several times since 2001 when he got into the dairy business with an 800-cow dairy.
But adding more cows is risky. Cost per unit of production may be less with larger scale, but additional profit with expansion isn't a sure thing, given fluctuating milk prices.
Ketterling didn't need more risk, but he still wanted TLK Dairy in Mountain Home, Idaho, to be more profitable.
"One of the goals was to find whatever I could to lower breakeven costs," Ketterling says of his investigation into building an indoor feed mixing center.
Five years after he began entertaining the idea, Ketterling's dairy now mixes rations inside a brand-new feed center. The facility is known on-farm as "The Pantry."
"Now, no matter what the milk price is, we save money," Ketterling says.
Ketterling held an open house for his new 71,000-square-foot facility in July, and more than 800 visitors from as far east as Missouri and from multiple states throughout the West attended. The day after the open house, he received multiple texts from dairy owners impressed with what he had created.
Ketterling says others are interested in the benefits of indoor feeding. He believes it's a trend that will catch on.
"A lot of people need one; they just don't know it yet," Ketterling says.
The beginning of a trend
Before Ketterling began researching how to build his own indoor feed mixing center, Joe Harner from Kansas State University presented research on the topic of feed center design at the biennial Western Dairy Management Conference in Reno, Nevada, in 2011. His paper published in the conference's proceedings detailed how feed shrink on dairies can be improved.
"On-site dairy discussions tend toward considering shrinkage a non-issue or part of normal feed cost," Harner wrote. "However, a willingness to understand true costs related to shrinkage and address these problems can lead to economic benefits."
Harner acknowledged in his presentation there are "limited research reports on actual shrink occurring on dairies." However, he suggested dairies have a targeted shrink rate. His paper reported that "normal" shrinkage for feed in commodity buildings with three-sided bays is 8 percent.
A realistic target for most ingredients (other than forages) if stored in enclosed facilities is 2 to 4 percent, Harner wrote. Improvements in feed shrink, he suggested, would come from better feed center design.
"Designing a feed center to minimize the impact of solar radiation, moisture and wind may have economic returns due to reductions in shrinkage," he wrote.
Common causes for feed shrinkage Harner identified include:
Unloading of feed onto a concrete slab (not into an ingredient bay)
Ration preparation (inaccurate measuring of feed)
Weather including wind, rain and snow
Failure to empty bays completely between loads
Feed center layout
One of Harner's suggested designs to eliminate common causes of feed shrink was an indoor one. Yet since Harner gave his presentation six years ago, how many indoor mixing centers have been built?
In writing this article, Progressive Dairyman confirmed that outside of two facilities in Idaho, large-scale indoor feed mixing centers exist in several states, including Colorado, Minnesota, Michigan and Texas.
"We have seen [indoor feed mixing] as a trend among some of the larger producers," says Chris Roberson of Prime Metal Buildings, which has built several enclosed mixing centers on dairies, including five in the state of Texas alone. "We expect other large producers to be looking into these types of arrangements.
One of the main reasons we have seen demand for indoor mixing centers is to eliminate much of the shrinkage associated with exposure to the elements."
The elements most likely to affect feed shrink are wind and rain or snow. In Ketterling's situation, the biggest concern was wind.
"I've been out here before the feed center was built when the wind is blowing 40 miles per hour, and feed is just skating across the asphalt," says Cal Coffin, vice president of sales for Central Confinement Service, which built Ketterling's facility.
Harner's research warned of the effects of wind on feed shrink. According to his 2011 paper, wind at 25 mph has the potential to increase feed losses 125 times that of wind blowing less than 5 mph.
"As wind speed increases, there is an exponential increase in potential losses due to the cubic relationship between wind speed and particle movement," Harner wrote. "Dairies located in areas with colder climates or excessive rainfall may benefit from placing the entire feed center under a roof to eliminate moisture and wind problems."
However, Harner suggested one of the trickier aspects of designing an indoor feed facility would be adequate room inside the building to maneuver semi-trucks for unloading of feed. That challenge was one thing Ketterling spent a lot of time researching. He visited an outdoor feed mill facility in Kentucky that had a drive-over commodity bridge. The visit inspired him to design such a bridge for an inside facility.
"The bridge was expensive," Ketterling says. "But we could not afford to disrupt feed operations."
The bridge rests on 18-inch-by-20-foot steel beams seamed together. A 200-foot ramp leads up to the entrance to the bridge. Metal grating in between the beams allows semi-trucks with a belly dump or walking floor to pull over top of one of the 20-by-20-by-40-foot three-sided concrete bins in the feed center below and unload purchased feed. The drive-over commodity bridge is a first-in-the-nation on a dairy.
"Truck drivers really like it because they don't have to keep moving their truck forward to unload. They pull over the top of a bay and sit to unload," Ketterling says.
Another first-on-a-dairy installation in Ketterling's building are three hydraulically controlled side-dump boxes for measuring feed. The stationary 1,700 cubic feet containers, sold as Batch Boxes by Feeding Systems LLC, have a weigh scale in the bottom of the bin but don't do any mixing.
After they are loaded with ingredients, the batch is dumped into wagon TMR mixers for mixing. Ketterling says the boxes enable much more accurate measuring of a ration's feed ingredients.
"We wanted to get better ration consistency for the cows," Ketterling says. "Before, we were loading straight into a mixer wagon. The wagon would be bouncing around, so the scale couldn't get an accurate read. It could trick a feeder who was loading feed."
A ration mix begins when an empty wagon mixer pulls into the feed center alongside a side-dump box. The box will have already been loaded with the forages portion of a ration. The box will dump into the mixer wagon, which will sit and mix the forages for five minutes. A countdown clock inside the tractor cab lets feeders know when to start and stop mixing.
When mixing is complete, the wagon will drive over to a pile of pre-mixed forages and unload the contents of the mixer along with the rest of the pre-mixed forages. It will then pull around to another side-dump box and receive all the contents for the final ration, which has been loaded in a specific order to achieve optimum mixing. The wagon will mix for two minutes while the side-dump unloads and an additional six minutes en route to the pen for feeding.
Ketterling says he used to need eight employees and four mixer wagons running 24-7 to feed all his dairy animals. Now it only takes two mixer wagons, three feeders and nine hours to feed.
"Our feeders like being inside all the time," Ketterling says. "Plus, we lined the inside of the roof too so birds can't nest in the rafters."
Another unique aspect of the new feed center is the inclusion of a plenum, a small horizontal opening that runs the entire length of the building. Ketterling says he got the idea to include it from observing how Idaho potato cellars are ventilated.
Fans on one side of the building suck air across the indoor feed pad through the plenum, lightly ventilating the inside of the barn and clearing the air of fines. However, because the fans are not installed parallel with the plenum's opening but rather several feet above it, the fines in the air settle into the space below the plenum before they can escape through the fans.
Ketterling says he will scrape out those fines about once a month and have a sample tested for its nutrient value. Those fines are then reused, based on their nutrient value, in cow rations.
"I know now that what we are buying is being fed or staying right there in the building," Ketterling says. "If it's dust, it will settle. It's still cow feed, and it's not becoming bird feed."
Ketterling is coy about answering questions related to the building's cost. However, he believes feed savings attributed to the building could lower his breakeven cost as much as $1 per cow per day.
"There are guys who can tell you what they think Terry will save on feed costs, if they have a mind for that," Coffin says. "But most people will probably say it can't save that much because they don't think they are losing that much feed to shrink."
Still, the up-front cost of indoor feed mixing centers may deter some dairies building them. But those who have built them say the long-term savings pencils out.
"Any expansion on some of these larger facilities have certain costs associated with them, but when compared to the savings and increase in efficiency, that return on investment shows up relatively quickly in the milk checks," Roberson says.
"Other challenges dairymen who are interested in indoor feed mixing may face include finding the right layout or design to accommodate each farm's method of operating. Planning out an expansion like this is worth the time and money it takes to get it right."
Global Dairy Solutions, which also promotes a conceptual design for indoor feed mixing, says indoor feeding is gaining traction.
"It's an innovative concept and one we believe will catch on very quickly," says Scott Bittner, general manager of Global Dairy Solutions. "It reduces shrink to basically zero."
In the end, Ketterling says he wouldn't build another dairy without an indoor feed center now.
"If I'd have built another barn and filled it with cows, it would not be as beneficial as this facility."
References omitted due to space but are available upon request. Click here to email an editor.
PHOTO 1: This new indoor feed center contains first-ever installations of hydraulically controlled side-dump boxes that weigh out ingredients before they are dumped into TMR mixers for mixing. Photo by Ray Merritt.
PHOTO 2: TLK Dairy in Mountain Home, Idaho, began mixing feed in a new 71,000-square-foot indoor feed center earlier this year. Photo courtesy of TLK Dairy.
PHOTO 3: Included inside the new facility is a first-in-the-nation drive-over commodity bridge on a dairy farm. The bridge enables feed mixing to be uninterrupted by commodity deliveries. Photo by Walt Cooley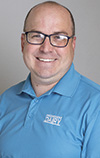 Walt Cooley

Editor-in-chief
Progressive Dairyman