Lely opened its North American manufacturing facility in Pella, Iowa, in 2012. It is one of three manufacturing facilities in the world.
It produces weigh floors, cow brushes and central units, in addition to assembling automated milking systems. They focus a lot on Lean manufacturing processes, with each station set up to complete its tasks in 115 minutes. The factory runs with one day shift that can vary from 8 to 10 hours per day depending on demand.
Progressive Dairy was able to walk the factory floor as part of the Lely Journey Tour, March 19-22. Here is the step-by-step assembly process of an Astronaut A5 automated milking system.
Bare frames arrive eight per container. They are pre-built as either left or right facing.
At the first assembly station, the milk pump, milk valve, large vacuum tube, water valve block, air block valve, vacuum pump, brain box, and feed tube and motor are attached.
The next person attaches the milk jar and hooks up the vacuum system. They also assemble the jetter system and hook up the feed motors and cables.
The wagon, which helps the mothership adjust freely to where the cow is standing, is attached at the third station. The Y-drive, upper arm and battery pack is also attached at this step.
At the fourth station, the mothership is hung and attached. This is the arm that cleans and milks the cow.
Next, all of the wires are plugged in to the mothership.
More wiring is attached at the sixth assembly station.


At the last stop in the main assembly line, the door frames, doors, milk hose, feed sensor and robot software is installed.
The mothership is assembled separately at one of two substations alongside the main assembly line.
The second substation puts together additional parts, such as the steam cleaning assembly (shown here), rope tensioner cylinders and feed motors.
As the robot moves through the line, employees are empowered to speak up if something doesn't look right, but a stop at the test bay ensures the equipment is operational before it leaves the factory.
After it is tested, the robot is placed on a pallet with shielding and gates.
Just before it leaves, the robot is covered with heat-shrink plastic to keep it weather-resistant for travel. The serial number and critical components are recorded.
PHOTOS: Photos by Karen Lee.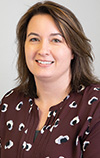 Karen Lee

Editor
Progressive Dairy