The recent addition of an 80-stall rotary parlor will bring a Wisconsin dairy up to over 5,000 cows between two milking sites.
"Efficiency is always the goal," Chris Matsche says.
He and his wife, Heather, are involved in the day-to-day operations of the half-century-old family dairy owned by his parents, Scott and Carrie Matsche, in Birnamwood, Wisconsin.
See more of the new parlor in this slideshow.
Previously milking 2,200 cows three times a day in only a double-24 parlor, the Matsches were maxed out in a 16-year-old facility. They weighed out the option of building onto the front of the parlor – but soon realized the headaches that would come along with constructing in a confined space.
While interested in automation, they weren't quite ready to invest in robotic technology for an operation their size. But after carefully studying rotary parlors on other dairies, they saw this as a solution for their top priorities: efficiency and cow comfort.
The speed at which cows were milked and their content demeanor on the platform made this style of parlor particularly appealing to the Matsches.
"The rotary won us over," Heather says. "On the rotaries, we saw more cows chewing their cud, and that made it a winner."
Parlor construction began late last year on a green-field site just across the road from the existing dairy. The first group of cows was milked there this summer; one full barn is up and another will soon be complete. Once full, the new facilities will house 4,000 cows.
The original barns and parlor will continue operating as a heifer, dry/transition cow and special-needs facility, milking 1,200 cows.
Optimizing efficiency
In planning the new facility, Chris sought to streamline each step of milking and moving cows. "I wanted to simplify things and make it efficient," he says.
Automation helps achieve that. As cows enter the parlor, an automated crowd gate gently ushers them through the rubber-lined holding area. If a cow falls down, sensors automatically stop the gate. As cows exit the parlor, a programmable automated sort gate diverts those that need special attention to a pen off to the side while allowing others to return to their pens. "The sort gates do half the work for you," Chris adds.
Two semi-automated footbaths are located in the return lane, cleverly placed on either side. The swinging gates close to funnel cows through the bath and open for full traffic on non-footbath days. For worker safety, the bath automatically fills with solution.
Though they have fully automated footbaths in the original barn, Chris opted for a system that required manually pulling and replacing the drain plug because he had issues with the automated trap door opening and closing properly.
Chris says figuring out how to maximize milking efficiency with the rotary parlor has been a "learning process," but already milking 450 cows per hour, he is cracking the code. With seven people in the parlor for each shift, things go smoothly. This includes two people operating teat scrubbers, one person doing each of the following: wiping, attaching units, post-dipping and pushing cows.
The seventh position is the "floater," who adjusts units as needed and takes over as the others switch positions between each group. Chris says having this extra person in the parlor "is a necessity." The biggest challenge is adjusting to constant motion. "In this, there's no stopping," he explains. "You have to take care of any problems on the move."
Chris is not afraid to test the limits himself by working right alongside his employees to better understand their workflow. He adds, "The only way to make a job more efficient is by doing it myself."
Though the herd has lost a little milk during the expansion, the cows are on track to return a 90-pound-per-day average and, once settled in, will aim to break 100 pounds per cow per day.
Conquering cow comfort
In addition to efficiency, the Matsches put equal emphasis on cow comfort. Chris says the two new six-row barns use a "hybrid" system that combines aspects of tunnel and natural ventilation in tandem with regulated sidewall curtains.
The insulated roof keeps it cooler in the summer and warmer in the winter, and the ceiling is seamlessly lined with white tin for a clean look that adds extra brightness to the three-phase LED lighting throughout the barn. The parlor leverages natural light, with eight impressive glass overhead garage doors surrounding the rotary for an airy, outside feel.
In the barns, cows enjoy large stalls with deep beds of dried manure solids. This bedding material proved successful for the Matsches in the past based on its availability, ease of handling with no pit agitation needed and soil-building benefits for the land.
They are fine-tuning a new, state-of-the-art drying system, and Chris is confident they can achieve both the optimal bacteria kill and bedding consistency with the new system to provide what he feels is a good alternative to sand. "Without a doubt, deep beds are more maintenance but way worth it," he says. "Cows lie down more; production is better."
Raising more than cows
The Matsches aren't just raising cattle on their dairy; they are also raising a family. Dairying is truly a way of life for Chris and Heather, whose three young children spend many days and evenings at the farm, as well as Chris' parents, siblings and many extended family members who work there.
"This is our home away from home," Heather says. With that in mind, the front offices of the parlor double as family gathering rooms complete with comfy chairs, a fireplace and large-screen TVs, and they are beautifully decorated with Carrie's creative touch.
Upstairs, a viewing room overlooks the parlor so the occasional guest or tour group can see for themselves just how happy the Matsches' cows are as they make their way around the rotary.
"We want people to come here," Heather says. "We built it to welcome visitors and also to be a place for family. This is our life and we want to educate people."
With the building project nearing completion, the Matsches look forward to a bright future for their farm and their family.
PHOTO 1: This newly built dairy will eventually house 4,000 cows. Photo provided by Chris and Heather Matsche.
PHOTO 2: The Matsches' dairy was designed as a place for family, as many of them work on the farm, including three of Scott and Carrie's five children. Pictured from left to right are Nicole Nousen (niece), Brandon Nousen (nephew), Carrie Matsche with grandson Blake, Ryan Matsche (son), Kyle Matsche (son), Scott Matsche with grandson Cole, Chris Matsche (son) with Bailey and Heather (daughter-in-law). Not pictured are Taylor Matsche (niece) and Tyler Nousen (nephew). Photo by Peggy Coffeen.
PHOTO 3: With eight glass overhead doors, natural lighting fills the milking parlor. Photo provided by Lori Kuhn-Weishoff.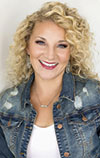 Peggy Coffeen

Editor
Progressive Dairyman