World Ag Expo recently announced its top 10 new product award winners, and two dairy-related products made the list. Information about each is included in this article.
New computer vision technology tracks feed availability
A company that's been working for two years on adapting computer vision and machine learning in the U.S. dairy industry now has a new commercially available product. ALUS (pronounced "Alice") Nutrition by Cainthus can assist a dairy in monitoring whether or not feed is available to cows. The product's eye-in-the-sky cameras analyze images of a feedbunk to detect when feed is laid out, if feed push-up has occurred and whether cows have no access to feed. Cainthus CEO Aidan Connolly says the commercially available product is just the initial offering of a technology that will be able to provide much more in the future.
"We're looking at the feeding behavior of groups of cows now," Connolly says. "The fantastic thing about all the hardware we are putting in place for this product is the platform it provides for the future."
Connolly describes what ALUS can currently do as a traffic light, red-green notification about feed availability. Cameras capture images of a feedbunk, analyze them to detect if feed is present and then alert a farmer if feed is not present on the company's proprietary online dashboard.
The company has been consulting with 15 active dairy farms as part of its product development process. Connolly says there are so many things the technology could do that farmers who are presented with the options feel like "a kid in a candy store." However, each one of those options is expensive and time-consuming to develop.
"The data we collect must be useful to producers. They need to know the data is real, they need to understand what to do with the information, and they need to make more money as a result of it," Connolly says of the company's development philosophy.
Development of just one offering can cost millions of dollars to generate an accurate, actionable insight, Connolly says. For example, the development of ALUS took 12 months.
"We want people to rely on it and make decisions from the insights it provides, so the development needs to be right," he says.
Connolly predicts the company's development cycle for new products and features will shorten with each commercial product launched. It's already speeding up, he says, with the company's next product launch to likely take only six months to bring to market.
"The system is extremely flexible. Once you have it in place, you're able to collect huge amounts of information. The choice then is: What insight do you want to slice out of that data that is most valuable to the farmer?" Connolly says.
Cainthus first came to the U.S. in 2017 and trialed its technology on Maddox Dairy in Riverdale, California. That system monitored a pen of 400 cows using the facial pelt pattern of each cow in order to distinguish cow movement, behavior and interactions. More than 40 cameras were installed in the test barn, with each one capturing 30 images of the pen per second. They were hardwired to a server installed on the dairy to collect and analyze the images for individual cows' activity and deviations from the norm.
"In our first iteration, we were generating so much data and information," Connolly says. "Of course, it was all valuable, but we had to digest it, analyze it and have it come out the other side with an insight. Unfortunately, that wasn't a scalable model."
While individual cow behavior was the thrust of the first iteration, Cainthus' new commercial products will focus on group behavior. Fewer cameras are needed, and the computing power necessary to do the analysis of images is much less. In fact, Connolly says an iPad-sized computer with modest connectivity can do the necessary analysis.
Connolly believes computer vision technology will improve and advance and may, in three to five years' time, make individual cow behavior analysis more feasible and scalable in a farm environment. Until then, Cainthus is focused on creating reliable, functional monitoring for cow groups that can affect a dairy's bottom line and survive in a harsh dairy environment.
ALUS will officially launch at World Ag Expo.
New latch-and-cable system secures hutches against high wind
A bad summer storm in 2018 led one company that is best known for feedlot and dairy construction to create a new product for calf hutches. MJE LLC of Montezuma, Kansas, invented the Hutch Latch to keep plastic calf housing structures from blowing away in bad weather.
"One of our repeat clients who owns a large-scale calf ranch came to us and said, 'You guys need to figure out how to hold these hutches down,'" says Aaron Jantz, general manager for MJE.
The client made the request after losing many hutches in a bad storm. What the company came up with is a metal closed-biased latch that anchors to the hutch. To secure a line-up of hutches, the hinge easily hooks each individual hutch into a cabling system. The cable is anchored at each end of a row of calf hutches. The product can secure a run of 100 calf hutches or about 500 feet of cable length.
While there are other latches and hutch securing methods available, Jantz says this system is more durable and simpler to use.
"We just wanted to improve upon what we'd seen out in the market so that it would last longer and be a stronger product," Jantz says.
Made of heavy-duty steel (plain, painted or stainless), the latch is likely to outlast the length of use of the hutch itself. To install the latch, bolts are inserted through the hutch's plastic material and affix to a backing plate.
"That backing plate is pretty important. We feel like it gives the latch more strength so that it doesn't rip out of the hutch," Jantz says.
With just one hand, an operator can clip a tethering cable through the latch, which then closes automatically. The simplicity of the attaching step is one of the product's most beneficial features.
"We always try to build things simple," Jantz says. "The closed-biased latch stays locked into place so the cable won't come out. But it's also pretty simple to grab it, take out and move it to the next row."
The cable tethering system the company has created is also unique. The anchors for the system are 4-and-a-half-inch metal posts buried at the end of a hutch row. A ratcheting winch and strap are fixed to this post. This is what tethers the cable and latches together. Each end of the cable line has a metal hook attached with a clevis fastener. The belted winch has a seamless metal triangle receiver. Once the hook and receiver are connected, the winch can be ratcheted to just the right amount of tension to keep the hutches in place.
Jantz says that the belted aspect of the winch is important, as it allows the system more give in high winds. Other methods of securing the cable can strain the cable during inclement weather and cause it to fray.
"The product is designed for safety and assurance for calf raisers so that they know something is not going to happen to their calves and their calf housing."
Two calf ranches and one dairy in two Southwestern states (Texas and Arizona) are using the latch and its cable system. The product is now available for purchase.
PHOTO 1: Computer vision and machine learning can now analyze video images of a feedbunk to determine feed availability and alert managers when feed is not available to cows.
PHOTO 2: This new latch for calf hutches attaches to a tethered cable and helps secure hutches against high wind. Courtesy photos.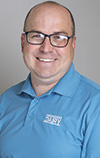 Walt Cooley

Managing Editor
Progressive Dairy