I'm sure you've heard the saying, "If you love what you do, you never work a day in your life." I feel that way every day in my role as Northeast territory manager with Calf-Tel. Dairy farming and raising calves are life-long passions, and I'm fortunate to find that same passion in my job.
My sales area covers the whole Northeast, from Virginia to Maine. Most of my time is spent visiting farms in the large cow pockets of Pennsylvania, New York and Vermont. These farms are within three to five hours of my house, so I'm able to spend most nights at home.
I appreciate this, since I still raise a handful of Brown Swiss calves each year from my small herd. I was introduced to Brown Swiss when I began 4-H 40 years ago. Today, my nieces and nephews are the ones exhibiting the calves as their 4-H projects.
I typically visit six to eight farms each day. My appointments are split among checking in on customers, visiting with farmers interested in new calf housing options and troubleshooting management and housing issues.
The best part of my job is the face-to-face interactions and conversations with farmers. My role is to be a partner and resource for farmers to find the best housing system for their calves. There's nothing better than walking into a farm and seeing healthy, happy calves looking out of their hutches.
Each farm is different, so I'm prepared for anything when I arrive. I start by catching up with the farm owner or calf manager to see how things are going. Then we do a walk-through of their calf facilities. My goal is to get a clear picture of their calf program and share ideas and recommendations to help farmers raise healthy, productive calves. Some of the questions I generally ask are:
What is your feeding program?


Do you measure birth and weaning weight?


How much and how soon do you feed colostrum? Do you pasteurize it?


What is the biggest challenge to your calf and heifer program?


What is your age at first calving?
The decision to invest in new calf housing takes a lot of thought and planning. I help farmers decide what type of housing will be most efficient and impactful for their business – whether that's hutches or indoor calf pens. Recently, I visited a farm looking to move from a calf barn to hutches.
In addition to recommendations for hutch placement and sizing, we talked about tips for feeding water during the winter, how to drive feed intakes and how much to feed calves.
Many of the conversations I have with farmers are about calf management. I provide information and recommendations on bedding, ventilation, feeding and nutrition, calf-raising goals and more. Another farm on my route was also recently thinking about revamping their calving area.
We talked about space requirements, shelter needs, calf warming boxes and how to efficiently move calves to hutches. When appropriate, I share ideas that have worked on other farms I have visited or worked with to help guide our discussions.
One of my favorite types of visits is checking in with new customers when they wean their first group of calves from new hutches or indoor pens. I enjoy hearing about the improvements they have seen in their calves.
Between farm visits, my truck becomes my mobile office. I spend time setting up appointments, answering customer questions and checking in with other sales team members.
Farmers aren't my only visits for the day. I also check in with local dealers. There are 10 dealers in my sales area. I visit with the largest dealers once a week. We discuss product promotions, upcoming farm shows and any support they need from Calf-Tel. We also discuss any recent questions from farmers, new customer purchases and even go on farm visits together.
When I arrive home at night, there's still work to be done. I might be working with my own cattle or catching up on the latest dairy articles and research. I always end my day feeling grateful for the chance to work with the farmers who share my passion for the dairy industry and feeding our growing world population.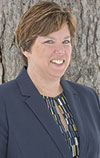 Kelly Driver

Northeast Territory Manager
Calf-Tel