Protecting the investment in your heifer herd has never been more important. We tend to put a lot of emphasis on genetic progress with our breeding programs, but we fail to partner that with a quality heifer management program to allow our heifers to express their full genetic potential.
Selection, development and protection of your next generation will lead to improved productivity and profitability of your dairy operation. Here are some steps you can take to help your program succeed.
Help calves and heifers stay healthy by building early immunity
Unlike human babies who can absorb antibodies across the placenta, baby calves are born without any antibodies and need them to be administered. Because of this, quality nutrition and proactive management are vital from day one. A good starting point for evaluating the effectiveness of the colostrum program is measuring serum total proteins in the blood of calves. Improved passive transfer results in healthier calves.
Farms with high rates of passive transfer put a huge emphasis on establishing a quality colostrum management program and then consistently stick to their protocols. In 2019, a group of calf experts updated the industry guidelines to a tiered system for adequate passive transfer. Farms with the most success will meet or exceed these standards. Definitions under these guidelines are:
Excellent – More than 40% of calves on-farm with a serum total proteins (TP) greater than 6.2 grams per deciliter


Good – Around 30% of calves with serum TP 5.8 to 6.1 grams per deciliter


Fair – Around 20% of calves with a serum TP 5.1 to 5.7 grams per deciliter


Poor – Around 10% of calves with serum TP less than 5.1 grams per deciliter
Farms with the most success will meet or exceed these standards. Achieving these goals starts with the care of the dry cow to produce quality colostrum, clean harvest, quick cooling and storage of colostrum at calving.
Transitioning from milk to starter, promote rumen development early to enhance growth and set her up for future success
Getting calves off to a good start during the first few weeks can be a challenge. Once past this, usually the next big task is making a seamless transition from individual to group housing and weaning calves off milk.
In order to make it a successful transition, make sure you're only making one change at a time in a calf's life. For example, keep grain consistent while weaning and don't make any simultaneous housing or social adjustments. The more gradual the transition you make, the better it is for the calf.
Many producers shoot for a week but, if you can manage it, extending this over a longer period and incorporating multiple steps for a more gradual transition minimizes stress on the calf. If you are feeding a higher volume of milk (2 gallons per day), starting the step-down process early – around 35 days – will help encourage grain intake. This doesn't equate to early weaning, just a more gradual weaning.
It's also important to make sure your starter grain is fresh and that adequate water is available. The sooner a calf can have access to free-choice water after the milk feeding, the more water she will consume. Grain consumption will be limited by a lack of water availability. This is an important consideration, especially in very hot or cold weather, particularly in programs that keep calves in individual housing where it can be a challenge to keep water in front of them.
Create a nutrition program for your pregnant heifers that maintains immunity and growth, so she is closer to mature size with her first calf
Establish a relationship with a nutritionist knowledgeable in feeding heifers to create a program that's ideal for you. It's important to keep in mind: Post-weaned calves are still developing their rumen, and their diet needs to account for this continued development. Traditionally, we switch heifers to more of a total mixed ration (TMR) around 300 pounds. However, feeding higher-grain diets longer – a 60-to-40 grain-to-forage ratio – can improve average daily gain (ADG) while reducing the cost of that gain. In many situations, this may mean just pushing out the timeframe for switching heifers to a pre-breeding ration. Be sure to work with a nutritionist to formulate specific rations catering to your ingredient availability and heifer growth goals. We can grow quality, mature heifers without creating fat heifers in the process.
Use metrics to guide success throughout the life stages
As an industry, we have well-established guidelines for setting growth goals in heifers, but unfortunately many producers don't record enough measurements to know if they are close to achieving these goals. It can be overwhelming to think about adding these tasks, but adding a few data points like weaning and pre-breeding weights on a subset of animals even seasonally can help you evaluate if you are missing out on growth opportunity.
Calves should double their birthweight by 60 days, and heifers should weigh 55% of herd mature bodyweight at breeding. Mature bodyweight is established by weighing a subset of third-plus-lactation animals between 80 and 120 days in milk (DIM). The goal is to have heifers at 85% of mature bodyweight when they calve in. The cost of 1 pound of growth in a lactating animal is energetically equivalent to 7 pounds of milk.
Many people believe that smaller heifers will eventually "catch up" once they calve in. However, average annual herd production will be within 1 to 2 pounds of what the first-lactation animals are producing during week 10 of lactation. These heifers set the ceiling for the herd.
These are the main critical control points you should focus on when looking to improve your heifer program. Working with industry professionals, such as your veterinarian, can help you identify the biggest bottlenecks limiting your calf and heifer performance.
Your management team should collaborate to determine what strategies will work best as well as available resources. There is truly no best way to raise calves and heifers. What's best for you is what your team can successfully manage and implement consistently. Even the best programs will still have day-to-day challenges, but immune support products can help minimize the impact of stress, maintain gut integrity and promote rumen development. In the end, this can help your program, and your herd, prosper.
PHOTO: Photo by Mike Dixon.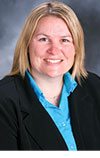 Kelly Reed, DVM

Ruminant Field Technical Specialist
Diamond V