The advent of genomics and recent research on the long-term impact of the pre-weaning phase have helped put calf management in the limelight. And calf facilities have seen major improvements as a result.
What was once a question of "Which space is available for calves?" is now a question of "What space is ideal for calves?"
The previous mindset on calf facilities may have led to calves being housed in old tiestall barns or in lean-to sheds. Today, the mindset and facilities have changed to focus on raising productive members of the herd.
Here's how calf housing has evolved:
Ventilation advancements
Ventilation is the housing factor that arguably has the biggest impact on calf performance. It's also the area many farmers have had challenges with in the past. Fortunately, the industry has made huge strides to improve ventilation for both indoor and outdoor calf facilities.
Positive-pressure ventilation systems revolutionized indoor calf housing. These systems improve air movement and exchange stagnant air for fresh air. Air exchange reduces ammonia and bacteria levels that can have a negative effect on calf health. There also have been advancements in indoor pen systems.
New systems allow for more air movement between pens while still providing separation between calves for reduced disease transfer.
Outdoor hutches also have benefited from advancements in ventilation. Today's outdoor hutches are designed to provide flexible ventilation for optimal air movement in the peak of summer and the dead of winter. Adjustable ventilation is important since most areas of the country experience a wide variety of weather conditions throughout the year.
While there is the option to buy new hutches to optimize ventilation, paying attention to location and elevating the rear of the hutch can also be feasible options to improve ventilation. Place hutches in open areas with adequate space between to allow for unrestricted airflow and prevent any contact between calves.
Weatherized hutches
Outdoor calf facilities must endure the extreme conditions Mother Nature offers. Weather factors such as heat, snow and wind are major considerations driving the recent improvements in calf housing.
Hutch designs have adapted to accommodate heavy snowfall and sub-zero temperatures in the northern half of the country. Hutch sizes have increased to provide more room for calves and additional bedding needed in cold weather. No matter the type of hutch, calves should have clean, dry bedding deep enough to cover their legs when lying down.
Heat abatement is also a priority. Ensure there is proper drainage in and around calf hutches, provide easy access to fresh water, and increase ventilation to help keep calves cool and maintain growth during high temperatures. Hutches with heat abatement features such as UV inhibitors, opaque plastic and adjustable ventilation can also help keep calves comfortable.
Making the move indoors
While the majority of calves are still raised in outdoor hutches, more and more calves are moving indoors. Outdoor hutches were previously considered the gold standard for calf health and performance. However, ventilation and pen system advancements have made indoor housing a more viable option.
Indoor facilities are especially appealing to farmers in areas of the country where winter weather is a challenge. Enclosed calf housing can help reduce death loss and keep calves growing during cold periods.
Labor challenges also have facilitated the transition to indoor housing. Working outdoors to feed and manage calves in harsh winter conditions can deter potential employees. Indoor calf housing provides a more comfortable work environment and helps keep a consistent, high-quality workforce.
Westward movement
Heightened consumer interest in animal welfare has pushed Western calf raisers to consider new housing options which improve calf comfort while maintaining low input costs. Wood hutch systems are still the norm in the West, but new plastic hutch designs offer an alternative. These hutches provide calf raisers with cleaner, more durable calf housing that fits in the same space as the wooden hutches.
Adjustments can also be made to your existing wood hutch systems to help improve calf comfort, cleaning and sanitation. Plastic floors and properly cleaning and sanitizing hutches between each use can help provide a healthier environment for young calves.
As an industry, we've made great strides to improve calf housing in recent years, yet there is still room for improvement. Our facilities must continue to support the industry's laser-like focus on developing calves into productive cows.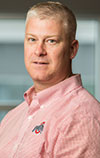 Brandon Sowder

Director of Sales
Calf-Tel