"There's always something to learn," Sam Gardner, co-owner and farm manager of Gardner Heifers in Huddleston, Virginia, says. "If you're going to be involved in any industry, you really need to be out on the forefront trying to learn what's new. Like anything, if you get stuck in how it was always done in the past, and you're not looking to see what's out ahead of you, then you're going to get left behind."
With this in mind, Sam; his parents, Don and Susan Gardner; and his brother, Andy Gardner; who are his fellow partners in the business, strive to be the best at what they do.
Setting common goals
Although the Gardners might have their own goal to be the best, at the end of the day they're in the service business, so Sam says their main job is to provide what their clients want. With the capacity to house 1,000 head, they typically need to raise heifers from multiple clients in order to fill their facilities; however, Sam says he prefers this as it helps diversify their operation a little bit.
On the flip side, this makes it imperative they lay out clear expectations in each contract to ensure each of their clients is satisfied with the quality of their heifers. To date, Sam says this hasn't been a huge issue, as many of their clients have similar management goals and expectations for their animals when it comes to growth, breeding and general care.
Bringing calves onto the farm
Calves generally arrive on the farm between 4 and 5 months old or 400 pounds. Upon arrival, all animals must have tested negative for BVD-PI (bovine viral diarrhea-persistently infected) and be up-to-date on the vaccines agreed upon in the contract. In addition, they strongly encourage their clients to implement a Johne's monitoring program and to only send calves they feel are worth raising. It isn't worth Sam's time and the client's money for them to raise animals their client won't be happy with, Sam says.
If for some reason, however, a calf arrives on the farm in adverse health, Sam says they do reserve the right to refuse animals that might be a health risk for the other animals on the operation.
Upon arrival, calves stay separated by farm to give the Gardners time to observe them and make sure it's safe to commingle them with calves from other dairies. Once each calf has had a day or two to settle in, they're weighed and evaluated to make sure they're moving well and weren't injured on the truck. At this time, they also check to see if the calf is running a temperature, has been dehorned properly, has the correct identification information and has good udder conformation.
If a calf is running a temperature, they treat it accordingly. Since both Susan and Don are veterinarians, they're able to take care of it all in-house, which Sam says is definitely helpful. If they have any other concerns about calves, such as poor udder conformation, they contact the calf's home dairy to see how they'd like to proceed.
Setting heifers up for breeding
Sam says most of their clients want their heifers' first service to be at 13 months old. To make sure the heifers are ready at that point, they feed them a TMR and aim for a 1.8- to 2-pound average daily gain (ADG) from the time the heifers arrive until they enter the breeding pen at 750 pounds and 12 months old. However, heifers usually aren't bred until 800 pounds and 13 months old. They breed out of lockups, so they like to move the heifers into the breeding pens a few weeks prior to their first service to allow them time to become comfortable with being locked up and eating through lockups.
They use tail paint and activity-based heat detection devices to breed. Once they start detecting heats, they check the heifers daily and breed any heifers that are in heat. If any animals remain in that pen after a week and haven't shown signs of heat, they give her a shot of prostaglandin. Sam says 90 percent of the heifers are bred on the first heat detection.
Any remaining animals receive a second shot of prostaglandin a week later. If they come in heat, they're bred. If not, they palpate them to make sure they are ready to breed. If they aren't ready, they put a CIDR in to help stimulate the heifer's reproductive tract for a week. After that they remove it, give the heifer another shot of prostaglandin and breed her.
Sam says they average a 70 percent conception rate with conventional semen and a 56 percent conception rate with sexed semen. All semen choices are left up to the heifer's home dairy. At this point, they have a pretty even split between their clients as far as who uses sexed semen and who uses conventional, although Sam says this varies somewhat based on the time of year. The number of services a heifer receives before being culled is also left up to the dairy.
Once heifers are confirmed pregnant, the heifers are turned out to pasture or moved to a new pen depending on the time of year. If the heifers are on pasture, they receive a grain mix supplement and, if they stay in the pens, then they stay on a TMR. With either program, they aim for a 1.75- to 1.8-pound ADG post-breeding. Sam says they have most of their frame growth done at this point, so he and their current clients are good with heifers slowing down a little bit on growth at this time.
Heifers return to their home farm at 60 days pre-fresh. To help prepare them for that transition, Sam brings pasture animals back to the barn and puts them back on a TMR at 120 days pre-fresh; that way they are used to a TMR by the time they return home.
Maintaining high standards
Don and Susan originally joined and became involved in the Dairy Calf and Heifer Association (DCHA) several years ago, when it was still known as the Professional Dairy Heifer Grower's Association. When they began exclusively contract-raising dairy heifers in the mid-'90s, the Gardners used the guidelines laid out by the association at that time as the basis for their contracts.
Today, Sam is involved in DCHA as the Southeast regional director, a position he has held for three years now. They continue to base their contracts and level of care on DCHA's Gold Standards, and he says he appreciates the networking and learning opportunities he has through the association. For example, recently he's had the opportunity to listen to a few presentations on cattle behavior which have given him more insight on why certain animals behave the way they do and how to manage those animals more effectively.
Thanks to their careful management, daily herd health checks and other protocols, the Gardners are able to maintain a 1 percent or lower mortality rate and be proud of the heifers they raise.
"Even when things are tough, we pride ourselves on doing a quality job," Sam says. "We're certainly not the cheapest heifer grower, but we don't want to be the cheapest heifer grower."
PHOTO 1: As a heifer raiser with multiple clients, Sam says having a contract that clearly lays out the responsibilities and expectations of both parties is essential for keeping their operation running smoothly.
PHOTO 2: Unless they're on pasture, all animals are fed a TMR. Their feeding program is designed so that heifers should have a 1.8-2-pound ADG pre-breeding, 1.75-1.8-pound ADG post breeding. Photos provided by Sam Gardner.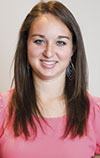 Jenna Hurty-Person

Field Editor
Progressive Dairyman