Editor's note: This article has been updated to reflect the correct number of cows milked per hour in the rotary parlor. The original version stated 24 to 30 cows could be milked per hour. The correct amount is 430 cows per hour. Progressive Dairyman regrets the error.
Producing quality milk really makes a difference to the bottom line at Beranna Dairy, where the 3,800-cow herd strives to stay below 100,000 somatic cell count.
"I'll tell you what's on the line," Bernie Teunissen says. "It's a 60-cent bonus; and for over that (100,000 SCC), it's 30 cents. That's about a $25-plus-per-head loss on this dairy if you don't make that 100,000 cell count bonus."
Along with his wife Anna, the third-generation dairyman owns and manages the Holstein herd in Caldwell, Idaho. Their processor, Sorrento Lactalis based in Nampa, Idaho, is one of the state's 14 dairy processing plants and the only one that pays a large premium for somatic cell counts below 100,000 and 200,000.
With the monetary stakes set high, each daily task is done to impact milk quality. "We put a lot of focus on milk quality and that's because we are incentivized to do so," Bernie says. "That's in the parlor, it's in the stalls, in the sand bedding." For the past two years, Beranna has consistently reached the regular bonus with few issues.
Right now, they are hovering just above their intended goals, a setback attributed to last year's winter. "It was an extremely difficult winter with a lot of snow," he notes. "It impacted everything." The conditions were enough to even take a toll on the young heifers, many of which picked up infections before they even calved.
The herd is milked in a 75-stall rotary parlor, a decision Bernie came to after spending time in New Zealand at other operations. While a newer style on the dairy scene 17 years ago, this parlor system was a perfect fit for the farm. "It's a great way to milk cows," he says.
"It's a very efficient setup and always stays quiet in here." The carousel can milk about 430 cows per hour. However, the technology in the parlor is equipped for more than sheer efficiency.
The system helps fight cell counts by being proactive in assuring proper pre and post-dipping times and clear protocol with each milker having only one job. For example, by the time a stall moves from the milker pre-dipping to one drying off, 30 to 40 seconds has gone by, making sure the teat end has been exposed long enough to destroy pathogens.
Aside from the routine maintenance, the parlor has undergone various upgrades and improvements since its initial installment to keep it at peak performance. Additionally, cow comfort plays an important role every step of the way. A sonar eye activates an automated fly sprayer that mists cows as they return from the parlor. Fans and misters are also constantly running in the summer heat in the 325-head holding pen.
Bernie's son, Derek, also works on the farm and helps with management. He points to several of their practices that help them reach their goals. As with many dairies, they bed all their barns with fresh sand two to three times a week. Mastitic cows, which could have an impact on bulk tank SCC, are carefully monitored. According to Derek, they see anywhere from 100 to 150 cases of clinical mastitis in the herd each month.
Of these animals, 30 to 40 percent will end up treated with antibiotics. Candidates for treatment are selected after a bacterial culture. "We do it by growth or no growth," Derek says, speaking of the cultures. "Anything with growth, we're obviously going to treat with a four-day Spectramast treatment with withholds.
On the other side of it, those with no growth will be monitored for eight days, where we're going to hold onto that cow and CMT (California Mastitis Test) test her." Derek says they treat their mastitis cases on a "three strikes" policy. After three clinical cases in one quarter, that quarter will be dried, and any animal that shows three cases of "dynamic mastitis" will be culled.
Bernie attributes Idaho's favorable climate to being optimal for raising cows with lower cell counts. But even with the elements in his favor, he acknowledges that getting his herd to reach his goals takes considerable effort.
"How do you get cows under 100,000 SCC?" he poses the rhetorical question. "[It's] by doing everything right. It's a difficult thing to maintain; it takes everything from controlling the environment, milking and everything else above."
PHOTO 1: Bernie Teunissen (right) pictured with son, Derek, (left) discuss their mastitis detection and prevention program.
PHOTO 2: Cows in the holding pen wait their turn for a rotary stall. Teunissen has found the rotary parlor to be a very efficient and successful part of his operation. The parlor has undergone some renovations since its initial installment in 2000. Photos by Jaclyn Krymowski.
Jaclyn Krymowski was a 2017 Progressive Dairyman editorial intern.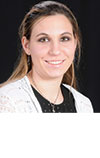 Jaclyn Krymowski

Staff Writer
Progressive Dairyman