Digital dermatitis (DD) is often referred to as "mastitis of the hoof." When it comes to milk production, hoof care can be just as important as udder care. A lame cow won't be able to stand on its feet, and when it can't stand, it can't get the proper nutrition. And we know proper nutrition is essential for maximum milk production.
Unfortunately, declining hoof health is one of the biggest challenges for today's dairy farms.
The typical cow stands on a wet, hard concrete floor for extended periods of time throughout the day. These are difficult conditions for any animal and could easily lead to lameness. A consistent footbath routine is the key to maintaining healthy hooves and preventing infection.
DD and infectious pododermatitis (hoof rot) are highly contagious and can quickly spread throughout a herd, resulting in substantial economic losses. To prevent these infections from occurring, a consistent footbath routine is essential. The more manure contamination on your dairy, the more you will need to run your footbaths.
There are many chemical options to choose from when deciding on a protocol customized for your farm. For the past 50 years, formaldehyde and copper are two basic commodities producers have relied on to treat and prevent hoof ailments.
Zinc sulfate is also a treatment option, mainly for hoof rot, but it does not have the long-standing history of success copper sulfate does.
Formaldehyde has always been a popular treatment option for DD due to low cost and effectiveness. However, there are many safety concerns with its use. For starters, it is a known carcinogen, may cause permanent eye damage, and inhalation of fumes can lead to lung damage. In extreme hot or cold temperatures, formaldehyde shows reduced effectiveness.
Many producers choose copper sulfate as a footbath additive, with good reason. Copper has been the treatment of choice because of its demonstrated performance in a variety of conditions, and it is relatively inexpensive. Copper is very effective against hoof rot, and regular usage promotes hoof hardness, which is important for prevention of ulcers and other infections.
While copper is an effective option, it can also present some challenges for today's dairy producer – including environmental impacts and handling dangers. Copper sulfate breaks down extremely slowly and will become a part of the soil copper content, which can significantly lower crop yields.
When soil copper levels are too high, the soil can be toxic to plants. Employees must take caution when handling copper sulfate. Copper dust can be extremely dangerous and, if inhaled, can lead to chronic respiratory disease.
Footbath chemistry
Often, too much copper is used in a footbath. Copper works best in a low-pH environment, but hard water conditions, manure and urine can quickly drive up pH levels and neutralize active copper ions. An abundance of copper, sometimes up to 25 pounds in a single footbath, is often used to overcome the effects of deactivation caused by organic matter.
However, using this much copper is completely unnecessary when footbath chemistry is optimized for copper. Performance-boosting additives used with dry copper sulfate and blended all-in-one additives which contain copper ions can be used as an alternative to dry copper sulfate alone.
These additives create and maintain proper footbath chemistry so copper ions remain active for the duration of the bath. Significantly less copper is required to obtain the same or even better results compared to dry copper sulfate alone.
Solutions
There are several options to consider when it comes to copper enhancement products:
Footbath additive – Liquid copper enhancement products are used in conjunction with dry copper sulfate and provide a customized and cost-effective solution. Instead of using 20 pounds of copper per footbath for 200 cow passes, a producer may be able to reduce to 12 pounds of copper while increasing to 400 cow passes.

Just a small amount of liquid additive keeps the copper ions active for the entire 400 cow passes, provides a 70 percent reduction in copper usage and a reduced cost per bath. This is good for your wallet and your land.


All-in-one footbath – These products are formulated with just the right amount of copper, ion extender and surfactants. All-in-one products solve the handling concerns of dry copper and are ideal for use in automatic footbath dosing systems. In addition to copper ions, other active ingredients can be included for true all-in-one hoof care.
For optimal results with your footbath program, we recommend a footbath dosing system with an all-in-one copper product. The footbath system will ensure proper concentration and consistency while reducing human interaction with the chemicals.
As always, we recommend talking to your hoof trimmer and your veterinarian about the best custom solutions for your dairy.
Chip Hendrickson has over 36 years of hoof trimming experience and has worked with hundreds of dairymen to improve the foot health of their herds. In 1981, he founded Hendrickson's Hooftrimming Inc., which his son now manages. He has traveled around the U.S. hosting numerous trimming clinics and teaching new generations of hoof trimmers. Chip is a hoof care consultant at AgroChem.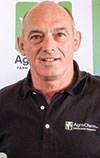 Chip Hendrickson

Founder
Hendrickson's Hooftrimming Inc.