If you are thinking about making a change to improve your dairy operation, you do not have to look far to find solutions that involve updating your farm with new technology for milking and managing your cows.
My experience with the implementation of new technology – especially milking robotics – across North America and globally has revealed similarities in how farmers and the service industry adapt to change. This realization has helped me hone in on the importance of helping customers anticipate, manage and adapt to changes on their farm.
The "Emotional Cycle of Change"
Dairy farms in the U.S. and Canada differ on some levels, whether it is herd size or fluctuating milk prices versus milk quotas. Regardless of their unique challenges, all farms have learning curves when purchasing new technology. If you pay attention, you will notice a well-documented pattern people go through with change.
We believe it is necessary to support a new dairy project with knowledgeable people, but it is more than this. We notice people tend to be uninformed and optimistic when they start a new project. As they become informed, they have more questions. They may begin to think this is not for them – the cost is too high, how will they recover the costs, is it what they really want, and then informed pessimism can set in.
In many cases, ideas to change stop here and people decide to stay with their current situation, or maybe they make smaller updates to their parlor or leave the dairy community altogether. If they persevere, the project or change continues while they are nervous about both what they do know and what they do not know. Once start-up of the new system takes place, there is a lot of pressure on those involved at the farm and for anyone new to the technology, whether it is robotics or a parlor or rotary with a high level of automation.
It is important to have teams surrounding the farm at start-up and in the early days to ensure they have small bites of learning with their new system. There is the obvious: learning how to run the hardware and the role of the software in all of this. As important is the challenge with new technology: What do they bring forward from the old world and what must they change? The basics of cow management remain the same, but the daily routines, even with a new parlor or rotary, will change.
According to the Emotional Cycle of Change (Figure 1), when people "bottom out," known as the valley of despair, either it can be a quick dip or they can linger longer. It is up to them and the team they have surrounding them.
People differ in how they handle change, and it is acceptable to send out questions to get answers in order to help with the change process. Ask others what they do in certain situations. For sure though, cows must remain healthy, and dry cow and transition cow programs are critical. Getting cows pregnant is important for all economically viable dairy farms. Hoof health is also critical. One of the hardest changes when adding new technology is adapting to the different routines that must occur each day so the farm can meet its goals.
When the farm begins to work in new ways for daily routines, we have informed optimism, and they will continue along a positive path. The sooner the farm works in new ways, the sooner success and fulfillment can be reached.
You get what you plan for
The farms that have more vision, more strategy and more equity are more likely to sustain and grow their operations, which also explains the trend of larger herd averages. You truly "get what you plan for." For producers planning for change, it's important to think about:
1. What questions will I ask and to whom?
2. Why am I adding the technology?
3. How will I work with the technology?
4. Am I committed to change from the inside out; will I think it and then live it?
It is the responsibility of the farmer to clearly state the expectations, and it is the responsibility of the team to ensure they share with the farmer what is needed to meet those expectations and how long it could take. Meetings must happen, and major influencers on the dairy farm should be involved at different times – otherwise, misunderstandings and expectations evolve that lead to disappointment.
If you know where you are today and where you need to be, then you focus on finding the right people to help get you there. In the end, it is all about your vision and the people you find. Ask hard questions, take responsibility, work with good people, and you will enjoy the journey.
PHOTO: Getty images.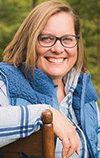 Nancy Charlton, DVM

Senior Adviser and Project Management
DeLaval North America