Way back in 2005, I left the comforts of a corporate career and started a business dedicated exclusively to helping agribusiness owners plan for generational transfer.
Following years of research and untold hours building succession-planning models, I was ready to work with real farm families and help them find solutions to this overwhelming, unruly and emotionally stressful issue.
Back then, there weren't many professionals who understood the challenges of succession planning for family business owners – and even fewer who could help. I received calls from farm owners across the region, each looking for advice and hoping I was available.
It was a call from an ag media company that changed everything. They had a big sponsor who wanted to connect with a large swath of the industry, and they asked if I could help. Together, they explained, we would develop a series of multimedia features that would tell the story of good succession planning.
Little did I know at the time those "multimedia features," including columns, TV shows and workshops, would transform me from a practicing professional to a talking head. My time became consumed by the effort. As a road warrior, I learned to eat, sleep and write on the go. When I wasn't presenting a workshop or filming a TV episode, I was upping my game for the next event.
As an owner, when you're overwhelmed by the complexity of succession planning and underprepared for the family interactions necessary to navigate the process, the last thing you need is a talking head.
So, two years ago, I renewed my commitment to family business owners. I resigned from the media circuit and overhauled business operations to once again serve the succession-planning needs of farmers, ranchers and agribusiness owners. Leveraging the lessons from that experience, and refocusing my efforts, I'm now more prepared than ever to help.
And it's to that point I recommend you identify a seasoned professional that's right for you and your family. As a farming professional, you should seek a competent adviser who puts your needs first, helps you sort through the issues and collaborates with you to implement solutions for your long-term success.
Though it doesn't sound like a tall order, finding the right person may be more difficult than you think.
A quick Internet search will turn up any number of likely suspects, each one vying for your attention with pleasing pictures, memorable slogans and warnings like "Failing to plan is planning to fail." However, it takes more than pretty pictures and catchphrases to achieve success.
As a family business owner, you should invest whatever time and effort are necessary to find the right adviser. You're looking for a qualified professional, someone with the education and experience necessary to help you and your family create a viable path to succession. You should identify a professional who is well-versed in the legal, financial and tax matters of succession.
That person should know farming, understand people and aptly navigate family issues. The person you select should have a depth and breadth of experiences in family business.
The following seven questions are designed to help you interview a selection of likely candidates and narrow your focus to find the right adviser for your family:
1. How do you help your clients reach their succession-planning goals?
There is a significant difference in the skills and abilities of each financial professional. Certifications and plaques of accomplishment are only part of the story. Look deeper to ensure the adviser you choose will base their recommendations on practical experience, proven methods and academic research.
2. How will you address my key succession-planning concerns?
Most people want a comprehensive and coordinated approach to succession planning, yet they often settle for a smooth presentation, colorful graphs and a familiar name. Learn if, and how, a potential adviser uses a defined planning process and proven planning models.
You should know whether or not a potential adviser performs a thorough financial review, discusses ownership transition strategies, creates a functioning leadership structure and addresses the estate tax.
3. Do you specialize in succession planning, or is it a sideline of your practice?
From simple issues to complex matters, all owners want to:
Ensure a financial security for current owners and others dependent on the farming operation


Control operations until future generations are prepared and capable of assuming control


Protect farming and business assets from outside threats and unscrupulous predators, etc.


Provide equitable distributions to all children – active and inactive – alike


Mitigate estate tax exposures and other transfer expenses
Make sure the adviser you choose understands and appreciates your concerns as a family business owner, parent and farming professional.
4. Who is on your extended team, and what are their qualifications?
Beyond a competent office staff and a capable planning team, your adviser should have a cadre of professionals in the legal, accounting and insurance fields who may assist with complex matters.
Succession planning is complex and multi-faceted, so most people want an adviser who works as an integral part of a diverse professional team to create comprehensive and coordinated solutions.
5. Why did you become a succession-planning consultant?
If the answer here is nothing more than "I wanted to make money," you've got the wrong person. Most consultants want to help people, but it takes more than that to serve others for the long haul. For the right professional, there's a deep-seated passion that motivates them to serve others.
They work with a strong sense of obligation and loyalty to the customer. The right adviser has both the experience and the ability to manage the process and guide people.
6. How do you get paid?
Succession-planning consultants can be paid in any number of ways, including hourly or project fees, commissions, sales charges and even salaries.
The important point may not be how they're paid but rather what and how incentives, commissions or bonuses affect their recommendations for particular products or services. You want an adviser who will fully disclose their pay structure, applicable incentives and all potential conflicts of interest.
7. How do you measure success, for client families and yourself?
The bottom line for a consultant relationship is always results. Hiring a professional adviser should improve efficiencies and generate better outcomes.
Whether your goal is an immediate transition, better leadership structure, improved financial position or to mitigate the estate tax, a consulting relationship is only as good as the results you receive.
Combined with the appropriate credentials on a resumé, adequate experience in the trenches and an acceptable interview outcome, you should be able to choose the right adviser to help you navigate the complex issues of succession planning and achieve lasting success.
Kevin Spafford and his firm Legacy by Design serve the succession-planning needs of farmers, ranchers and agribusiness owners.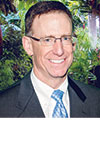 Kevin Spafford

Legacy by Design