For many of us, formal education ends in our teens or early 20s after completing classes in high school, technical school or college. In my opinion, that's the point in life to kick off a lifetime of learning.
After all, it takes continuous improvement to be successful in today's dairy industry.
With quickly changing technologies, new research on animal care and management, and market volatility, all of us must be committed to improvement if we want to be successful and sustainable. Success means something different on every farm and so does the journey we take to accomplish our goals. Whether you're looking to be more efficient, more productive or find new marketing opportunities, there are a variety of learning options to fit any timeline or budget. In fact, a great deal of learning doesn't even involve attending a formal program, but by surrounding yourself with people and team members who encourage you and drive you.
As Orthland Dairy has evolved over the years, we've been fortunate to work with a strong group of advisers. We've also tapped into learning opportunities such as those offered by Professional Dairy Producers (PDPW) and have built a top-notch team of employees.
Here are a few lessons we've learned along the way.
Start with the basics
You can't make effective decisions if you don't understand the financials behind your business. Make the effort to understand your cost of operations and breakevens. While consultants and advisers can provide recommendations, don't assume it's best to rely on someone outside your farm to make key decisions. Be sure you fully understand their advice – it's ultimately up to you to make choices that suit your business objectives.
Work with consultants who challenge you
Choose your team of consultants and advisers wisely and make sure they have your farm's best interests and bottom line in mind. All of our consultants, including our agronomist, veterinarian, nutritionist and financial adviser, are constantly bringing ideas and looking for ways to challenge us and our operation.
Be willing to look for new perspectives
We hired a financial consultant 10 years ago, and he was critical to helping teach us the fundamentals of farm financial analysis. Once we understood our farm financials, it made us aware of many critical decisions that had to be made. This was the foundation of turning our business into one that is consistently profitable and growing. I consider the investment in our financial consultant the best money we ever spent.
Learn from your peers
One of the benefits of attending events and being an active member of organizations like PDPW is the interaction with other dairy producers. In addition to the presentation content, I always come away with something from conversations with other farmers; over the years, I've built a network I can follow up with on questions or challenges. I've also been exposed to vendors and partners who I never would have met on my own.
Ask "What's next?"
Finishing one class or program provides the opportunity to put those learnings to work on the farm or in the office. Remember to always set the next goal for bettering yourself and your operation. Over the past year, I've committed to learning Spanish so I can communicate directly with Hispanic team members. That's not something I would have thought about 10 years ago, but as I focus on leadership and team development on our farm, the ability to have meaningful work and personal conversations with everyone has become a priority for me.
I'm excited about the opportunities ahead – not just for our farm, but for the future of the dairy industry – as we continue to learn, grow and deliver a healthy, sustainable supply of dairy products to the world.
Steven Orth is co-owner in his family farm, Orthland Dairy Farm LLC, in Cleveland, Wisconsin, where he farms with his mother, Maxine, and brother, Joel. The farm consists of 1,400 cows, operates 2,900 acres of land and is supported by 20 team members. Following the passing of his father after a farm accident, Steven became general manager of the farm at age 18. Since Steven's return, he has focused his efforts on improving animal well-being, people development and profitability. He is currently serving as treasurer on the PDPW board of directors.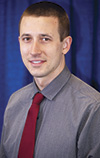 Steven Orth

Orthland Dairy Farm LLC