The economic health of America's dairy sector has been among the most significant issues on the NAFTA negotiating table during the past year, as the U.S. government presses Canada and Mexico to revise the terms of the 25-year-old free trade agreement.
The outcome of the talks could change our trade relationships both to the north and south of the U.S., and that's why NMPF and its members must play both offense and defense on this high-profile, high-stakes issue.
Where Mexico is concerned, we have been focused on preserving the number one export destination for U.S. dairy products, a market at risk of major disruption if NAFTA is dissolved. That market is also threatened by encroachment from other dairy-exporting nations from the European Union, which are seeking to expand their sales south of our border.
To strengthen the American dairy industry's partnership with our largest and most important customer, NMPF joined with the U.S. Dairy Export Council last year to secure an agreement on mutual priorities with our Mexican dairy sector counterparts. In addition, we have repeatedly told the U.S. government about the important benefits our dairy farmers have developed in Mexico as a result of NAFTA.
At the same time, the NAFTA talks are a crucial opportunity to open up new export opportunities in Canada and eliminate the new Canadian Class 7 pricing scheme that, in the past year, has choked off U.S. milk protein sales north of the border and created a new threat for U.S. and other countries' exports of milk powder around the world.
The fate of NAFTA is what brought NMPF staff this past week (at the time of this writing) to Montreal for the fifth round of talks that began last summer. We have attended each round of these negotiations to engage directly with trade officials from the three countries as they work on decisions that could have far-reaching consequences.
While these negotiations have been a roller coaster ride of "will we or won't we pull out," after discussions with key trade officials, I remain cautiously optimistic we will be able to thread this needle, ultimately achieving an outcome that will benefit America's dairy farmers.
But potential pitfalls are all around, including the possibility the entire agreement may be terminated if a politically acceptable outcome that will pass muster in Washington, Ottawa and Mexico City cannot be achieved. The onus for accomplishing that is on all three countries, requiring each to come to the table in a constructive manner, all focused on moving this agreement forward.
As trade officials from the three nations continue to discuss the terms of a revamped agreement, NMPF has likewise worked hard to ensure the U.S. government's stance reflects our industry's objectives. USTR's updated NAFTA objectives, released late last year, provided fresh confirmation of the Trump administration's commitment to achieving our goals.
These include maintaining duty-free access to Mexico, which has generated more than $1 billion annually in dairy sales. We have continually reminded officials that damaging this market – preferred access for our producers and processors specifically created by NAFTA – would be harmful for America's dairy farmers.
Further complicating the situation is the fact Mexico is also in trade talks with Europe, whose negotiators are pressing Mexico to restrict the sales of cheeses with common names such as Parmesan, Asiago, Gorgonzola and others that are also made in the U.S.
We are very pleased the U.S. government has said those negotiations are of significant concern and could hurt America's dairy sector. Here, too, the administration's NAFTA objectives reflect a commitment to preserving the ability of our industry to use those common food names.
As far as trade with Canada is concerned, President Trump, House Speaker Paul Ryan and Agriculture Secretary Sonny Perdue have all been crystal clear – Canada must not be allowed to create and maintain new barriers to dairy trade.
The NAFTA renegotiation is coming at an opportune time to force Canada to roll back its trade-distorting Class 7 program. The Trump administration's negotiating objectives emphasize this point because our members have been so vocal in the past two years about this Canadian affront to the U.S. dairy sector and, indeed, to the very idea of free trade.
There certainly are still reasons to be concerned. While these negotiations have clearly spelled out each nation's goals, they have yet to resolve many of the stickiest points. Issues largely outside of agriculture, such as rules of origin, dispute settlement, government procurement and a proposed sunset clause, are major challenges the three countries must address.
The window of opportunity to achieve consensus is narrowing. Mexico's June presidential election will likely mean it may not be possible to cut a deal after summer, depending on who becomes the new president.
The U.S. congressional elections in the fall also will impose time constraints on this process, creating pressure to end the talks this year. NMPF is doing all it can to ensure the renegotiations conclude on a successful note that addresses our industry's priorities as opposed to ending a relationship that – certainly with respect to Mexico – has been greatly beneficial for agriculture in the past 25 years.
I remain hopeful we can modernize and improve NAFTA by tackling Canada's problematic pricing and market access roadblocks while preserving the growing market in Mexico – including those common names like Parmesan and feta. But the clock is ticking.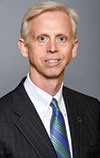 Jim Mulhern

President and CEO
National Milk Producers Federation