Thanks to tight margins on commodities like milk, corn and soybeans, producers are searching for returns wherever they can find them. For some, that means exploring value-added opportunities outside their core operations.
These types of opportunities may include:
An on-farm retail store offering cheese, butter and ice cream made from the milk you produce
Home delivery business of the above and/or retail milk and cream offerings
Agritourism, which can include a petting zoo, bed-and-breakfast lodging, a corn maze or hay rides
Providing a hobby farm or vegetable garden opportunity
Farmers market (on- or offsite)
Farm stand beef
Specialized crops such as food grade corn for tortillas, strawberries, maple syrup, etc.
Producers are understandably attracted to the potential benefits: Value-added opportunities can bring customers closer to your products, improve brand recognition and – in the best case scenario – diversify your income. But it's crucial to determine whether adding a new business model to your dairy is not only right for your operation but right for you.
Explore the possibilities
A good place to start is by asking what are the most natural extensions for your operation. If considering agritourism, for example, you're probably in a better position to succeed if your farm is relatively close to a population center.
Also consider if the new business model is something you would actually enjoy doing every day. Beyond any possible payoff, opening a retail shop or a bed-and-breakfast means you're about to add complexity to your life, both professionally and personally. If you're not passionate about the opportunity you're pursuing, you'll likely be starting out a step behind.
Once you've settled on an opportunity, you'll need to assess its viability from a business plan perspective. That means asking questions like the following:
Why am I doing this? What does success look like?


What set of skills are required?


Do you have the right people in place to handle marketing and manage the processes involved?


Will it be a cash-based business, or will it focus mostly on internet sales?


Will customers come to your location? Or will home delivery be the primary means of sales?


How will you set prices?


What does the cash flow cycle look like?


Will you need to carry inventory?


Do you have the necessary infrastructure in place (such as ample parking for an agritourism business)?


What can you learn from looking at others who have successfully gone down this path? Have you reached out to those who have done it successfully?


Does it make sense to partner with someone who has the expertise or resources to help develop the project, such as a restaurateur or chef looking to launch an artisan cheese product? Or, a tour company that specializes in agritourism?
Making the assessment
These types of value-added opportunities are often not a quick fix for offsetting shrinking margins. Ultimately, you'll need to explain why a new business venture is better than shoring up your core business. To start, you'll want to consider completing a checklist like the following:
Take stock of your resources. Do you have the land, cows, water and location to make your venture work? Do you have the staff, advisory team and time required to make the venture work?


Understand the impact on your working capital. Any new business venture will almost certainly drain the working capital of the base operation. This is particularly true if the growing, processing, aging or marketing timelines of the product you're planning to sell is longer than your current cycle. It's critical that you plan for this by modeling the cash flow timelines of the venture you're considering.


Consider the market. Having 20,000 cars a day going by your farm does not guarantee that people will stop and buy your product. Developing a market takes time. What's your strategic advantage, and how will you capitalize on it?


Understand the rules. Make sure that you explore all the regulations that could impact your venture, such as tax laws, insurance and liability, OSHA regulations, food safety rules and labeling.


Weigh the risks. A new venture brings a whole new set of risks. How would a food recall impact your reputation? Once you begin direct marketing, you're exposed to a whole different set of liabilities. Will insurance cover it all? Should you establish a business structure to limit liability? Understand and explore all the tools that may be available.


Model the income statement. As with any venture, an honest analysis of the real net income potential is critical. While the gross revenue typically gets larger farther up the chain from the farm, that's not always true of the net profit. Make sure you understand the potential net revenue and how you'll get it.
Taking the leap
Given all the steps involved to making a new business venture a reality, your initial idea likely won't match the final concept. That's why exploring value-added opportunities requires an ability to adapt. It's also why you'll need a good advisory team in place, including legal experts, business consultants and financial experts. Also, keep in mind that you're not reinventing the wheel. Run your ideas by other dairy operators who have done it successfully.
For producers, the thought process almost always starts with a discussion about how to capture more profits in the food supply chain. But success will likely take longer than you think. While the lure of enhanced revenue is intriguing, make sure you take careful consideration of the factors outlined above before jumping into the fray.
For those who have the necessary mix of a good idea, a passion for the vision and a realistic plan to achieve it, however, the rewards can be very satisfying.
Sam Miller is BMO Harris Bank managing director, head of agriculture banking. Email Sam Miller.
Brad Guse is BMO Harris Bank Senior Vice President, Agricultural Banking. Email Brad Guse.
Note: The opinions, estimates and projections, if any, contained in this article are those of the authors. BMO Harris Bank endeavors to ensure that the contents have been compiled or derived from sources that it believes to be reliable and which it believes contain information and opinions which are accurate and complete. However, the authors and BMO Harris Bank take no responsibility for any errors or omissions and accepts no liability whatsoever for any loss (whether direct or consequential) arising from any use of or reliance on this article or its contents. This article is for informational purposes only.
For more agriculture industry insights, visit the BMO Harris Bank website.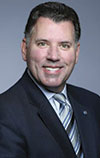 Sam Miller

Managing Director,
Head of Agriculture Banking
BMO Harris Bank