With a wide variety of manure management and nutrient recovery technologies available to dairy producers today, it can be difficult to know which one would be the best investment.
Newtrient, a business collective of the national checkoff (DMI), the dairy farmer policy organization (NMPF) and the leading U.S. dairy cooperatives, has developed an online tool to help dairy producers and others in the industry better understand specific manure-related technologies available.
Mark Stoermann, chief operating officer for Newtrient, and Jamie Vander Molen, director of communications for Newtrient, provided responses to questions about the Technology Catalog and how it works.
What is the web address?
Why was it developed?
VANDER MOLEN: As the need for manure management and nutrient recovery solutions increases, new technology solutions are continuously emerging. Today, many dairy farmers are being approached by technology vendors with promising solutions or are seeking feasible ways to manage their manure. There's no shortage of solutions, and it can be challenging to keep up. The catalog was created to be a first stop for any dairy farmer.
We know that each dairy farmer's manure management needs and business goals are unique based on farm size, location and design. We hope the catalog makes it easier for farms to discover the right solution.
Who should use it?
VANDER MOLEN: The catalog was initially created for dairy farmers, but we've found it's reached far beyond farmers. It's the most comprehensive manure management and resource recovery tool developed and has been used by technology vendors, researchers and policymakers, and others looking to learn more about technologies available today.
Is there a cost to use it?
VANDER MOLEN: It's free. All information within the catalog is open and publicly available. It's most important to us that dairy farmers have easy access to this important information.
What are some unique features?
STOERMANN: There are four unique features:
Provides a comprehensive view of all manure management technologies on the market today. Each of the 260 technologies listed in the catalog includes a rating and detailed evaluation along with company description, information about the technology, photos, company contact information and Newtrient's comments and opinions of the technology.


Engages a team of globally respected academia and technical experts to evaluate technologies. The catalog is the first of its kind to engage a team to evaluate and score individual technologies on common criteria. The team includes innovative and practical professionals versed in nutrient recovery, management systems, renewable energy and environmental asset markets.


Uses a trusted nine-point scoring system to evaluate technologies. Each technology is evaluated based on a nine-point scale based on three key areas, including commercial viability (operational history, operational reliability and market penetration), economic and industry value (capital costs, operations, maintenance costs and overall value proposition) and transparency (case studies and customer reviews).


Provides the option to search for technologies based on farm problems. The catalog's newest feature allows farmers to search for technologies based on specific environmental indicators including greenhouse gas emissions reduction, nitrogen and phosphorus recovery, storage reduction, pathogen reduction and odor control.
How does it work?
STOERMANN: The full catalog can be found at www.newtrient.com. You can experience the catalog in a variety of ways and search by vendor, product or equipment type.
With specific categories for energy, anaerobic digestion and AD support systems, the catalog identifies which vendors, technologies or equipment meet the readers needs and makes it easy for users to dig deeper.
Each individual technology has its own detailed page that includes a company description, the technology description, photos, company contact information and our comments and opinions.
The catalog provides industry expert evaluations on existing and emerging technologies, including company information, technology ratings and scores, case studies and supporting photos and reviews. Each technology is evaluated based on nine criteria developed by Newtrient's technical advancement team (TAT).
A technology that demonstrates high marks on the nine-point technology criteria will receive a "Newtrient Recognized" designation. Any technology that has not yet met all the criteria of being Newtrient Recognized, but we feel is promising and heading in the right direction, will receive a "Newtrient Emerging Technology" designation. Technologies designated as "Not Vender Verified," we are aware of, but we are still working to provide accurate and verified information as it becomes available.
Why is this important to understand or utilize?
STOERMANN: The need for manure management and nutrient recovery is becoming well-known. What's now well-known is the variety of tools and technologies that are available today. We hope farmers looking at adopting new technologies or being approached by vendors start here.
Please reach out to for more information.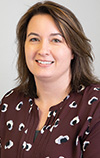 Karen Lee

Editor
Progressive Dairy