Students in the Lakeshore Technical College (LTC) Dairy Herd Management program in Cleveland, Wisconsin, are proving the future is female, even in the dairy industry.
This year, LTC is experiencing a first-time milestone in their program, where all the students enrolled are female, says Craig Lallensack, dairy and agribusiness instructor at LTC. The one-year program trains students to be dairy herd managers, calf feeders, A.I. technicians and prepares them for management and sales roles, Lallensack says.
The program consists of students of all backgrounds and interests, including Lily Charapata, one of the seven individuals enrolled this year. "I didn't come from a dairy-farm background," Charapata says. "Both my parents had farmed with their parents as kids, but their farms sold out before I came into existence."
Prior to joining 4-H and FFA, Charapata had little farm or dairy experience. However, in high school, she held a part-time job at a dairy farm, where she developed a passion for the industry and was introduced to the program at LTC by her boss, she says. "He graduated from this program in 2011, and he really liked it and suggested trying it."
The program at LTC is unique in that it offers students the opportunity to learn hands-on, both in and out of the classroom, Lallensack says. "We have the classroom portion, but then all year long they do have an internship where they work the entire school year."
During the week, students spend four days in the classroom, where their daily activities can consist of familiarizing themselves with the CowManager system, experimenting on a simulator cow or listening to guest speakers. The remaining day of the week is dedicated to on-farm experiences at their intern farm, Charapata says.
Despite not having a farm of their own, the program at LTC aims to provide each student with a well-rounded experience once they graduate, which is why they engage in both areas of the program. "Because we don't have a farm on-campus, we're able to partner with dairies to show them exactly what skills the students need to learn and expose them to all aspects of the dairy," Lallensack says.
Being that the students all have various intern farms they work at, their diverse experiences allow them to come back to class and discuss what they learn off-site, Charapata says. "Discussion is where we learn a lot of insight, learn from each other and learn from the instructor with practical experience, not just bookwork," she says.
LTC's Dairy Herd Management program also partners with local companies, including a vet clinic, an A.I. company and multiple dairies, to provide an employee "shadow" portion, where students experience what a day in the life of that employee looks like, Lallensack says.
These firsthand experiences have proved to be most valuable as students graduate and work in the industry, says Heather Griesmer, a graduate of the dairy herd management program at LTC. Griesmer completed the program in 2020 and has since returned to a 300-cow dairy near her hometown, where she serves as an assistant herdsman and is responsible for several of the tasks she learned at LTC. "The coolest thing for me is I'm now able to breed the cows myself," Griesmer says. "That's one thing I wanted to get out of the program."
When Griesmer completed the program, there was also a higher female to male ratio. The female enrollment rate is a trend that has fluctuated at LTC. However, in recent years, more females have been interested in the program, which has affected industry stereotypes as well, Lallensack says.
Additionally, the opportunity for LTC graduates to find a job in the dairy industry is greater now than ever due to the shortage of qualified individuals, Lallensack says. Nearly 100% of program graduates find well-respected jobs after completing their coursework.
Whether being male or female, some students even have long-term goals to own an operation someday, Lallensack adds. "More and more females are taking these management roles, and some of them even want to own their own dairies."
His teaching style does not vary depending on gender, Lallensack says, because understanding competencies and how to work with animals are consistent lessons across the board. "The way I see it, the girls learn just as well as they guys," Lallensack says. "In my mind, there's no gender difference at all."
From outsiders looking in, pursuing a degree in dairy herd management as a female raises many questions and hesitations, Charapata says. "I'm 5'2, 110 pounds, so people look at me and they're like, 'What are you doing?'" Charapata says. "But, you just figure stuff out and innovate in different ways."
Being a part of a turning point in the dairy industry and helping prove women serve vital roles in agriculture has offered Charapata a sense of pride, she says. "If there's other females who feel like they're getting scrutinized for being female in the dairy industry, it's like a glimmer of hope." Students like Charapata and her classmates are prime examples that gender does not measure one's capabilities, Lallensack says.
"If you have your mind set to it, you're going to do it, no matter male or female," Charapata says.
PHOTO 1: This year's class consists of all females. Pictured (left to right) are students Emily Kroll, Alexis Doege, Lily Charapata, Alexis Kluenker, Kelsie Bramstedt, Alli Pankratz, and Savanna Merrill.
PHOTO 2: Students actively practice on a simulator cow to understand how to perform calvings and other dairy practices. Photos provided by Lakeshore Technical College.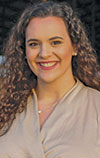 Adriana Toste

Editorial Intern
Progressive Dairy