From the folding seats of World Dairy Expo's iconic Coliseum, spectators watch the procession of beautiful cows glide across the colored shavings as they compete for top honors in the international show.
At that moment, the cow and her leadsperson are on display – but what one doesn't see are the people back in the barn and at home who prepare the cow to look her very best. Progressive Dairyman spoke with three people who each play a unique and important role behind the scenes of some of World Dairy Expo's champion cows.
Corey Meske – Hoof trimmer
For decades now, Corey Meske of New London, Wisconsin, has mastered the art of hoof trimming and made it into a career that has taken him around the world and brought him in touch with some of the greatest show cows of all time.
"Making cows walk properly" is a form of "art," he says. With a wooden box, mallet, chisels and knives, he truly is an artist, picking up each foot and using simple hand tools to chip away at an animal's hoof and carve out the shape that will produce the image he sees in his mind: a cow that can walk correctly without trouble or pain.
This is his "big picture" view. "The art is in looking at the animal, not just the foot," he adds.
Meske took up the trimming trade as a young man, growing up on his family's dairy farm near Darien, Wisconsin. After seeing one of his show heifers get injured while being trimmed, he decided to learn how to do it himself with the mentoring of his father. "I started picking up feet and practicing on my own," he recalls.
At the same time, Meske started clipping cattle, too. By the time he was just 14 years old, he was traveling around as a cattle fitter. While he enjoyed that job, he just couldn't help but notice cattle with bad feet, and he knew he could do something about it. Making cows comfortable from the ground up became his goal.
"Taking care of cows' feet is one thing that is very important when it comes to animal health, mobility and breeding," he explains. "Those that look better, live better."
With a true compassion for cows, Meske became a sought-after trimmer for the "special ones" … the cows destined for more than just making milk. He found his niche in trimming show cattle, and it has taken him coast-to-coast and around the world.
"All over the U.S., Europe, Canada and Australia," he notes.
Over the years, Meske has been called to trim some prominent cows in the show world. Among the most notable are Gene-Acres Felicia May Fury and, more recently, Lovhill Goldwynn Katrysha, both WDE supreme champions. He goes on to say, "Martha, Tequilla, Veronica … there are just too many to name." Getting to work with winners is rewarding, he says, as he enjoys seeing the cows as they grow and develop into greatness.
That is one of the reasons why World Dairy Expo is an exciting time of the year for Meske. "It's a joy to see the people and to see the cows that are there," he notes. "There's always some that come out of the woodwork."
And he is quick to acknowledge that the final presentation is the culmination of behind-the-scenes work that happens long before the cattle set a hoof on the colored shavings. He adds, "Everybody thinks it's won at the show, but it's the other 355 days of the year and the people who take care of the cows every day at the farm."
Joyce Thomas – 'The Tail Lady'
If you've been to World Dairy Expo before, you've probably seen some pretty fancy tails on the girls in the ring.
Ladies and gentlemen, may I introduce the woman behind the tails, Joyce Thomas, aka "The Tail Lady."
Joyce Thomas of Lowville, New York, is a hoof trimmer by profession and a tail fitter by hobby. She picked up the nickname "The Tail Lady" from working with her sons' show strings when they were both teenagers.
"I have two sons, Jason and Jordan Thomas, that make up their own strings. Both of them were clipping at 14 and 15 years old," Thomas says. "They were good enough that people would send cows to them at the national shows – and even at state shows and county shows."
Thomas says she enjoyed being behind the scenes working with her sons. When she started working on tails, it was simply another part of getting a cow ready for the competition.
"I just started whitening them with different detergents and bluing their roots; that was my job," says Thomas. "Then Jason had a cow that ended up taking some of her switch off, and I just kept fussing around with Clear Magic and powder 'til I matched her tail and put it on."
A memorable moment in her "Tail Lady" career is when she fitted a cow whose tail had been docked due to an infection. She had to find a way to attach an entire tail end, not just the hair. "That was quite an entertainment," Thomas says.
That tail and the other fake switches Thomas uses are made from what Thomas calls "cadaver tails." She either goes to slaughterhouses and collects the tail hair or receives the tail hair from her hoof-trimming clients who dock tails.
Thomas' introduction to WDE came from a friend of her son. "He asked me if I wanted to go to Madison and do what I do and I said, 'Well, what do I do?' and he said, 'I don't know what you do; you just do it.'"
Thomas' reputation has grown over the years, and now she is in high demand in the show community. "It went from that one tail to last year when my daughter and I did 68 Holstein tails that went to the ring, and then not quite that many Jerseys," Thomas says. "Even Shorthorns are getting into having tails put on."
Thomas says her family is the main reason she started and is still the main reason she wants and is able to continue her work. "I couldn't do it without my daughter Kylee," Thomas says.
At one competition, Thomas and her daughter were both preparing cows for a show and ended up preparing contenders for the same title. "We've been in a pack with the best of them. We can go into any pack, anywhere, at any time, and we have our hands on the greatest cows."
Thomas says being able to work with some of the finest cows in the world is one of the best parts of her job. "It's pretty neat to go and work on strings anytime, anywhere," she says.
"There's nobody that we can't do, that we haven't done. It's very humbling, let's put it that way. There's a lot of good fitters out there, but they can't say they've had their hands on all of them."
One of Thomas' favorite parts of her work is that she gets to spend time with her children and see how far each of them have come in their own careers.
"The best part of it all is to be with my kids for that time and have people respect them the way they do. There's nothing better, as a parent, than seeing other people respect your children."
Thomas stays busy with her hoof-trimming clients during the week and juggling shows on the weekends. "You don't know what you can do until you push yourself," Thomas says. "Somebody asked me why I keep doing this, and I said, 'Because I like it.'" Thomas considers it a personal challenge between her and each cow to get that cow ready for a competition.
Thomas says one of the great things about the dairy showing world is the tight-knit sense of community. "I enjoy it, I grew up with it, and the people that you meet become real lifetime friends. You may see each other only once a year, but if you needed something, you could call them and get it."
Ysabel Jacobs – Carrying on a family tradition
Ferme Jacobs in Cap-Santé, Quebec, is home to many award-winning dairy cows. Ferme Jacobs is jointly owned by Jean and Marian Jacobs and their son and daughter, Yan and Ysabel.
Yan and Ysabel make up the third generation of farmers at Ferme Jacobs, and each with young children of their own, so a fourth generation of dairymen and women is on the horizon. Their cows have won awards at World Dairy Expo in Madison, Wisconsin, for the past five years. "In the past five years, we've shown more than 50 cows," Ysabel Jacobs says.
She knows cows of this caliber don't just happen by accident. "It's a three-year plan because you have to make the breeding decisions first," Jacobs says.
The show cows are kept in a barn with a bedding pack during the day and milked in the tiestall barn each morning and evening. To move from one barn to the other, they are tied to a trailer, which is pulled by a tractor. Jacobs says that each cow on the show string gets 20 minutes of training every day.
"Here, all of our cows and all of the heifers are bred to make a good cow," Jacobs says. "When she calves and she looks a little bit better in the cow barn, then we take her out and put her in the show string."
The Jacobses integrate their show cows and their regular herd cows. "Everything is with the herd," Jacobs says. "Valana, the reserve champion from Madison last year at the World Dairy Expo, is with the dry cows in a group of 10 cows."
Although Ferme Jacobs is a dairy, milk isn't the only thing they specialize in. "We milk 170 cows, and we sell a lot of fresh cows, that's one of our biggest markets," Jacobs says. "So mainly our income is 50 percent milk and 50 percent cows and embryos."
"We sell around 300 fresh cows a year," she adds. "We raise about 150 heifers a year that are born on the farm, and we flush two to three cows a week. We sell more than 200 embryos a year."
Jacobs says her family has created a base of regular clients who know what to expect from their stock. "If I have 10 fresh cows, I don't have to call anyone," Jacobs says. "I know exactly where to go because we have our regular clients that just come to the farm and get three or four cows, and if you want to keep those regular clients for fresh cows, you need those cows that milk."
Jacobs says having a cow with consistent quality is more important than having a less-durable high performer. "We always thought that no matter what, if your cow has good legs, a good udder and a good rump, she'll last forever," Jacobs says. "We would rather have a prediction cow at first lactation doing 9,000 to 10,000 kilograms (19,800 to 22,000 pounds)that will last for five to six lactations after than have one with a crazy first lactation and she'll do two or three."
To the Jacobs family, the show ring is a huge part of life. "We really like the cows," Jacobs says, "We love it; it's in the blood. When we get up in the morning, we have to see our cows. That's us; that's just the way we are. It's my dad that transmitted that to us."
The Jacobses typically do most of the showing themselves without hiring outside help. World Dairy Expo is an extremely important event for all of them. "It's our best show. It's the show we love the most. The ring is everything. It's the best show you can show in. We're excited about it all the time," Jacobs says.
Jacobs said last year was one of the most memorable years for her. "Last year, we had five cows in the breeder champion; that was something."
The Jacobses have no cows entered this year, since Yan Jacobs is slated to be one of the judges, but they still look forward to the event. "It's everybody's time of the year. It's like 'Come on and let's show the best one.' It's the one week that you see everyone you want, for everything."
Jacobs says the "spirit" of World Dairy Expo is the best part of the whole experience. "You're connected with all of the world in one week."
PHOTO 1: Hoof trimming is an "art," according to Corey Meske, who uses only hand tools to trim and shape cows' hooves.
PHOTO 2: Corey Meske's skills as a hoof trimmer have taken him around the world and allowed him to work with champion cows, including World Dairy Expo winners. Photos provided by Peggy Coffeen
PHOTO 3: The Thomas family at the 2014 All-American Dairy Show with Jordan and Jason's Supreme Champion cow DC Harmony Norma. Pictured (left to right) are Joyce Thomas, daughter Kylee Thomas, Jordan Thomas, Jason Thomas and Jason's wife, Diedra Thomas. Photo provided by Kylee Thomas
PHOTO 4: Ysabel and her family do most of the showing themselves. To them, "the ring is everything." Photo from Ysabel Jacobs.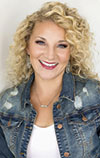 Peggy Coffeen

Editor
Progressive Dairyman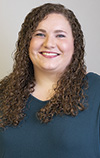 Carrie Veselka

Staff Writer
Progressive Dairyman