Editor's note: Progressive Dairyman features recipients of the Innovation Center for U.S. Dairy's eighth annual U.S. Dairy Sustainability Awards.
Three farms – Cinnamon Ridge Farms of Donahue, Iowa; Majestic Crossing Dairy of Sheboygan Falls, Wisconsin; and Philip Verwey Farms of Hanford, California – were recipients of Outstanding Dairy Farm Sustainability awards.
In addition to the Outstanding Dairy Farm Sustainability honorees, General Mills and Foremost Farms were recognized for Outstanding Dairy Supply Chain Collaboration, and Gleaners Community Food Bank was recognized for Outstanding Community Impact.
In their words
"We define sustainability to be good for the planet, good for people and profitable to the farmer."
"We harvest our cover crops for feed – get two crops in one year, and cover crops improve soil health and reduces nutrient runoff."
"A farmer's goals are universal. We want to leave the land better than when we found it."
Operated by John and Joan Maxwell, and daughter Amy, Cinnamon Ridge Farms is a sixth-generation century farm near Donahue, in eastern Iowa. For more than three decades, incorporating and fine-tuning cover crops into the Maxwells' cropping and feed management plans have provided an economic and environmentally sustainable solution to sourcing cow feed – and been the vehicle to share their knowledge and experiences with other farmers and the consuming public.
The path to sustainability
Necessity is the mother of invention, and John Maxwell's need to make ends meet in his first year of farming after college was compounded by a drought in 1988. The plan for survival was to feed less expensive grass hay to steers and heifers while feeding alfalfa hay to the milking cows. The cheaper feed ran out first and, as the drought persisted, alfalfa hay supplies also dwindled. Short on feed and lacking the financial resources to rent more land, John had to find a way to increase crop yields to save money – and the farm.
John's memories of mowing a cover crop for a local dairy farmer four years earlier got him thinking about cover crops as a creative option for a low-cost feed source. Researching the idea by reading Iowa State University research articles and visiting farms successfully using cover crops, he came to realize adding cover crops to his cropping and feed management plans would not only provide a good feed source for the heifers, dry cows and steers, but it could also help him improve crop yields year-over-year without having to purchase more land and put his acreage to use year-round.
After the fall 1988 corn silage harvest, he seeded ryegrass on 10 acres for harvest the following spring, with the plan to plant no-tilled soybeans into the stubble.
In addition to taking a risk on planting cover crops, another challenge that first year was finding the resources to harvest it. Not wanting to invest in machinery before knowing if cover crops would be a success, John bartered feed for a custom chopper.
Fast-forward to today. For Cinnamon Ridge Farms, using cover crops has been the key to the farm's continued success. Cover crops are harvested off approximately 400 acres, providing a high-quality and balanced diet for livestock and preserving more alfalfa hay for the milking herd. That's resulted in cutting the herd's feed bill in half and increased milk production.
And after several years of increasing yields and improved economics, the Maxwells continued to find ways to be more efficient and sustainable. Cinnamon Ridge has added a beef cow-calf herd and a dairy steer (Holstein and Jersey) operation. Those enterprises have also added income.
With an event center attracting more farm visitors, tourism generated approximately $62,000 in revenue in 2018. An on-farm store featuring cheese and beef brought in another $60,000 in sales. Selling cheese and beef from the farm has led to approximately $11,000 in farmers' market sales, $34,000 in direct sales to restaurants and grocery stores, as well as an additional $35,000 in meat sales to local restaurants.
There are multiple other benefits: The cover crops have virtually eliminated erosion, increased soil organic matter and improved water quality.
Dedicated to education
Implemented as a way to solve a problem, cover crops not only continue to serve as a means to meet the Maxwells' goal of making their land as efficient as possible, but they also are the foundation for an evolving mission: sharing knowledge with other farmers while extolling the benefits of sustainability with the consumers of today and tomorrow.
Having learned from others' research into cover crops, John now shares the result of his own experience, based on the belief those practices can be successfully replicated and implemented by others. He's a member of Soil Health Partnership, a national organization that provides educational resources on sustainable management systems. The Maxwells were awarded the organization's 2019 Seeds of Change Award in the "Exceptional Educators" category.
The environmental impacts of these efforts can be seen throughout the state as more farms implement environmental practices. He is credited with introducing the concept of no-till to the surrounding area, helping improve the overall health of the soil, minimizing erosion and nutrient runoff, and helping other farms increase their bottom line through fewer passes in the field and producing quality feed for livestock.
Committed to a next generation of ag students in Iowa, John is working with the North Scott School Board on a new agricultural facility designed to reinvigorate FFA and agricultural education. Still in the planning stages, the new facility will include both production ag and urban ag operations, allowing students hands-on experience with animal care, agronomy, aquaponics, mechanics, welding and more.
A farm-to-table event, initiated in 2017, connects local consumers and influential civic and government officials with "real" farmers. With impetus from the research, Iowa passed a water quality bill in 2018.
John's passion for sustainability is also shared with others in giving his time, serving on the local school board, extension council, county board of supervisors, as a trustee for the local fire department and FFA alumni advisory team. This allows him to mentor and lead many of the youth who, as adults, also have a passion for serving in the community.
John writes for a local monthly magazine called 50+ Lifestyles sharing farm-related stories to provide consumer-readers with a greater connection to agriculture, share his sustainability efforts and instill confidence in local foods.
PHOTO 1: Joan and John Maxwell operate Cinnamon Ridge Farms, a sixth-generation century farm in eastern Iowa.
PHOTO 2: The Cinnamon Ridge Jersey calves.
PHOTO 3: The Cinnamon Ridge herd has earned national recognition in the Jersey breed for milk, fat and protein production. Photo courtesy of the Innovation Center for U.S. Dairy.
Previous article in Progressive Dairyman: Cinnamon Ridge Farm seeks out smartphone hacks for help on the farm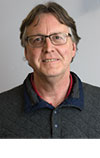 Dave Natzke

Editor
Progressive Dairyman
By the numbers
• 220: Number of milking cows in the Cinnamon Ridge herd, milked in four Lely robots in a free-flow, tunnel-ventilated, sand-bedded barn. The herd has earned national recognition in the Jersey breed for milk, fat and protein production.
• 1,500/400: There are 1,500 acres of cropland, but it's what they do after corn and soybeans are harvested that enhances both sustainability and profitability. Cover crops are harvested off about 400 acres annually. Cinnamon Ridge also operates a custom planting operation, covering about 2,500 acres on 30 to 40 other farms in the area.
• 17: Number of employees, including three family members, four full-time employees and the rest working either full or part time on the general farming operation.
• Thousands: The dairy barn was built with an event center and windows, giving visitors an inside look at milking and cow care. In 2018, Cinnamon Ridge hosted approximately 2,000 foreign visitors from more than 50 countries, 1,000 people on domestic tours and nearly 1,800 children on school tours.
• A ton: Cinnamon Ridge Farms accepts about 2,000 pounds of coffee creamer each week – which provides a carbohydrate source for the cows' diet, with added flavor.
• $8.5 million: The operation's net worth in 2018, up from less than $20,000 in 1988.