Outstanding Dairy Farm Sustainability
Grayhouse Farms,
Stony Point, North Carolina
Grayhouse Farms has its family roots in dairy and its passion for sustainability dating back to the 1950s. Instilled by Reid and Peggy Gray, those attributes have been carried on for decades, a connection with the past that extends to the next generations.
Talk with current Grayhouse Farms' partner, Jimmy Gray, and you'll find a reverence for sustainability that goes back even further, with a connection to another North Carolina native, Hugh Hammond Bennett. Widely considered the greatest evangelist for the soil conservation movement in the U.S., it was Bennett's leadership that was key to passage of the Soil Conservation Act of 1935, leading to the creation of the USDA's Soil Conservation Service (SCS). Bennett served as the first chief of the SCS until his retirement in 1951.
Reid and Peggy Gray applied Bennett's inspiration when the couple started their own dairy operation, milking under 100 cows, in 1966. By the 1970s, they built a double-eight parlor, milking about 150 cows and gradually expanding the herd to 350 cows. Their sons, Jimmy and Andy, took over managing day-to-day operations in 2017.
About that time, the family determined productivity and cow comfort were stretched to capacity, and they made the decision to build completely new facilities. With conservation and cow comfort in mind, two new sand-bedded freestall barns were built, with a third barn added two years later. All feature ventilated center ridges and 12-foot eaves to maximize air flow, as well as multiple waterers, LED lighting, timed sprinklers and energy-efficient fans. Another cow comfort feature includes rubber matting at the feed troughs, return lanes, holding pen and milking parlor.
One unique farm feature is a 2-mile road the Grays built, cutting the distance between facilities and fields from the 5 miles previously traveled using public roads. This has saved thousands of miles over the years, increased employee productivity, reduced wear on equipment and reduced the hazards of driving large farm equipment on public roads.
Incorporating conservation and efficiency into the design, herd health, milk quality and employee productivity have all improved. Today, the operation encompasses about 1,230 mature cows and markets more than 30 million pounds of milk annually through Maryland and Virginia Milk Producers Cooperative annually.
Manure and water management
Manure management and water conservation starts with barns flushed three times per day. By using about 110,000 gallons of recycled water daily, fresh water use is limited to about 16,000 gallons per day.
The flushed waste moves through settling ponds and a four-stage lagoon, enabling the Grays to recover and reuse about 95% of sand without the use of a sand separator. Another basin catches all silage leachate and sends it to a lagoon.
The lagoons each serve a specific purpose and help the Grays best utilize nutrients and water. The concentrated slurry from the early lagoons has a higher nutrient value and is used to fertilize fields farther away, reducing the volume and cost of moving those nutrients greater distances.
The fourth lagoon can be used to irrigate crops with "cleaner" water utilizing a center-pivot system covering 80 acres. A dragline can be used from any of the four lagoons, covering 150 acres. Both systems utilize an 8-inch underground irrigation line which greatly reduces energy costs.
Field and stream conservation standards are high
Grayhouse Farms' acreage includes about 1,000 acres corn, 740 acres of timber and 250 acres of pasture. About one-half the corn acreage is double cropped with wheat or triticale for small-grain silage, with the other half annually rotated under cover crops.
Managing that acreage, the connection between Grayhouse Farms with state and federal programs has led to the implementation of nearly four dozen conservation practices.
With help from the USDA Natural Resource and Conservation Service (NRCS), grade stabilization structures have been placed to reduce gully erosion. They also put in grass waterways and filter strips and use 100% no-till farming. Resources from the USDA's Environmental Quality Incentives Program (EQIP) were used to construct the manure lagoon system. As participants in the USDA's Conservation Reserve Program, Conservation Stewardship Program and Wildlife Habitat Incentive Program, they've enhanced waterways and created wildlife habitat areas by implementing livestock exclusion fencing on all streams and created riparian buffers to filter out runoff, and provided wildlife corridors along the streams. Participation in a state mitigation program created a meandering waterway that acts as a sponge instead of a rapid waterway during large storm events.
Leadership and outreach
Gray is especially proud of the longstanding connection to the county Soil and Water Conservation Districts (SWCD). The Grays' conservation leadership started with Reid, who was on the Iredell County Soil and Water Conservation Board for 12 years. Upon Reid's retirement, Jimmy stepped in and has been on the board for 20 years. He's also served six years as North Carolina Water Resources chair. Andy is active in the Iredell County Farm Bureau and served as chair.
Gray urges more producers to become familiar with programs and utilize the cost-sharing assistance available through them.
"They're all available, and I wish more people would take advantage of them. We talk about sustainability, but it's survivability," he says. "For those producers who are patient enough to go through conservation plan development and the application process, install practices correctly and let them run their course, the reward is great," Gray says.
Gray also emphasizes that the SWCDs aren't the "conservation police."
"They're not an enforcement agency," he says. "They are there to help, and what we need is more farmers to ask for that help."
Grayhouse Farms has hosted multiple tours for fellow producers, showing that working with NRCS and SWCD and investing in conservation practices and good animal care practices makes a farm more sustainable for future generations. While some of Grayhouse Farms' larger projects could be cost-prohibitive for moderate to small farms, farms of any size could learn and implement some of the practices on a smaller scale.
Connecting to the public
In a leadership role, Jimmy noticed a huge disconnect between farmers and the general public. With dairy consolidation in the Southeast, there are only about 100 dairy farms in North Carolina, so consumers have less access to get to know their farmers.
"Farmers are the caretakers," says Jimmy. "We need to set the good example in our communities and proactively tell our story to our fellow neighbors. It's just the right thing to do."
To strengthen that connection, the Grays have actively participated in events to try to share their story and build consumer confidence whenever possible.
They have hosted Grayhouse Farms Youth Day, a wildlife conservation day, for 20 years. The family also hosts about 15 anglers ever year on their farm for a bass fishing tournament, and another 150 dove hunters for opening weekend of the dove hunt.
Through those and other open house events, they have offered thousands in their community the chance to visit a dairy farm and learn about the positive benefits of conservation.
At the same time, they are visible advocates for returning whole milk to public schools to ensure students have access to the nutrition they need to grow and develop, and involve the Dairy Alliance to educate attendees about the health benefits of dairy products.
"From talking to people at local fairs when showing animals to teaching classes at the Iredell Soil and Water Field Days, or holding timber management and wildlife field days or just talking to someone about the 'Drink Real Milk' T-shirts we have, we need to be sharing our story on so many different levels, and my family and I strive to do that," Gray says.
Unfortunately, conservation measures are frequently considered a "best kept secret" on many farms. Carrying on Bennett's campaign for conservation, Gray wants dairy producers to share their stories.
"We don't want it to be a secret," he says. "We want to get it out. Conservation is the best use of assets."
PHOTO 1: Three generations at Grayhouse Farms (left to right): Jimmy, John Roby, Amanda, Peggy, Reid, Amy, Andy and Laurel Gray. Missing from the photo is Rachel.
PHOTO 2: Cow housing at Grayhouse Farms includes three sand-bedded freestall barns featuring ventilated center ridges, 12-foot eaves and adequate spacing to maximize air flow and comfort.
PHOTO 3: To preserve water quality, the Grays have implemented livestock exclusion fencing on all streams to stabilize the stream banks, created riparian buffers to filter out runoff and provided wildlife corridors along the streams. Courtesy photos.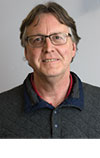 Dave Natzke

Editor
Progressive Dairy
RECIPIENTS OF 2022 U.S. DAIRY SUSTAINABILITY AWARDS
Outstanding Dairy Farm Sustainability
Grayhouse Farms,
Stony Point, North Carolina
Schlangen Dairy,
Albany, Minnesota
Deer Run Dairy LLC,
Kewaunee County, Wisconsin
Bar 20 Dairy,
Kerman, California
Outstanding Supply Chain Collaboration
Bel Brands USA, Land O'Lakes, Inc. and Boadwine Dairy
Outstanding Dairy Processing and Manufacturing Sustainability
Milk Specialties Global,
Monroe, Wisconsin
Outstanding Community Impact