In their 10th year, the Innovation Center for U.S. Dairy's 2021 Sustainability Awards recognize the work of the dairy community in providing environmental, social and economic benefits. This year's award recipients in the Outstanding Dairy Farm Sustainability category are Red Sunset Farm, Mifflintown, Pennsylvania; Goodrich Farm, Salisbury, Vermont; and MVP Dairy LLC, Celina, Ohio.
Other honorees include: A pilot project in Wisconsin involving Grande Cheese, Lafayette Ag Stewardship Alliance and Farmers for Sustainable Food was recognized for Outstanding Supply Chain Collaboration; Calgren Dairy Fuels, Central Valley, California received the Outstanding Community Impact award; DairyWest, Idaho and Utah, was honored for Outstanding Community Impact - Pandemic Response; and Outstanding Dairy Processing and Manufacturing Sustainability recognition went to Rogue Creamery, Central Point, Oregon.
Supply Chain Collaboration
Grande Cheese, Lafayette Ag Stewardship Alliance, Farmers for Sustainable Food
With more consumers asking for market transparency and traceability, demands for "sustainability" have implications throughout the dairy supply chain. At the same time, dairy producers have questions related to the practical and financial aspects of sustainability in their individual operations.
The recipient of this year's "Supply Chain Collaboration" award is a pilot project using a regional "milkshed" model, encompassing farmers, a processor, a brand and other partners coming together to develop a framework that answers sustainability questions raised from farm to table.
The project participants include:
The Lafayette Ag Stewardship Alliance (LASA) is a farmer-led, nonprofit organization committed to sustainable stewardship of natural resources. The group has 29 member livestock and crop farms covering 47,000 acres, including 17 dairies with 23,400 head of dairy animals. Formed in 2017 to address environmental issues, LASA has conducted well testing, implemented a cost-share program and hosted field days and other educational events for both farmers and non-farmers.


Italian cheese manufacturer Grande Cheese Company, an 80-year-old company with cheese manufacturing, whey processing facilities, distribution and research centers throughout Wisconsin.


Farmers for Sustainable Food (FSF), a nonprofit that connects farmers, processors, environmental groups, scientists, food companies, community leaders and ag businesses to share ideas and collaborate on projects supporting farmer-led watershed conservation initiatives throughout Wisconsin and sustainability projects around the Midwest.
The partnership emerged through conversations about Grande's need for information sought by the customers of their major markets – primarily independently owned pizzerias and Italian restaurants buying cheese, and food manufacturers buying custom ingredients – about the practices implemented on the farms providing their milk supply. At the same time, farmers in the LASA group wanted to increase their ability to track the impact of on-farm conservation practices on the local environment and their own businesses.
The goal of the collaboration was to create an easy-to-use framework to help farmers determine and document which conservation practices were most useful for their individual farms, and then use that information to demonstrate the sustainability benefits of those practices to other farmers, customers, their community, the ag supply chain and regulatory agencies.
"For a sustainability project to be truly successful, it must include all stakeholders within a milkshed, including farmers, and they all must have meaningful input," says Lauren Brey, FSF managing director. "The framework provides for this collective participation. It is flexible in its design, with a blend of resources, guidance and tools, so supply chain partners can apply the framework to projects in other areas. This sets a standard for driving improvement, documenting success and discussing positive impact."
"As with this project, true sustainability efforts will only be realized if the work is done in partnership across our industry and throughout the supply chain," says Greg Siegenthaler, vice president of milk marketing and supply chain with Grande Cheese. "In order to really move the needle and see ongoing success, we must continue to engage all partners in the process."
Specific goals in year one of a planned three-year project included establishing the group of partners, securing funds for years two and three, and creating and applying the framework document that went beyond anecdotal evidence to provide data-based metrics to measure benefits to farm participants. Longer-term, the framework could then be used to meet processor and marketer needs for customer requests seeking information about the environmental impact of farms that supply their milk.
Completing year one
Implemented under the "Collective Impact" pillar of U.S. Dairy's Net Zero Initiative, directed by the Innovation Center for U.S. Dairy and Dairy Management Inc., year one of the pilot project involved 12 farms covering 33,000 acres, including eight dairies with 15,900 dairy cattle. Funding for environmental consulting services was secured from a variety of sources, including grants and donations.
The first year focused on creating and verifying a baseline of production and financial data. Each farm kept records for their individual management needs.
The list of tools used to provide environmental and financial analysis is extensive. Environmental analysis included measuring eight on-farm sustainability metrics through the web-based Field to Market's Fieldprint Platform (FPP) software, and a local water resources assessment using the Prioritize, Target, Measure Application (PTMApp). With many farmers in the state currently utilizing SnapPlus, Wisconsin's nutrient management planning software, project participants are also exploring the opportunity to integrate that into the FPP to reduce data entry redundancy.
Financial analysis on three of the dairy farms is ongoing and being done by farm business management experts at Southwest Wisconsin Technical College, using software called FINPACK, from the University of Minnesota Center for Farm Financial Management. The software assists in building annual balance sheets, financial analysis and cash flow projections, providing in-depth whole-farm analysis as well as a look at individual crop and livestock enterprises. Participating farms receive a first look at 21 farm financial ratios established by the Farm Financial Standards Council, providing annual financial benchmarks as well as a comparative to similar farms in FINBIN, a national financial and production benchmark database.
Additionally, this project includes a FARM Environmental Stewardship (ES) evaluation for the three dairy farms that are also participating in the financial analysis. It estimates farm-level greenhouse gas (GHG) emissions and energy intensity associated with milk production.
To protect individual farm confidentiality, initial data is reported in the aggregate and is anonymous. Initial results show project participants performed better than state and national benchmarks for land, energy and irrigation water use, soil carbon and soil conservation. Watershed evaluations demonstrated that conservation practices adopted by project farms resulted in a 35% reduction in sediment movement to local streams. The tool demonstrated that if cover crops were implemented on 50% of cropland suitable for cover crops in the evaluation watershed, sediment would be reduced by over 52%, from 6 tons per acre per year to under 2.9 tons per acre per year.
GHG emissions from all non-feed sources were less than the regional and national averages for one farm and roughly equal to state and national averages for two farms.
Positives for farmers
Thus far, the project had a positive impact on all participants. Farmers received a farm management tool to better understand the impact of their farming practices and provide ideas for improvement.
"Instead of using ballpark numbers on our costs per acre for a certain practice, the analysis gives us a true cost; there's no guessing," says Jim Winn, dairy farmer and project participant who is also president of LASA. Winn uses reduced- and no-till along with low-disturbance manure injection. "Knowing the numbers is a major benefit to a larger farm like ours, given the dollars we spend on nutrients in any given year. We went into this project wanting to determine if these practices were making a difference and giving us a return. I'm happy to say they are, and I think we are just touching the tip of the iceberg. This will influence how we operate well into the future."
Moving forward, an increase in conservation practices on farms will have a positive impact not only on the farms implementing them, but on their local communities. Two more years of data collection are needed to provide more accurate evaluation of the long-term return on investment of incorporating conservation practices. It will also help the farmers continue their dialogue with the community about the conservation work they are doing and the positive impact they are having on the environment.
The project is evolving into an example of how smaller projects (inclusive of producers and dairy processors) must work in partnership to advance overall industry goals. It is creating positive proof that collaboration of multiple partners throughout the dairy and agriculture supply chain – including public and private entities, environmental groups and government – is possible.
PHOTO 1: Jim Winn (left) is owner of Cottonwood Dairy near Wiota, in southwestern Wisconsin, and also president of a farmer-led watershed conservation group, Lafayette Ag Stewardship Alliance. Greg Siegenthaler is vice president, milk marketing and supply chain, at Grande Cheese Company, based in Fond du Lac, Wisconsin. Grande is a partner in the sustainability pilot project. Photo courtesy of LASA.
PHOTO 2: LASA members, partners and community members explored a soil pit to better understand soil health during a field day. Photo courtesy of DMI.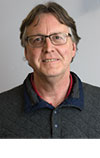 Dave Natzke

Editor
Progressive Dairy