At Vale Wood Farms in Cambria County, Pennsylvania, dairy processing and agritourism have been embedded into the Itle family's history for more than 80 years.
With 230 cows in their herd producing an average of about 80 pounds of milk, Vale Wood Farms produces approximately 70% of the milk they ultimately process into dairy products they sell to their community. They also purchase milk from a few neighboring farms.
In the Center for Dairy Excellence's Cow-Side Conversations podcast, Carissa Itle Westrick shared how the family decided to enter the dairy processing space and how the agritourism component of their operation allows them to connect and converse with consumers. She says it all started with her grandfather, C.A. Itle, who made the family's first dairy delivery in 1933.
"He's the guy who decided we should deliver milk to the neighbors. He used to have a horse and wagon and drove into the local town to make dairy deliveries. A couple generations of our family later, we're still doing the same sort of thing, but our neighborhood has expanded a bit," Westrick shared. "We now deliver within about an hour from our home farm, but it's still the same idea: It's still the milk we process right here on our farm, and we're still making those connections with local families."
Marketing their dairy products: The power of social media
The majority of what they make in the dairy processing facility at Vale Wood Farms is fluid milk that they deliver directly to families in their community. The Itle family also has a full line of other dairy products, including butter and ice cream. Westrick says they have a team that follows market trends and evaluates ideas for new dairy products they can create, such as an iced coffee product they launched a few years ago.
"We always try to watch national and state trends even though we're operating in our own little corner of the woods. We are very aware of what's going on in the greater dairy world," Westrick explained. "I've been really happy with how iced coffee has performed for us. It requires an open mind with a little bit of an eye on market trends."
In terms of marketing their products, Westrick says they use traditional channels as well as social media. They also have a website, online ordering system and delivery software to keep their business running smoothly in the digital space. While having highway access makes it convenient for the deliveries they make, their on-farm dairy store and agritourism space is not on a road with heavy traffic. This makes marketing and social media even more important when promoting their on-farm events.
"It's not like anyone just happens to drive by our location and dairy store. So, when we have an event, we have to specifically bring people in to visit us. Our events have to be well-marketed and well-documented, so people know where we are and how to get here," Westrick shared.
One win they had with social media involved naming one of their baby calves, "Baby Ben," after Ben Roethlisberger from the Pittsburgh Steelers football team. This simple social media post garnered national media attention and engagement for Vale Wood Farms. "It's just a testament to the power of social media to help farmers market events and products," Westrick added.
Navigating dairy processing regulations
While marketing your own dairy products can be exciting and rewarding, Westrick says it all starts with milk quality. The rest of the requirements and regulations for processing their dairy products builds from there.
"Even though we're a small dairy processor, we do follow all the rules and regulations that large [dairy processors] follow. Everything from the Food Safety Modernization Act [FSMA] and product sampling requirements to labeling and product-pricing requirements all apply to us," Westrick explained. "We certainly have to do our homework and keep up with all those requirements."
Having staff members or family members with a strong attention to detail is also important when navigating and managing the regulations that come along with a value-added business.
"Attention to detail is super important – starting from milk quality all the way through transporting the milk and processing the milk," Westrick said. "We document every step of that process so we can guarantee quality. Food safety, quality control and inventory management are all important to the whole milk story here on our farm."
Using agritourism to connect with customers
Along with being detail oriented, Westrick says customer service skills are equally as important when telling their story. The Itle family works all year long to strengthen their connections with their customer base through agritourism events, including a school tour program for students, a seasonal pumpkin patch, open houses and more.
"Our marketing strategy is that our customers and guests need to hear our story straight from us. So, if you visit us, we're not paying someone to give you a tour. We're on those wagons ourselves talking about our history and answering questions about our cows," she said. "It's an open dialogue, and we really feel that transparency is important. We look forward to looking our customers in the eyes and telling them, 'Thank you for supporting our farm.' That opportunity is so powerful for us."
According to Westrick, agritourism requires an entirely separate skillset than milking cows. It might involve driving a tractor for hayrides, scooping ice cream and, ultimately, having meaningful conversations with consumers. It's those connections with families that ultimately drive the sales of their dairy products.
"Selling milk isn't like the field of dreams. If you put in a dairy processing plant, customers aren't going to walk out of your corn field and want to buy your milk. Milk is a perishable product. From the time you put it in the container, you have about two weeks to make a friend who wants to buy that milk from you," Westrick explained. "So, you really have to do your work to connect with those consumers and help them understand why they need to buy the products you're selling."
Lessons learned
While the Itle family has experience marketing to consumers and hosting families on their farm, they are constantly learning and adapting right along with their community. Westrick shared a few key learning moments they have experienced over the last few years and advice for other farmers venturing into the value-added space:
Getting started in dairy processing can be expensive. "The capital investments are significant. New equipment is very capital intensive, and those investments can be hard to make. Those capital investments are a big piece of the puzzle that farmers have to put together."
You are masters of your own destiny. "What's important and what's empowering is that we are masters of our own destiny. My family is involved in every aspect of the production and delivery of our dairy products. The flip side of that is, we can't point fingers at anyone if we're not happy with the way things are going. All those fingers point back to us at the end of the day. We're very fortunate to be able to control our own supply chain, but there are definitely challenges associated with that."
Be able and willing to pivot. "[When we lost school and restaurant customers during the pandemic], we didn't have time to cry in our Cheerios. We needed to focus on the aspects of our business that were working and pivot in about a minute and a half. We had to turn around and provide those customers with the dairy products they needed."
Learn how to interact with the public. "The investment into agritourism can be another revenue stream for your farm, but you have to be prepared to transition from being a farmer to being a host. There are all kinds of skills associated with opening up your doors and bringing the public in."
Vale Wood Farms continues to work with other dairy producers to share lessons learned during their "From Moo to You" short course. During the two-day course, they share the ins and outs of every aspect of producing, processing and marketing your own farm products, including: hosting farm visitors, dairy processing, milk delivery and on-farm events. Visit their website to learn more.
PHOTO: Carissa Itle Westrick of Vale Wood Farms says the operation is always adapting, including offering new agritourism events and new products, like their iced coffee drink. Photo from the Vale Wood Farms Facebook page.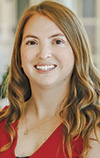 Emily Barge

Communications and Marketing Manager
Center for Dairy Excellence