When Steve Edstrom started Sugar Hill Dairy in 2001, he was milking eight cows in order to produce enough milk to reach the paddle in the bulk tank. Edstrom, who hadn't grown up in the dairy industry, started out hand-milking his cows and raising heifer calves to increase his milking string until he had enough cows to move into a real facility.
His first facility was a three-stall, side-open surge barn. When the herd grew to 85 cows, he moved them to a larger facility where he and the current owner made an agreement: He would keep his milking string separate and have his own bulk tank and producer number, and in exchange for his services as herdsman to the producer's herd, he could use the milking system.
Email-order bride
In 2007, Edstrom met Ashley Holloway through the dating website FarmersOnly.com. Just one problem: His dairy was in Colorado and she was a racehorse trainer living in Virginia. However, some things have a way of working themselves out. Two weeks after they met online, she flew to Denver to attend her sister's graduation from the University of Wyoming. "We arranged to meet in person, and that was that," says Ashley Edstrom. "It's crazy, but it's like everything fell into place. It sounds so cheesy, but it was meant to be. I already had plane tickets out there and everything. How much more predestined does that get?"
Steve and Ashley married in October 2009, and Ashley began working on the calf and heifer program for his then 100-cow herd. Ashley says her training was hands-on from day one, and she started from the ground up. "When I came out, I literally didn't know anything," she says. "I could cook beef, and that was the end of my cow knowledge. I admit, I thought that calf hutches were only for veal animals. Steve really had a blank slate to start with."
She says she learned the basics from her husband and the producer they were working with. "Learning how to take care of the animals wasn't that hard," Ashley says. "The important thing, I knew, was that the animals have to come first. It's a seven-days-a-week job. It doesn't matter if you don't feel good, if it's a holiday or if there's a M-A-S-H marathon on TV, you still have to get out and do the work, like with any living creature. The smell did take some getting used to, though," she jokes.
Growing pains
The Edstroms currently milk 720 cows on a leased facility near Kersey, Colorado. Ashley says Steve originally planned on milking around 150 cows, not the 720 they milk today. "That was in response to the direction the industry was taking and to our options as a first-generation dairy that didn't inherit a facility," she says. "We've always grown to the facility that we could lease." Ashley says the amount of growth they've experienced in the 16 years since Steve started dairying has required them to be flexible and adapt to their shifting needs. "We've been constantly growing. Most people don't go from eight cows to over 700 in less than 16 years," she says. "We've never had a size that we have maintained for long enough for us to get used to it."
Ashley says that once they purchased about 20 calf hutches with inside feeding buckets at the back of the hutch, but they soon had more than 50 calves in hutches. In order to streamline their feeding system, they needed to move all of the feeding buckets to the front of the hutches, rendering the interior feeding buckets useless. "We've had to constantly evolve the program to fit what we're doing," she says.
The Edstroms transitioned to an accelerated calf-feeding program about a year ago. "When I first started feeding calves, it was still really old school – a 2-quart bottle in the morning, a 2-quart bottle at night, free-choice starter, free-choice water." Today, once the calves are settled into hutches at 2 or 3 days old, they are given two 5-quart feedings a day. Ashley says this is supposed to help with gain and with production down the road.
"With the accelerated program, you don't necessarily see it until they calve," she says. Since this is their first year trying this system, they have no results yet, but Ashley says the accelerated feeding is supposed to result in a 10 percent increase in milk production at freshening off of an accelerated feeding program. She says they feed the calves raw hospital milk, so it doesn't cost them more to feed more since they aren't balancing it with a replacer.
Ashley says one of the best parts of her job is getting to work side-by-side with her husband. "I genuinely like the guy; I didn't just marry him for the big bucks as a dairy farmer's wife," she jokes. "We actually work really well together, and I attribute a lot of that to the fact that I started out as a blank slate. When we work cows, I only know the way he has taught me to work cows. Plus, I love being outside. I don't know that I would ever be happy sitting behind a desk eight hours a day."
Looking to the future
Ashley says they have had a lot of help getting to where they are today. "We've had a lot of older dairymen put a lot of faith in us and extend some offers that we are incredibly grateful for and that we never would have anticipated, but they have really helped," she says.
Ashley says that while she enjoyed her career as a horse trainer, she finds working with her husband in the dairy industry even more rewarding. "We're doing something really good," she says. "You can see the direct benefit to the world of the dairy goods that we help create, and with the programs we have in place to help people, it's awesome."
Steve says the next step for their dairy is to improve quality. "We'll max out this facility at 850 cows, so we need to get better, not bigger," he says. "The industry is changing, and we'll have to change as well, but being DFA members in Colorado means that a lot of the uncertainty producers face in other areas isn't as big of a concern for us. Our co-op has worked really hard to pursue new innovations and markets to ensure the success of its producers."
He says that even though it took a lot of time and a lot of work to get to where they are now, it was worth it. "There were some years it tested us physically, mentally and emotionally," he says. "But we've come through every trial, every downturn, every hard patch and we're all the better for it."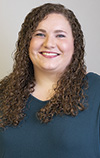 Carrie Veselka

Associate Editor
Progressive Dairyman
PHOTO: Steve and Ashley Edstrom with their children, Campbell, 14, Andrew, 8, and Blake, 4. Photo courtesy of the Western Dairy Association.
Before commenting on our articles, please note our Terms for Commenting.