Three years ago, Indiana dairyman Brian Houin walked by all the colorful milking robots on display at World Dairy Expo and thought to himself, "They're for smaller dairies, not larger ones."
Yet now he owns what is presently the largest robotic milking dairy in the U.S. at 1,400 cows. With 24 robots milking under one roof, and the space to add another 24 in the future, Houin says he didn't intend for his new dairy to become the template for the future of large-scale dairying – but now acknowledges it could be.
Why did Houin and Homestead Dairy, which milks in total 4,200 cows, have a change of heart? Labor.
"Labor is hard to find now and getting more expensive. Plus, who knows what it will be like in five years. We decided to pay for our labor upfront," Houin explains about the decision to purchase milking robots.
"When we were milking 3,200 cows on three different sites, we were basically matching what someone could do on a rotary parlor except with double the labor … We knew if we wanted to stay relevant, we needed to be more efficient. We were going to build a rotary. Now I'm glad we skipped that step."
Prior to building brand-new, the Houins were milking in three locations with two different manual-milking parlor styles. Homestead Dairy's legacy parlor is built on the farm's original property, where Houin's grandfather, Elmer Houin, started dairying after World War II.
Hospital cows are housed there now and milked in the farm's original parlor. That dairy also has a double-25 parallel parlor built in 2000 and houses Homestead's maternity area and all of its fresh cows. While the dairy still relies on manually milking, this latest expansion of the dairy and future ones will not.
"Taking milking out of the equation has a lot more people interested in work," Houin says.
In addition to decreasing the dairy's dependence on employee labor, Houin also likes the cow comfort improvements in the robotic milking barn.
After a fellow dairyman with a rotary parlor suggested he abandon plans to build a rotary and instead look at robots, Houin toured Swiss Lane Farms in Alto, Michigan. He said the visit convinced him robots could work.
"I was amazed at how different the cows act," Houin says. "They don't scatter. They are quiet, calm and curious. In a robot barn, they come up to you, almost as if they are saying, 'What are you doing here?'"
It's the same now in Houin's new barn, where cows approach visitors with curiosity. Attempt to snap a picture of the expansive new barn too close to the feed rail and prepare for several cows to affectionately lick your elbow. The staff even have a few cows they know will approach them in the pen and want to be petted.
"We only dictate to the cow what she does three hours a week," Houin says of the average time a cow spends away from the pen to run through a footbath or while fresh dried manure solids are applied on top of mattresses in the cow stalls. "There's got to be benefits to that. We're banking on it."
Herdsmen work an assigned pen of 180 cows. A six-stall sort pen and catch chute in each pen allow herdsmen to work cows sorted for breeding or herd check. One cow fetcher per pen walks the pen for about an hour twice during a 12-hour shift to find cows that have not been milked or were on a list to be sorted.
These cows may not have presented in more than eight hours for milking in one of three Lely robots per pen.
Houin is pleased 90 percent of cows to be bred, dried off or checked for illness are most often found in the sort pen. His only complaint: Cow fetch lists don't indicate what time a cow went on the fetch list. He hopes in the future this feature will be added to better assist a large dairy like his with employee management.
"If a cow is 18 hours between milkings, she should have been on a fetch list for at least eight hours," Houin says in describing how he's tried to avoid such a situation by programming his employees' fetch lists to update at 6 a.m., noon, 6 p.m. and midnight.
He's programmed the data syncs for three times a day, which can and do happen on some other robot-milking dairies as often as every 10 minutes, so employees on a single shift aren't constantly seeing new fetch cows on their lists. Once they've worked through their list, they know they are done.
"Knowing what time a cow went on the fetch list could help me know who isn't doing their job [and fetching the entire list on their shift]." This is one example of a large-herd adaptation that will still need to evolve for large-scale robotic milking to be more widely adopted.
"We knew going in we basically had to take what we learned over the last 30 years about managing cows and managing a dairy and throw it out the window," Houin says. "In a conventional milking setup, cows are working around your schedule or the parlor's schedule. In a robot barn, you work around the cows."
In building their new barn, the Houins opted for a low-profile cross-ventilated design credited to dairy design specialist Dean Mason and offered by Global Dairy Solutions.
Supported by steel columns of equal length throughout the building, the exterior roofline resembles more of an insulated, flat-roof commercial warehouse than the traditional pitched-roof design of a cross-ventilated barn. Global Dairy Solutions' marketing materials say the design allows for consistency of air movement without the need for baffles or air tubes. It also says the barn is expandable where other cross-vent designs are not.
"In a traditional cross-vent barn, to add on you'd have to build a new barn. With our flat-roof design, if you want to add on, we tie on the end of the building (opposite the ventilation fans)," says Scott Bittner, general manager of Global Dairy Solutions. "You can add up to 50 percent of the width of the barn to its length. We've considered expansion in this barn design because most dairies expand over time."
Since the Houins' barn was built, the dairy has added cyclone fans just above each of the robot rooms to improve air flow around the four milk room outcroppings throughout the center of the barn. All milk is pumped from the milk rooms to a central milkline and direct-loaded onto tankers.
Houin says he's "extremely happy" with the barn. All of ownership's theories on how to manage the robots prior to starting have worked out how they planned. So far he hasn't found anything with the design that can't be modified with minimum effort to his liking.
"What I really like about the barn is having that many cows under one roof," Houin says. The enclosed design keeps rain from mixing with manure and complies with Indiana's runoff collection requirements, a feature that was necessary to get approval for so many cows to be on one site without significant manure storage capacity.
"When it rains outside, and you're in the barn, you almost don't even recognize it's raining," Houin says. He is also surprised at how hard it is to tell whether anyone else is in the barn because of how expansive it is.
"We have more than exceeded what we were trying to achieve in cow comfort and labor efficiency," Brian's father, Floyd Houin, says. "Achieving these goals will help us pay for it."
The Houin family recently held the first public open house for their new barn. More than 1,000 people came to see it.
"Some people want to see it for the barn. Some people want to see it for the robots," Houin says. "And some people just want to see it."
Since the barn was built, Brian averages three or four private tours per week. He says he underestimated how much interest it would generate. He's had dairies from all across the United States, several Canadian provinces, some from Europe, as well as from South America (mainly Argentina) request tours.
Because of all the interest, Brian believes it very well could be a template for the future of large-scale dairying.
"I would be surprised if you don't see more people following suit with what we've done."
PHOTO 1: Floyd Houin and his son, Brian, are all smiles about their new robotic milking barn, the largest in the U.S. at present
PHOTO 2: 1,400 cows are milked under one roof at Homestead Dairy in Plymouth, Indiana.
PHOTO 3: Cows sorted for a repro event await insemination. Photos by Walt Cooley.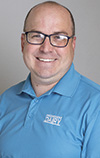 Walt Cooley

Editor-in-chief
Progressive Dairyman
Process for cow sorting with three robots
Exactly how cows would be sorted in the dairy's free-flow style was a concern during the design phase, as it had never been done before with three milking robots in the same pen. At Homestead Dairy, cows identified for sorting after milking are released into a pass-through chute instead of discharged back into the pen.
Sorted cows pass through the chute and possibly enter another robot, which would deny them milking and continue to pass them through the chute, until they reach the final milking robot in the three-deep line-up. That robot then directs them into the sort pen.
Occasionally a cow will have to wait in the pass-through chute between two robots while a cow finishes milking. Brian Houin says he's never seen more than one cow waiting between two robots, nor have they had to wait excessively long.