Today, women are heavily involved in the dairy industry and support it in a variety of roles. Many thanks are credited to our foremothers for serving as role models and demonstrating to us their determination.
These women did the noble and important work of farming and serving in the many support roles that allow farm businesses to be successful. Women in dairy display strong characteristics, namely through their passion, dedication and commitment to the industry. So to you, I pose the following questions: Do you share that same passion? And if so, where is that passion grounded?
For me personally, my passion for agriculture stems from my experiences growing up on our family farm – through seeing the fulfillment it brought to my parents, especially my mom, who was truly a remarkable woman. In addition to managing our household of eleven children, she made time to work on the farm alongside my dad, which she enjoyed immensely.
Upon arriving in Minnesota from Holland in 1955 as newlyweds, possessing the equivalent of a few hundred dollars they received as wedding gifts, they took advantage of the work opportunities they were given in farming communities. Through hard work, perseverance and faith, together they built up a successful hog and crop farm, which also included a few chickens, sheep, horses and a single-cow dairy enterprise.
Having grown up on a dairy farm in Holland, milking our cow was nothing new to Mom. She cheerfully and faithfully did milking chores morning and night to ensure that we always had a supply of milk, cream, butter and sometimes homemade yogurt. Enough for our family, and additional milk for one of our neighbors.
Mom's caring nature and generosity flowed through the neighborhood and our local community. She instilled in me the value of being committed, responsible, dependable, accountable and how to wisely use resources.
My career in agriculture has certainly benefitted from the life lessons I learned on the farm. Those attributes have been integral to my 37-year career of serving farmers in my role as an agricultural lender. I have had opportunities to learn from and work alongside many women involved in different aspects of the dairy industry, reflecting the same dedication as my mom.
These women have paved career paths that include: farmers and farm business managers, ag broadcasters and journalists, ag teachers and researchers, livestock nutritionists and veterinarians, ag sales representatives and consultants, youth ag organization leaders, extension educators and ag advocates.
You may ask yourself, as I did, "What is the right career path for me?" I propose that the answer begins with some introspective education, starting with some self-study of your personal interests. Success and satisfaction in a career is based on doing what you are passionate about, what you are engaged in and your ability to communicate and work well with others.
Step one is to take advantage of opportunities that allow you to explore what working in a particular career that interests you would be like. Find out by interviewing people in that career; ask them what a typical day is like, what the joys and challenges are, what skills they need for the job, what financial and career growth opportunities exist in the career field.
When I was given this assignment in college, one of the people I met with was an ag lender, and what I discovered was impactful in choosing the college I attended, my college degree and eventually my career. Over the years, I've had the privilege to share my own experiences with numerous young people discerning careers in agribusiness and ag lending in the hopes of guiding them on their career path.
The second step is developing interpersonal communication skills. This begins by understanding our own personality style. There's been a lot of research done and assessment tools developed to help identify personal strengths and personality traits.
These assessments can help give you perspective in discerning your passion – if what energizes you matches with the expectations of a particular job or career.
Participating in work or activities that you are passionate about should be energizing. For me, recognizing my natural strengths opened my eyes to understanding how they impact my own communication habits, personal and work relationships, and my effectiveness when working on committees or teams.
I'm grateful that my employer has provided me with opportunities for personal and team development courses that have included taking personality and strength-finder assessments. Some examples of assessments include Myers-Briggs, DISC, True Colors and StrengthsFinder.
These tools help define particular personality styles and strengths, but many of us discover that we aren't defined by one particular style or strength. In actuality, we possess characteristics of several styles or embody numerous strengths.
Certain characteristics are expressed stronger than others or are a natural preference, causing us to identify with this hybrid personality that is unique to us. However, be cautious about categorizing people into a personality box or a particular quadrant of a graph by how we think they would reply to a particular question or how they would react in a situation. This can be detrimental to your relationship or conversation.
When I took these assessments, I had several "ah-ha" moments. It helped me understand why I was more successful in some situations and why I struggled in others – why I got along better with some people and had to work harder at other relationships. It has helped me recognize personality traits and strengths in others, which allows me to have more meaningful and productive conversations.
One global leadership workshop suggests that we should spend 75 percent of our time doing things we're good at, 20 percent on things we want to learn and 5 percent working on strengthening our weak areas. I believe we can apply this concept to a career or job of choice.
I encourage you to seek a position where the majority of the responsibilities and expectations match with your strengths and seek out others to join your team that have strengths in your weaker areas.
As an ag lender, I believe developing the skill and ability to recognize personality styles and preferences of others is extremely important for the following reasons: achieving long-term trusted relationships, being a valued and dependable contributor to the accomplishments of those I work with, meeting the needs and the goals of those I work for and creating opportunities for women interested in careers in agriculture. Working with farmers in their environment brings me fulfillment.
I am energized by working with others committed to the thriving ag industry. It reminds me of the hope, faith and determination of those in farming, like my parents, and the many strong women in dairy who have paved career paths for the generations of women who will come after them.
I will leave you with this: Enjoy what you do; invest in yourself; seek out a workplace that challenges you to grow professionally and personally; surround yourself with mentors and co-workers who complement each other's work styles; and work with a positive attitude.
Being cognizant of your strengths will allow you to work authentically, with confidence and resiliency. The dairy industry offers women many lifelong career opportunities to work alongside people with the same passion and dedication to agriculture. Find your passion. As women in dairy, let us do our part to keep the industry growing strong for future generations.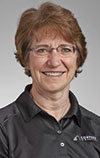 Bernie Quist

Senior Dairy Lending Specialist
Compeer Financial