For many years, the Fry family in Chestertown, Maryland, was able to straddle the line of conventional farmer and organic farmer. In 2000, the family began producing organic grain and forage because Horizon had moved one of their dairies to nearby Kennedyville.
Meanwhile, their 250-cow dairy remained conventional, and they grew their own conventional crops to feed the herd.
The herd eventually expanded to 500 cows, in part because Matt Fry returned to the operation after graduating college in 2007. He spoke about the family's decision to transition the dairy operation to organic production during the 2017 Pennsylvania Dairy Summit.
Previous organic experience
As the organic market grew in the early 2000s, the Frys began selling organic grains and forages into southeastern Pennsylvania to farms producing milk for both Organic Valley and Horizon.
"For many years, this was our clientele," Fry said. "We developed a strong relationship growing grain for them, and we saw cash receipts that far exceeded our conventional ground. Depending on yields and what the marketplace was doing, we could see cash receipts anywhere from five to 10 times greater on our organic ground than on our conventional ground."
Over the years, the Frys witnessed a great evolution in the organic industry. Perdue entered the organic grain market in order to supply grain for their organic chickens. Though the company then set the price of organic grain, its entrance to the market also greatly increased the demand and allowed the Frys to plan ahead.
"We could forward contract, there was opportunity for larger contracts, and it was a matter of delivering into the mill and you could have a direct deposit – the same way you would delivering grain any other time of the year," Fry said.
The evolution also brought about rapid advancement in other areas, including organic seed, fertilizer and infrastructure.
Going organic with the dairy
Fry said he and his family were comfortable with the business model they had established. Herd performance was strong, he said, citing a rolling herd average of over 28,000 pounds.
Then Fry received a call from his co-op's field rep one day in 2015 that encouraged the family to consider making a change. A plant was looking for organic milk, as they were losing their supply, and they were looking for herds that could transition quickly.
"I had never really considered transitioning our herd to organic," Fry said. "We were getting good performance and enjoyed what we were doing. I knew that if we made that transition to organic, it was going to change our toolbox that we had for working with those cattle. It wasn't something that was on my radar."
What really caught his attention was the price the field rep said the plant was willing to pay.
"This was spring of '15. Milk [price] had started to soften a little bit, but it was still relatively high compared to where we are today," Fry said. "The number he threw out was over twice what our mailbox price was at that time. That really caught my attention and made me sit down and think about what we were doing."
Fry said the family spent about a month crunching numbers and developing a budget. The family signed on with a company and began planning for the transition set to begin in spring of 2016.
Organic hurdles to overcome
The Fry family had to work quickly. In order to meet organic requirements, they needed to establish pastures, set up paddocks and fencing, and put in water lines and travel lanes. They turned about 200 acres of certified organic crop ground into pasture. They put in 3 miles of 20-foot-wide travel lanes.
Fry traveled to Missouri to learn about establishing a paddock system. Upon his return to Maryland, he worked with Red Barn Consulting to develop a layout. He found that his fields – unlike the evenly spaced and sized fields of Missouri – resulted in odd-shaped paddocks.
By the spring of 2016, things were moving – but not quite quickly enough.
"We were behind the ball on our travel lanes when we were ready to start grazing. We were behind on schedule on fence development and water lines," Fry said. The late start kept them behind the entire year.
On the herd side of things, the family also needed to make some changes and roll with the punches. They increased the vaccines given and the frequency of vaccination. They also added additional vaccines to their protocols. Treating infections with antibiotics was out, but Fry said they do use immune boosters and rub down mastitis-infected quarters. They also maintain a separate hospital pen.
Removing synch protocols and returning to visual heat detection was a challenge for the Frys. They watched repro rates drop as the cows dropped body condition while getting used to walking to pasture via the travel lanes.
"It hit us hard going through the summer," he said. "We didn't get near the cows pregnant we wanted to."
Fry said as of now, their breeding strategy won't drastically change from their large-frame Holstein cows, though they are looking to limit stature as a breeding trait.
"We haven't looked at crossbreeding or changing breeds," he said. "A big part of that has to do with our milk market. The contract we have is not incentivized toward component production. It's very much geared toward the fluid market."
When asked about A2 genetics, Fry said that he hasn't seen enough of a market signal to pursue that avenue. The next push is going to come from the consumer end with polled genetics, he said.
In the calf program, the Frys now wean calves at 12 weeks rather than 60 days. They have also increased the amount of milk, feeding 5 quarts twice a day. This spring, Fry said they will likely feed calves three times a day and push for 3 gallons of milk a day. The change in weaning caused the calf facilities to overload and resulted in respiratory and coccidiosis issues.
Fry said they have decreased their stocking density to solve the health issues, though it still presents a bottleneck for the operation. He hopes to add new calf facilities once they have the cash flow to do so.
Looking to the future
First up, though, is the milking parlor, which is expected to be completed this spring. The new parlor will replace a double-five herringbone the family has been milking in since 1960. Upgrades that come with the parlor include pedometers, which should help to increase heat detection, and the potential to pasteurize waste milk.
One area of frustration for Fry is that the ground closest to the dairy is not yet certified organic, as that was the ground they used to grow corn silage when the herd was conventional. So the family walks cows past ground they could be grazing on. That certification should happen by 2018.
Though the Frys had a steep learning curve, it was still the best move for the operation, he said.
"I think it's the right move for our business, and it's going to make us a stronger business at the end of the day," he said. "I certainly wish if I had known that [we were going to make the transition] that we would have done it in 2014 when milk prices were high."
Fry credited a good banker who made sure the family had enough operating capital to "get us through."
"Well, not that we're through yet," he said. "We're not quite there, but we can see the light at the end of the tunnel."
PHOTO: The Fry family put in about 3 miles of travel lanes to graze their Holstein herd. They're looking forward to 2018, when the fields closest to the barn and parlor will be certified organic. Photo provided by Matt Fry.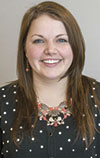 Emily Gwin

Editor
Progressive Dairyman