The Rucks family of Milking-R Dairy in southern Florida is finding new ways to connect with consumers, tell their story and locally market their dairy products with the help of social media.
Sutton and Kris Rucks, along with their children Lindsey and Garret, make up the Milking-R team. In addition to the dairy, they operate Sutton Creamery, which includes milk processing and an exclusive brand of ice cream and blended dairy treats made from their own milk.
Lindsey Rucks shares with Progressive Dairy how she uses social media to educate and build their brands.
Q: How did you get started sharing your farming journey on social media?
RUCKS: We knew we wanted to share our story because, let's be honest, dairy farming truly has so many amazing things to talk about. Social media was an easy and free way to show what we do day in and day out for our cows, our communities and our environment. We just made the leap, and with the help and encouragement of other farmers we still continue to post today.
Q: How did you build such a strong following on your Facebook page?
RUCKS: Cute cow pictures and humor. We always try to compare things we do on the farm to real-life situations for people to better understand. Dairy lingo can sometimes get confusing and complex, and we always try to be as relatable as possible.
Q: On which social media platform are you most active?
RUCKS: We are not nearly as active as we would like to be, thanks to our new ice cream and milk processing business, but we still try to stay consistent. It's important to know that you don't have to post every day and you can post when you can. I never understood how so many people were able to post and add to their story all day long – but I am thankful they can. Dairy is in this together, and every person [who] puts themselves and their farm out there need all the support they can get from other farmers.
Q: What is the most popular post you've ever made?
RUCKS: "6 Things I Wish Animal Activists Knew" and a video of cows in our freestall barns titled "Mind Your Business Karen, Cows Love Barns!"
Q: How do you handle the haters?
RUCKS: It takes a while, but eventually you just block and ban. When you are so passionate about something, it's always hard to have others bash you. A lot of great conversations can happen, but there will always be those you simply cannot reason with.
Q: What advice do you have for other dairy farmers looking to build their social media following?
RUCKS: It doesn't matter if you have 200 followers or 20,000. It's all about who takes the time to post and connect with people.
Courtesy images.
Instagram account name: milkingrdairy - Number of followers: 7.5K
Facebook account name: Milking R-The Rucks Family - Number of followers: 16K
Other account names:
Milking R Ice Cream Fan Page
Sutton Milk – Facebook
sutton.milk – Instagram
Location: Okeechobee, Florida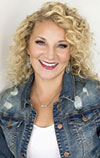 Peggy Coffeen

Editor
Progressive Dairy