With the goal of raising the highest-quality heifers possible within a reasonable budget, Clint Al-ag, heifer yard manager of Midway Heifer Yard in Hart, Texas, knows that starts with creating a culture which encourages success.
This starts during the hiring process, where they teach future employees what that looks like in practice.
As the heifer-raising operation for Blue Sky Farms, Al-ag and his team are responsible for raising the replacement heifers for all five dairies, four in Texas and one in Ohio. In total, they have about 26,000 head at the heifer yard. Animals range from a day or two old up to springing heifers, and they have about 3,500 wet calves at any given time.
Healthy competition between employees leads to better animal care
Al-ag is able to work with the maternity teams at each operation to ensure calves receive the highest-quality colostrum possible and a good start in life. Upon arrival at the heifer ranch, calves are individually weighed, receive an intranasal vaccine, are tested for BVD and evaluated on their quality of care prior to arrival. In addition, they track how many of each farm's calves arrive sick or become sick in the first few days. These numbers are turned into scorecards for each dairy and shared with the managers and maternity teams on a weekly basis. This, he says, creates some healthy competition between the operations, which works in the calves' and ultimately the entire operation's favor since each dairy wants to be the best.
Al-ag takes a similar approach with the heifer yard employees. They have about 60 employees on the operation, and each one receives a weekly scorecard. Al-ag says he puts them all up on their large TV in the breakroom, and they discuss them each week. Like the dairies, it creates some beneficial competition, but more importantly it lets each employee know how the facility is doing and how they're doing as an individual to contribute to the heifer yard's overall success.
Raising quality replacement heifers through careful management
Pain management is important to them, Al-ag says. If an animal seems to be in discomfort or pain, they will provide the calf with some form of pain relief according to the protocols they have developed with their veterinarian. Meloxicam is automatically administered to every calf during disbudding, which happens within a couple of days of the animal arriving at the heifer yard.
Their biggest challenge, Al-ag says, is BRD. Vaccinating calves for BRD and, when needed, for pinkeye as well helps to keep their numbers down. In addition, be it scours or another illness, Al-ag says they take the time to consult with the herd veterinarian before treating to make sure they're taking the right course of action.
Nutrition has also played a big role in keeping calves healthier. About a year ago, they switched from feeding calves milk replacer to feeding them whole milk. Since then, not only has BRD prevalence decreased, their issues with abomasal bloat have disappeared as well.
Once a day, one of the Blue Sky Farms dairies close to the heifer yard delivers a load of milk to the yard, which they then pasteurize. Calves receive 3 quarts of milk twice a day and have access to free-choice water and starter from day one at the yard. While Al-ag says the calves only receive a handful early on, they are curious about it and will try it. This, in turn, leads to better starter intake later on. To further encourage starter intake, they give calves warm water in the winter. While it is fed at 110ºF to 115ºF, putting it in a cold bucket cools it down rapidly. To try to stay ahead of scours, calves under 21 days old automatically receive a daily feeding of electrolytes between the morning and evening feeding, and they are quick to give older calves electrolytes as well if they show any signs of sickness.
Calves start weaning at 54 days old. For a week, they drop the calf to one feeding a day and, by day 63, they are completely off of milk. For the next five days, calves stay on starter before transitioning to grower. Al-ag says he prefers to only make one transition at a time to minimize calf stress.
On day 85, calves move out of the hutch and into a 30-head group pen in one of the open wean barns. Calves stay in there for 50 days, before moving to the training pens where they are vaccinated. They'll stay there until they are 6 months old and then move to other group pens. When they are 11 months old, they move to the pre-breeding pens. After 30 to 45 days there, they'll move to the breeding pens. Heifers are bred with sexed semen for the first four services, then beef for the next two – and if they aren't pregnant by then, they're culled. Heifers that are confirmed pregnant move to the pregnant pen and return to their respective dairy at 210 days with calf.
Calves are weighed at arrival, at weaning, before moving into the training pens and at breeding. They target 850 pounds/53" tall at 385 days of age when the heifers are moving into the breeding pen.
Learning is key to raising better calves
Al-ag started at Blue Sky Farms as an intern in 2016. During his internship, there was a management opening, and he was hired for it. At the time, he knew little about calves so he joined the Dairy Calf and Heifer Association to help expand his knowledge. That same year, he had the opportunity to attend the association's annual conference. At the conference, he learned from the presentations and networked with other producers. That experience is one of his favorite DCHA memories. Even after the event was over for the day, he'd be busy talking with other attendees. He says people were welcoming and happy to answer questions and share their experiences. While not every idea would work for him, they helped him develop solutions and find better methods for raising heifers.
While the farm has tracked calf and heifer weights for several years, the association's Gold Standards have helped Al-ag develop benchmarks and protocols they can use to improve their replacement heifer program. In addition, through the association, he is regularly exposed to new studies and research being done. This, he says, has been beneficial as he finds new ways to raise a better replacement heifer in an industry that is constantly evolving.
At the end of the day, Al-ag says the biggest key to the dairy's success is its owners. They are the reason for the dairy's culture which prioritizes quality animal care, employee safety and a team atmosphere. Their support is key to making the operation run smoothly.
PHOTO: Clint Al-ag is the DCHA Southwest Regional Director. He currently manages Midway Heifer Yard, a 26,000-head operation in Hart, Texas. Photo provided by Clint Al-ag.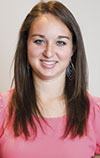 Jenna Hurty-Person

Field Editor
Progressive Dairy