When it comes to consistency, it's hard to beat a robot. For brothers Jon and Mark Qual, their father, Alan, cousins Nathan and Tyler, and uncle Rodney, who all own and operate Qual Dairy in Lisbon, North Dakota, a robotic rotary parlor fit what they wanted in their new parlor.
"We were looking for a way for our cows to be milked consistently 24/7 without us having to be following and really checking on our labor force quite often for protocols," Jon said. "With the robots, you're able to manage the data to make sure your machines are working. The processes of making sure your cows are being dipped, cleaned, stripped, milked out properly and post dipped, all of those parts are variables that robots do consistently, eliminating the need for you to check daily."
The new 60-stall parlor, which they built in 2018, also allowed the farm to expand to 1,400 cows, a far cry from the 20 cows Alan and Rodney's father, Louis "Bud" Qual, started the dairy with shortly after World War II. It also enabled Jon and Mark, who manage the dairy side of the business while their cousins focus on the agronomy side, to have more flexibility in terms of time management.
In other words, with their previous parlor, if something broke or malfunctioned on it, they had to fix it immediately to keep milking cows on schedule. Now, they're able to fit parlor maintenance or repair into their work schedule when it actually works best for their schedule. Mark said this is especially nice when they have a weekend off or they're traveling or if it's a busy week in the field and they need everyone available helping to harvest hay or silage.
Milking cows on the robot
The Quals have the cows housed in groups of 160 head per pen and grouped by the cows' stage of lactation and number of lactations. In the fresh cow pen, however, first- and second-lactation cows are commingled, which helps to train heifers to the rotary parlor as the heifers fall in line with the cows and make their way onto the rotary.
The rotary is currently set up to complete a turn every eight minutes, allowing them to milk about 250 cows per hour. Only one employee is in the parlor monitoring the robots to make sure they're functioning correctly and stepping in when a robot has trouble attaching. Cows are prepped in liner, milked and then post-dipped in liner. Each unit has two milk lines – a dump milk line and a saleable milk line – and is outfitted with a sensor that detects when milk is white. Then and only then does it pump milk into the saleable milk line. At any other time, it goes into the dump milk line by default.
At this point, the parlor is not at maximum capacity, so the Quals are taking the opportunity to really focus on udder health.
"We wanted to see how we could improve our cow's udder health by doing individual quarter detach," Jon said. "We've seen the benefits of that by never overmilking a quarter on a cow. The robot is always metering the milk flow from each quarter, which we feel is a huge benefit for the animals."
On occasion, he said some cows may cause the rotary to pause while it finishes milking that cow before it lets her off, but those pauses don't seem to bother the other cows. At most, they still only stay on the rotary an extra couple minutes which is fine for them given their current herd size. Even with this, cows still only spend 35 to 40 minutes away from their pen at each milking.
The result of these changes is the farm's somatic cell count (SCC) has dropped from consistently being just over 200,000 to consistently being under 200,000. In addition, the Quals said the number of cows they need to treat for clinical mastitis each month has dropped significantly.
In the future, Jon and Mark said they would like to factor the cows' milking time into how they group cows to help with consistency during milking.
Robots and a steep learning curve
While the Quals considered installing box robots, they ultimately decided on the rotary robot system because it meant fewer changes to their current system, and they liked having control over when cows are milked each day. However, this decision didn't come without its fair share of hurdles as they became only the second dairy in the U.S. to have a robotic rotary system.
When the team came over from Germany to help the Quals set up and learn how to operate the parlor, Jon and Mark learned everything they could about the robots. They and the technicians from their local service center, who were also not familiar with working on this system, learned together. While some might be concerned to hear that the local technicians are also learning the system, the brothers said they felt like they benefitted from that experience by hearing all of the technicians' questions and learning with them.
A factor that is especially good considering the nearest technicians are still a couple of hours away. Because of this, Mark and Jon keep many parts on hand to do repairs themselves, as well as 10 complete units so if one fails, they can swap it out for a working one and fix the other one when they can or wait for a technician to do so if necessary.
What they've learned
While robots can help a dairy run more efficiently, Jon said they aren't necessarily a "set it and forget it" solution.
"Don't put it in and expect it to 100 percent take care of itself," Jon said. "You're still going to need to do weekly checks at a minimum to make sure everything is still attached. Then there's the daily check of clicking a button on the computer, which gives you a stall report for the day to see if you have a stall that isn't performing on the average of what those cows should be milking. You can do something like that in five minutes or less so you know where you're at."
In addition, Mark said adding the robots highlighted the importance of good handling techniques and hoof health.
"Make sure that on the cow side of things, the people that you have around your cows are handling them calmly," Mark said. "Lameness in the rear feet can make the cows lift them a lot more, which will cause trouble for attachment. We have a hoof trimmer on the farm twice a month to maintain good hoof health."
For those considering robots, Jon said it really comes down to management style and farm goals.
"It still comes down to looking at what kind of fit you have, what kind of labor you have, what you want to do with your cows, and really think about what direction you want to go with your parlor and your barn," Jon said. "There are different details to manage, but a lot of it is simplified with a robotic rotary system."
PHOTO 1: Left: The Qual family. 1st row (L to R): Mark Qual, Alan Qual; 2nd row: Angie A. Qual, Hailey Qual, Julie Qual; 3rd row: Rodney Qual, Ellery Qual, Blake Qual, Courtney Qual; 4th row: Angie K. Qual, Case Qual, Carson Qual, Nathan Qual; 5th row: Eli Randash, Adam Randash, Nolan Randash, Paige Qual; 5th row: Tyler Qual, Amanda Randash, Koltyn Qual, Laikynn Qual, Karlie Jo Qual. Since this photo was taken, Nathan and Paige have welcomed a son, Ryder Qual.
Right: 1st row (L to R) Rod, Alan; 2nd row, Nathan, Mark; 3rd row: Tyler, Jon.
PHOTO 2: In 1973, the Qual family milked 60 cows on a double 4 herringbone parlor. Today they milk 1,400 cows using a 60-stall robotic rotary parlor installed in early 2018. Photo courtesy of Form-A-Feed.
The information in this article was originally presented at the Form-A-Feed Professional Dairy Conference in Welch, Minnesota, on Jan. 17, 2019.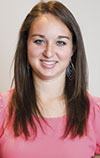 Jenna Hurty-Person

Field Editor
Progressive Dairy