Settling for "good enough" is not in Andy Fischer's nature. This goal-oriented dairyman sets high standards for Riverside Dairy in Reedsville, Wisconsin, and the numbers prove it.
The 100-pound herd averages well below 100,000 somatic cell count while also maintaining a 42 percent conception rate. Hitting these marks for production, milk quality and reproduction is the result of Fischer's resilient drive, dedication to detail and intuitive cow sense – all characteristics shared by herdswoman Anita Schwobe.
"Once you hit the benchmarks, it's tiny tweaks," Schwobe says. Since coming to the dairy five years ago, she has assisted Fischer with identifying opportunities for improvement and setting a series of small goals that, together, yield big results.
The on-farm efforts have not gone unnoticed. Riverside Dairy received "gold" status for excellence in reproductive efficiency from the Dairy Cattle Reproduction Council in 2017, and Fischer was recently named the 2018 Wisconsin Outstanding Young Farmer.
The 4,000-gallon goal
Fischer grew the dairy incrementally, from 150 cows in 2000 to around 400 cows today. Filling the bulk tank has been a personal benchmark, first with a 1,000-gallon tank and, eventually, with a 4,000-gallon tank.
"My goal was to fill the tank every day," he recalls. "I would do the math backward, figuring out how many cows I would need and how many pounds of milk each one would have to produce to do it."
What once seemed like a lofty dream is now a daily reality at Riverside Dairy. The high-producing herd hits 100 pounds per cow per day without rBST.
Reaping the rewards of repro
Fischer believes one of the driving forces behind the herd's high milk production is a solid reproduction program that gets cows bred back quickly. The herd averages 145 to 150 days in milk, with a consistent calving interval of 12.1 months.
"We are seeing the benefits of repro coming back because cows are not milking for hundreds of days," he says. "We both agree: The cow may have to choose between making milk or maintaining a pregnancy."
First-calf heifers and cows respond favorably to a 65-day voluntary waiting period. "No one is allowed to be bred off of heat on the first service," Schwobe says. "We noticed that doesn't pan out for us well."
However, she gives cows that are thin at calving a little extra time. "I sometimes delay them on purpose to give the cow an opportunity to get in the best shape before starting her on the program."
Schwobe tweaks the breeding program by performing her own trials, experimenting with protocol variations or comparing different company products. She monitors results over a two-month period, watching conception rates prior, during and after.
Through these trials, she has found the most success with a regular Presynch-11 Ovsynch protocol, using two prostaglandin shots before breeding cows in their second lactation and greater.
"We tried it on first-lactation cows and found it made things worse, so we omitted it from the protocol," Schwobe says.
While Schwobe is adamant about following the protocol, she relies on individual observation to know where each cow is at to provide the best opportunity for pregnancy.
"We don't follow the list to a 'T.' I watch the cows, and sometimes it works better to start her at a better point in her cycle versus forcing her onto a program," she says.
Difficult breeders receive a CIDR if not pregnant after the third service. Before pulling the insert, cows are checked for a corpus luteum via ultrasound.
"When you breed a cow, you should go in with 100 percent confidence she will settle," Schwobe states. "I want to know she is going to get pregnant."
Taking control of milk quality
The dairy focuses intently on milk quality, with the most recent somatic cell count just 76,000. "[Anita] gets bucky if we get over 120,000," Fischer jokes.
Milk quality management includes close monitoring through observation, culturing and antibiotic use only when necessary. "We're not just blind-treating," Fischer says. "We sample the milk, and she runs the test right here."
Schwobe adds, "If it's just a hard quarter, we watch and see how the cow is feeling. She's usually fine after a couple of days. We do watch individual cell counts too, to make sure there's no subclinical mastitis."
Only the best-quality milk makes it in the tank. The first four milkings from fresh cows and heifers goes to the pasteurizer for calves while, in the parlor, the quarter milker is used at any signs of abnormality.
Fischer believes a clean, dry cow environment contributes to low somatic cell counts as well. The mattress-based stalls are bedded with a layer of sand twice a week, and the soiled sand is scraped from the beds three times a day.
Write it down
Whether it's records, lists or notes, Schwobe diligently tracks every detail of the dairy in writing, above and beyond the management software. These meticulous minutes allow her to correlate cause-and-effect relationships. For example, if a calf fails to thrive, she references its history, looking to see where it was born (in the maternity pen or the stalls) and if it received adequate colostrum.
Schwobe emphasizes consistency and creates ways to effectively communicate standard operating procedures to employees. From her handmade mastitis protocol poster to her colostrum-feeding flow chart, she recognizes great value in thorough communication. "I try to make things easy for them to understand," she says.
When it comes to accountability, Schwobe leads by example. She monitors and measures her own goals and protocol adherence, such as timing and tracking lockup times in the fresh cow pen.
Focus on forages
Methodical management applies to feed as well. Fischer says he prefers bags for storage because he can segregate forages by variety and mark the bags accordingly as it comes off the field. He uses a spreadsheet to track these details, which helps alert him when he is coming up on a change. It also helps him evaluate how different varieties convert to milk in the tank.
Fischer works with a custom harvester to put up hay and corn silage at optimal moisture content. He checks dry matter at least twice a month and strives to provide a consistent ration by monitoring inventories. He adds, "I try my hardest for 90 to 100 days carryover on hay and corn silage, so I am always feeding fermented feeds."
Get better, not bigger
With limited land base, Fischer doesn't plan to grow bigger; his focus is to keep getting better.
"We will do what we can to adapt to the industry," he says, whether it's improving labor efficiency through technology or continuing to build a herd of durable, feed-efficient cows with high components through breeding and selective culling.
"When culling, we look at fat-corrected milk," Schwobe says. "If both cows are making 80 pounds a day, we want to keep the cow making milk with higher components more efficiently."
Ultimately, Fischer's vision for the future is to build a business that can support the fifth generation at Riverside Dairy, should his two boys, ages 11 and 13, choose dairying for their livelihoods.
He adds, "My goal is to give my sons the opportunity to continue the farm."
Like Fischer's other goals, he is already well on his way to achieving that.
PHOTO 1: Andy Fischer (left) and herdsperson Anita Schwobe (right) work together to achieve high levels of milk production, reproduction and milk quality at Riverside Dairy.
PHOTO 2: Andy Fischer stands by his 4,000-gallon bulk tank. Filling it to capacity on a daily basis is just one goal he has set and achieved with his 400-cow herd. Photos by Peggy Coffeen.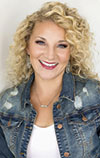 Peggy Coffeen

Editor
Progressive Dairyman
Before commenting on our articles, please note our Terms for Commenting.