Little did Kasey Dix know growing up on her family's 60-cow Holstein dairy farm in eastern Iowa that her love of dairy would take her to Nicaragua for two years of service as a Peace Corps volunteer and then around the world in her role as international sales manager for Genex.
Dix's parents sold the cows when she was in high school, but she had already fallen in love with working with dairy cattle. She attended Iowa State University and studied animal and dairy science. "After I graduated in 2004, I wasn't sure what I wanted to do or where I wanted to live," Dix said. "Ironically, I ended up joining the Peace Corps. You can't get much further away from home than that!"
Over 3,000 miles from her home in Iowa, Dix served as a Peace Corps volunteer vaccinating cows in a remote village of Nicaragua. It took a two-hour bus ride from the main road to travel 10 miles to Dix's Nicaraguan rural village home. With less than 200 residents of the village, Dix lived there for two years without electricity or running water; her bathroom was a latrine that she had to walk to across the street about 50 feet away. The village was in between two mountains, and cell service was only available an hour's hike up the mountain.
When Dix arrived in Nicaragua in 2005, village residents assured her that "electricity is coming," she said. Throughout her service (until 2007) she used a limited solar, battery and crank-powered radio. The village ended up connecting to an electric grid in 2015.
"Growing up on a farm, I was always outside. I liked to go camping … those little things helped me adapt to life in Nicaragua quite a bit," Dix said. "There was a big culture difference," Dix explained. "A lot of the girls didn't want to get their hands dirty, and there I was picking corn, planting beans by hand with a spear in the most crooked row, on the steepest hill you could find, and vaccinating cows."
Most families in the village had one or two cows, so they didn't have enough money or animals to pay for the vaccinations, nor did they have the refrigeration necessary. Dix learned how to vaccinate without headgates by roping the cows to a tree and quickly jumping away. "I didn't break any bones, so I was happy about that," Dix said.
After two years, Dix moved back to the U.S., fluent in Spanish, and she wanted to use that. She started with Genex in a split position: part-time breeding cows and part- time working in the training department. She later moved into the international department on shipments, then into sales.
"I wanted to continue to help people, and I get to do that in the smaller Spanish-speaking markets and pasture-based countries around the world," Dix said.
Dix's time in Nicaragua prepared her to adapt to new situations and find ways to overcome obstacles to be successful working in new environments. "Being able to speak the native language and have an understanding of the cultural significance of the situation at hand is my best ability to serve our customers. That knowledge comes directly from my Peace Corps experience," Dix said.
This article is part of a series of profiles on people within the dairy community that have backgrounds in service work through organizations such as Peace Corps, AmeriCorp and the U.S. military.
PHOTO 1: Dix spent a lot of time sitting on porches and talking to community members. "That may be one of the things I miss most about Nicaragua," Dix reminisces. "Everyone is very friendly … things were very relaxed and a lot less stressful."
PHOTO 2: This is the house where Dix lived for two years. It used to be a one-room schoolhouse before a new one was built across the creek. Cows roam freely.
PHOTO 3: Dix's house had only one window. She painted the walls pink to make it a bit brighter and invited kids from the community to paint handprints on the walls.
PHOTO 4: Typical Nicaraguan cattle.
PHOTO 5: "When the bus wasn't able to reach the town where I lived, we would use a horse to haul supplies and other items," Dix recalls. "This was from when my parents came to visit and this was my horse named Tortuga, which is Turtle in Spanish (he was very slow)." Photos provided by Kasey Dix.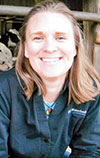 Amy Throndsen

Chief Operating Officer
Advanced Comfort Technology Inc.