Robots keep Larry and Jennifer Meyer's dairy farm running.
With 140 cows, three kids and two off-farm jobs, the family upped their efficiency when they transitioned from milking in a tired-out tiestall barn to an automated system that accommodates their lifestyle and herd goals.
Jenlar Holsteins and Brown Swiss, located near Chilton, Wisconsin, is home to 140 cows, of which 80% are Holsteins and 20% are Brown Swiss. Larry's parents, Andy and Joan Meyer, originally bought the farm and began dairying in 1970. Together, Larry and Jennifer began growing their own herd within his parents' facility, starting with a few animals from Jennifer's home farm and investments in some high-end embryos and live cattle. Meanwhile, the couple worked off-farm jobs, with Larry in animal health sales and Jennifer as a dairy cattle nutritionist.
Following a barn fire in 2006, the Meyers built a 140-stall sand-bedded, four-row freestall barn, while continuing to milk in the tiestall barn. As labor concerns loomed, they began exploring the idea of automated milking. In March of 2017, they expanded the freestall barn, added a new milk house and office, and started up two Lely robots.
A few modifications were made to the retrofitted freestall barn to house the robots, including specific accommodations for the Meyers' award-winning show cows. Each robot has a special-needs pen, one with freestalls for show animals, and the other with a bedded pack for cows that require special attention. Jenlar's show cows are milked in the robots, just like the rest of the herd, and are then diverted from the robot to the separate pen for individualized feeding and care as needed. For optimal comfort and cleanliness, the Meyers use sand bedding and alley scrapers for manure removal throughout the barn.
Last year, Larry and Jennifer purchased the dairy buildings and some land from his parents. Andy and Joan still live on the dairy and remain an active part of the farm team. Larry continues to work full-time as a territory manager for MWI Animal Health, and Jennifer is an independent dairy cattle nutritionist and co-owner of Badgerland Nutrition. Their three children – Brianna, Austin and Abby – are each very enthusiastic about showing cattle and competing in programs through the Holstein and Brown Swiss junior associations. In fact, the wall of plaques and purple banners from World Dairy Expo that hang in the farm office tell the story of showring success. They've had a class winner at World Dairy Expo the last four consecutive years.
Larry and Jennifer cite genetics, combined with cow comfort, high-quality forages and astute management, as the cornerstones of their management program. The rolling herd average for Jenlar's Holsteins is 29,711 pounds of milk with 4% fat (1,159 pounds) and 3.2% protein (939 pounds), while the Brown Swiss hold their own with 27,087 pounds of milk, 4.5% fat (1,193 pounds) and 3.4% protein (923 pounds). This impressive record has led them to be recognized as the highest-producing Swiss herd in Wisconsin (for a herd size under 50 cows) for the last five years.
In just a little over 15 years' time, the Meyers have built up their herd and moved it forward in a facility positioned for the future. With their automated milking system, the Jenlar herd continues to thrive and hasn't missed a beat on capturing production awards, quality recognition and blue ribbons. But beyond that, Larry and Jennifer say they are most proud of the children they are raising and the passion they are instilling in the next generation to love cattle and view dairy farming as a sustainable way of life.
Why did you choose robots?
Larry: We were looking at a low-cost parlor versus robots. With the low-cost parlor, there would be some improvements, but we would still be battling a labor issue that would likely get worse as time went on. So we seriously started looking at robots and toured a number of robot dairies.
Describe the barn design.
Larry: We originally thought about utilizing more of the former facility, including the old milkhouse, but that would have boxed us in from being able to do any future expansions, so we decided to expand the east side of the building and build a new office and milkhouse. Now we have the option to mirror the barn the opposite way, should we choose to expand.
Jennifer: There is the advantage of office space that we didn't have before, especially having a computer right here. We're also able to showcase some of our higher-end cows here close to the robot and still get good cow flow, with show cows living in the existing freestall environment. We also have a special- needs pen, a sand pack where a fresh cow can get sorted and get extra TLC.
What are some of your favorite barn features?
Jennifer: We really like having two special-needs pens that share the robots. One special-needs pen has freestalls. That's where we put the 'special' cows – the show cows – so we can feed them different during show season, and they don't have to compete with the general population. They share the robot, but it sorts them back into the same pen, which is the same freestall design as the rest of the barn. The other pen is a sand pack, which can be used for a cow that's lame or needs extra attention. Some people said, "You'll never use those pens; don't spend money on them," but for us it's worked out really well.
How do you manage hoof health?
Jennifer: We were advised not to put the footbath near the robot, but for us, it was really important the cows go through the footbath consistently. We figured out a way to make it work near the robot exit. We looked at a number of robot dairies with footbaths in other locations in the barn, and it was an extra job that didn't always get done, because it was difficult.
Prior to robots, we didn't have a footbath. Now we are running it five times per week, and we seldom have a wart.
Larry: We were discouraged from putting it at the end, but it's worked out well for us. We've only had one wart in over two years.
How do you manage and group fresh cows?
Larry: We milk from colostrum collection to dry-off in the robot … every cow, every milking. For us, it streamlines things. We get cows used to going into the robot, get her mapped right away. We also liked that the robot measures pounds of milk, so I can harvest 8 to 9 pounds of colostrum on that first milking, and colostrum isn't diluted for the newborn calf. Colostrum management is still a definite bonus. We maybe lose a little bit of efficiency, as that first and second milking take extra time, but we feel the benefits outweigh disadvantages by measuring exactly how much milk we harvest and getting cows adjusted to the robot.
Jennifer: We run one robot in each pen. There's no specific grouping of age or stage of lactation, we just try to balance out 65 cows per robot. We want to be close to mirroring on each side. We don't want all the highest producers all on one side, which is important with only one robot per pen. We also try to balance an equal number of boss cows per side.
What are your milk production and efficiency goals?
Larry: Our goal is to maximize pounds of milk per robot, and with that, we want it to be the highest component and lowest somatic cell count milk it can be. We want to be fully stocked, keeping 65 cows per robot and averaging 100 pounds per cow, so 6,500 pounds per robot. We've been close – at 6,450 pounds per robot back when we had last year's corn silage.
We strive for 180 visits or higher per robot per day, and six-and-a-half minutes or less in the robot per cow is also our goal. We're pretty close to that.
How do you manage feed and nutrition with the robots?
Jennifer: We feed a pellet through the robot with corn, soybean meal, bypass soy, flavoring, animal fat. We haven't changed the formula since we started. The cows like the pellet. You want the cows to crave that pellet, and that's important in a free-flow system. If I make changes, it's only to the PMR.
Which reports do you use most often?
Larry: We look at the fetch list and the health reports – looking for those cows with significant changes in rumination or activity. We also look at the heat probability list and robot performance overall … how each one is performing in a 24-hour period (failures, visit time, box time, changes in milk per quarter). … That's all on the robot performance report. It's our daily go-to list.
What have been the biggest challenges?
Jennifer: The biggest thing we've battled from start-up until now is cell count. As we started digging into research and talking to others in the field, we were told that was normal, but we didn't just settle for that answer.
Larry: Our herd had been averaging 70,000 prior to robots, and jumped up a bit when we started. Now it is back down to right around 100K or under. We watch this very closely on our report, looking at conductivity on every quarter to see which cows need a CMT or culture, and we've been working with the dealer and Lely to lower frequency. We found it helps to clean and scrub the robot arm in any place that touches teats, singe udders for minimum hair and be diligent on maintenance, making sure the right amount of disinfectant is on the brushes. We are very aggressive with staying on top of these things.
What is the greatest opportunity robots have brought to your family and farm?
Jennifer: The robots allow us flexibility to continue to work off the farm and be able to make it work. They also allow Larry's parents to still be involved with the dairy and keep doing what they love doing without the demands they used to have. We couldn't imagine going back to the way we were doing it before.
PHOTO: The addition of robots allows Larry and Jennifer Meyer to work off-farm jobs while managing the dairy. Larry's parents, Andy and Joan, live on the farm and help with daily chores. The Meyer family, from left to right: Brianna, Larry, Abby, Jennifer, Austin, Joan and Andy. Photo by DH Video Creations.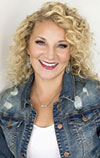 Peggy Coffeen

Editor
Progressive Dairy